Northern Sky: a New and Beautiful Slots Game to Discover

Ruta Rimkiene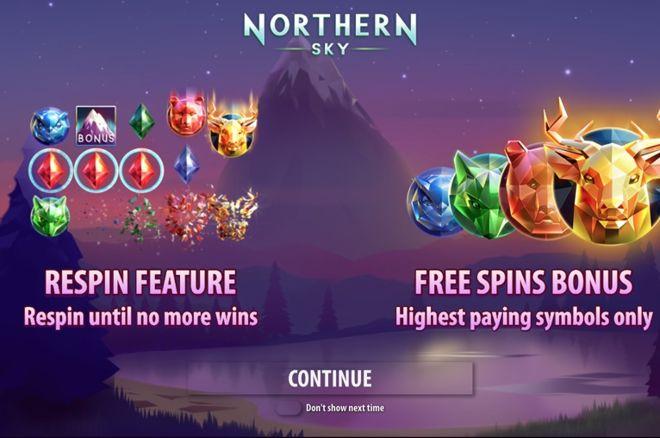 It's difficult to be a picky slots player.
I can spend hours searching for a good slot machine with beautiful graphics and music. I guess it's just the way I am - if I'm not satisfied by a game, I won't spend a penny nor a minute on it.
Luckily, the BGO Casino website has just launched a game that I see is going to keep me busy for a while.
If you want to know what I am talking about, check out this gorgeous new slot machine:
Northern Sky by Quickspin.
It's hard to believe that this is just 'a simple slot game.'
Let's take a closer look at it together.
Northern Sky: A Wonderful Discovery
The second you open Northern Sky, you start hearing a beautifully-composed soundtrack that sets the mood for some relaxing reel spinning.
And since I can't stand slots without music like Twin $pin, this is something I truly appreciate.
Then, you see the art.
From a stunning background image with the Northern Lights to the beautiful crystal animals on the reels - this game will make you feel as if you're in an art gallery.
However, Northern Sky is more than just a pretty game.
It has many neat bonus features designed to boost your bankroll.
For example, I adore the Respin feature. Each time you win, the game automatically respins the reels, keeping your original winning combination in place. This results in consecutive wins with big payouts.
There's also the Bonus feature that gives you free spins. They will pay you more than the usual spins as the game will use only the most valuable slot symbols.
To be honest, I can't find a single reason not to play Northern Sky.
If you're ready to try out one of the best new slots this year, head to BGO Casino where it actually pays to play slots.
BGO Casino: The Perfect Place For Slot Players
When I tell you that BGO Casino is a good place to play slots, I mean it.
And not only because there are more than 300 games available.
It's because of their welcome bonus offer.
You see, BGO has a unique welcome bonus called Fair Spins.
These spins are special because they don't have any wagering requirements - which means that you keep all the cash you win!
Here's how you get them:
Every new player receives as many Fair Spins as the pounds they deposit for the first time. The maximum number of spins is 50 - so you should deposit £50.
With BGO, slots bonuses can't get any better.
>> Create a FREE account now! <<
Everybody needs an account at one of these online poker rooms! They're the biggest, the best, and we get you the best poker bonuses. Check out our online poker section for details on all the online poker rooms around.