Global Poker Player Spotlight: Mike 'DarkKnight17' Coombs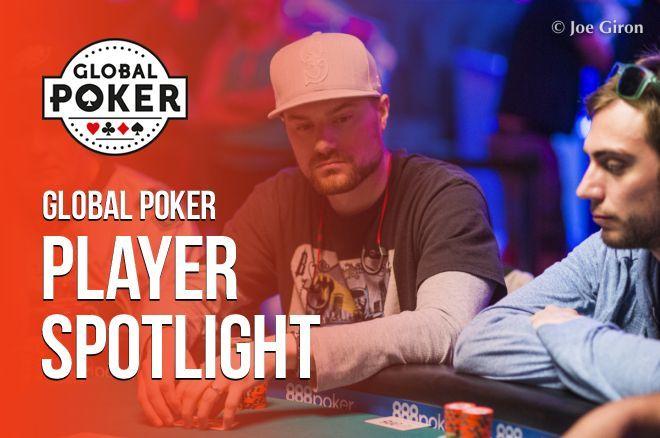 An active Global Poker player to capture the spotlight of late is live poker pro and Washington native Mike Coombs, playing under the moniker "DarkKnight17." In addition to a handful of daily tournament wins at Global Poker and a recent Rattlesnake Open event victory for SC$3,560, Coombs boasts live tournament success with not one, but two World Series of Poker final tables under his belt.
Before his recent online tournament win, Coombs had navigated his way to heads up in three other Global Poker Championship Events — two Rattlesnakes and one Grizzly Games — before doing it again in Rattlesnake Open Event #12-H: NLHE $10,000 Guaranteed with a $110 buy-in.
"I was just kind of sitting in front my computer quietly for about 40 minutes with a big smile on my face thinking 'It's about damn time!'"
This time, though, he was able to close it out, even after history appeared to be repeating itself.
"I had the chip lead when I got my opponent all in with
when I had
, but he spiked a deuce and I was thinking 'here we go again,' but I managed to grind my way back in front and eventually got him all in with another dominated ace and this time I held up."
Getting so close to the oversized Global Poker Championships trophy on three occasions and falling short made the victory all the sweeter.
"After being close to winning a few times before, it really was a relief to finally close one out. My wife was sleeping, so I was just kind of sitting in front my computer quietly for about 40 minutes with a big smile on my face thinking 'it's about damn time!'"
The Global Poker Grind
As a mostly live $15/$30 limit hold'em cash game player, Coombs is happy to spend time playing online at Global Poker on some of his off days. He goes into more detail surrounding the reasons he prefers to stick to Global Poker for his online fix on his blog, but the shortened version is simply, "because they have found a way for U.S. residents to legally play poker for real money. I don't trust any of the other sites at all."
While Coombs would love to top the Rattlesnake series leaderboard to win the $5,000 live package, it may not be in the cards with his current schedule of grinding live poker to provide for his family, and spending time with his wife.
"I've been playing the tournaments on my iPad while playing live poker and this past Saturday, I registered for all the events and basically sat out while I celebrated Mother's Day with my wife's family and played volleyball all day... but at least I got 60 series points!"
"My absolute favorite thing to do is travel to new places with my wife."
For Coombs, keeping a good poker and family life balance is critical and he and his wife make it a priority to take the time to travel and explore.
"My absolute favorite thing to do is travel to new places with my wife. I'm a massive baseball fan and we go to a new MLB ballpark every year and try to take in as much of that area as we can."
Coombs also makes time to consistently update his blog where you'll find not only tales of his poker exploits, but also movie and book reviews, along with discussions about music and baseball. His favorite poker book?
"Probably Elements of Poker by Tommy Angelo. It's not the most strategically instructional book, but it's from a limit Hold'em pro's perspective and I find his writing style to be far more entertaining than any other poker author."
Deep WSOP Runs
A primarily limit hold'em player who would prefer to play bigger mixed games if they were available in his area, Coombs made deep WSOP runs in back-to-back years in other games, speaking to his versatility.
"After making final tables in back-to-back years in different variants at the WSOP, I know winning a bracelet is attainable."
In 2016, Coombs played in the $565 No Limit Hold'em Casino Employees Event, the first event of the series. He final tabled and finished in third place for $32,249. He bested that career-high cash less than two weeks later when he took down a $235 Rio Daily Deepstacks tournament.
"Before the 2016 WSOP, I had yet to even cash an event, so just getting the money for the first time was a relief," Coombs recalled.
Coombs understands the game well enough to recognize the role of positive variance, a necessary element to winning tournaments. He distinctly remembers being all in for his tournament life and behind with pocket queens versus pocket kings on Day 2 of that one. He had accepted his fate after no help came on the flop or turn, but he found a miracle queen on the river to double through.
"I was in shock. I've been on the other end of that late stage bad beat so many times, so I really felt my opponent's pain more than I felt my own joy."
"I know how lucky I was to get to that first final table, but this one I felt like I really played my way there."
The very next year, Coombs navigated his way to the final table of a $1,500 H.O.R.S.E. event where he found himself sitting among heavy hitters including Max Pescatori, Andrew Kelsall, Esther Taylor-Brady and David "ODB" Baker. David Singer went on to win it all after Coombs took fifth place for $45,281.
While both WSOP final tables were surreal experiences, Coombs was more proud of the second one.
"I know how lucky I was to get to that first final table, but this one I felt like I really played my way there. Plus, I did it in a mixed game and not against a field of casino employees only. My wife and a number of friends happened to be in Vegas when I was at this final table, so that made the experience even cooler."
Future in Poker
Coombs plans to play a full tournament schedule this summer, mostly targeting the $1,500 non-No Limit Hold'em events at the WSOP and similar events away from the Rio.
While his main goal in poker is always to provide for his family, Coombs' deep WSOP runs and continued success in the game fuel a bigger dream.
"After making final tables in back-to-back years in different variants at the WSOP, I know winning a bracelet is attainable," he said. "It seems silly to call that a goal but it's definitely something I want to happen and I think it's something I can do eventually."