In The Commentary Booth With Randy 'nanonoko' Lew and Kane Kalas
Watching televised or live streamed poker tournaments would not be anywhere near as exciting if there were not some entertaining and insightful commentary to accompany all the action.
Fortunately, the Triton Poker team have the skills of online poker professional Randy 'nanonoko' Lew and semi-professional player and professional poker commentator Kane Kalas to call upon to cast their highly entertaining live stream.
Streaming live poker is not your standard job, but then neither is playing professionally. Lew and Kalas have some experience at doing both and do a pretty good job of it too.
The 32-year-old Lew streams regularly on twitch when he is grinding tournaments for a living, and is not too bad at that either, with over $1.42-million in live tournament winnings and over $1-million in online tournament winnings.
Kalas is also no slouch. The 28-year-old former professional, now semi-professional poker player, boasts over $1.25 million in live tournament winnings. Kalas also has broadcasting and commentating in the blood; the son of legendary Philadelphia Phillies Major League Baseball commentator Harry Kalas, Kane's brother Todd also sportscasts professionally for the Houston Astros.
PokerNews caught up with the pair on a break and grilled them about what it's like behind the casting desk and on the end of a microphone.
Is it more fun playing or commentating?
Kane Kalas: I enjoy both. I think it really depends on my mood. When I've been playing a whole lot, then I really want to commentate, and when I've been commentating a whole lot without playing, then I'm ready to get back to the tables and play.
Jesse May was broadcasting the tournament, and so that was my first time doing it, I must have been 20-years-old, it was a lot of fun."
Randy Lew: I enjoy playing more, just because you can win chips and lose chips [chuckles]. But the good thing about [doing] commentary is that it's relaxed so you're still involved with poker but you don't have the stress of putting up the buy-in, and you can actually learn a lot during commentary. You're not really learning while you're playing, usually, you're just trying to apply the things that you do and the learning is after you finish playing.
How did the two of you get into the live commentary game?
Kane Kalas: The first time I ever did a broadcast was part of an iPoker iPops event, where it was an online tournament, but then the final 12, or final 16 players came together and played live for the final two tables.
I busted before making the final table. But they were doing a live stream at the final table, and I said 'Hey! I'll help out and do some color commentary for the broadcaster.' Jesse May was broadcasting the tournament, and so that was my first time doing it, I must have been 20-years-old, it was a lot of fun.
Randy Lew: So I've done some guest commentary for the EPT's and things like that, but the time when I started to do a lot more commentary was during the Aussie Millions with Jason Somerville. He hosted that first one, and I did a bunch of guest commentary for him. I was only planning on doing it the once, but he was like 'Hey! Come back, everyone loved you,' so I went back and we did the PCA commentary as well, and then he invited me in to do Aussie Millions again, this previous one that just passed, so it just kinda fell into my hands I guess.
Which is the bigger challenge, remaining creative when commentating, or playing your best poker during long tournament days?
Kane Kalas: Probably remaining creative while commentating I guess. Depending on the situation and depending on the tournaments, I might not know the players that well, so I'm always able to kinda commentate with a good fundamental game theory background. I'm always able to make good points about the hands, but I don't necessarily always know inside stories and things that might be interesting to the audience. You have to do a little more field research there, and oftentimes you can't really do that because the players are playing and they're not going to be giving you that information all the time.
"The whole chat just started calling him Johnny Cage from Mortal Kombat."
Randy Lew: Usually when I'm playing, I like to think that I'm playing my best, but when you're getting far in a tournament I don't look at my phone anymore so I'm really tuned into all the bet sizes and maybe some live tells, or anything like that. Whereas commentary, it's hard to really think of new things to say. But I know a lot of things to say so… [chuckles]. Once I get through all of that, maybe when I do this over and over again maybe I might run out of material, but, yeah, I think that it [commentary] is harder.
What is the most hilarious chat box comment you have seen posted in the chat box when commentating?
Randy Lew: That's kinda hard actually, nothing that stands out… I mean I know there is some stupid stuff, maybe I get back to you on that one.
Kane Kalas: Something I like to always ask the chat is 'what do you think these players would be doing if they weren't professional poker players?' You know, what you'd expect, just based on their look, what they would be doing for a living. I had one player one time, he was wearing sunglasses, and he had his shirt unbuttoned a little bit, and he looked like he went to the gym a lot and the whole chat just started calling him Johnny Cage from Mortal Kombat. I was like, oh yeah, that's perfect, he's totally Johnny Cage!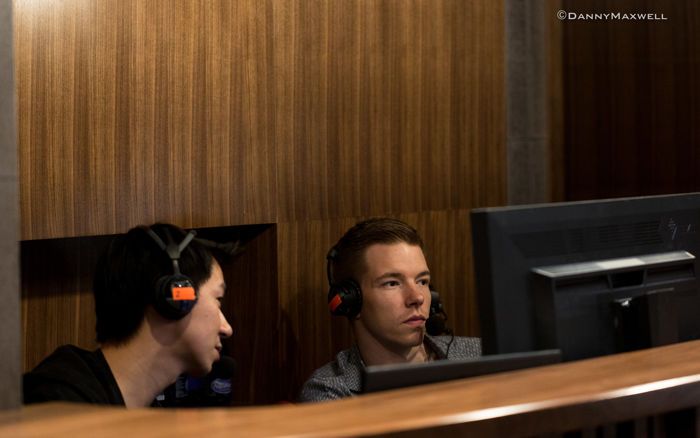 Everybody needs an account at one of these online poker rooms! They're the biggest, the best, and we get you the best poker bonuses. Check out our online poker section for details on all the online poker rooms around.