Partner with Staples, Gross, Martin or Moneymaker in RIU Reno Auction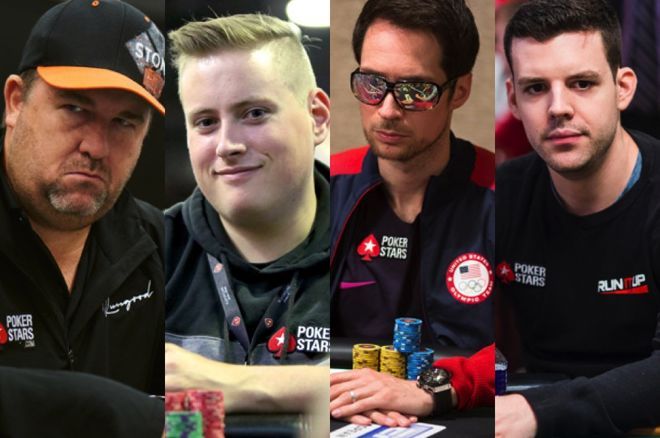 Jason Somerville and the Run It Up crew are returning to the Peppermill Resort and Casino for RIU Reno VII, which will take place Oct. 19-29.
The 11-day festival, which features 21 tournaments with $550K in GTDs, will award a pair of $30,000 Platinum Passes to January's PokerStars Players No-Limit Hold'em Championship, which has made it a must-attend stop.
A new event on the schedule is the $125 Partner Event on Sunday, October 21. For that tournament, Run It Up has teamed up with the Peppermill Casino and Resort to help raise money for the Northern Nevada Children's Cancer Foundation.
Bid on a PokerStars Pro
Now through October 20, players have the opportunity to bid on a special Run It Up Reno Partner Event Package where they could possibly play the event with a PokerStars Pro as their partner. Putting themselves on the auction block is 2003 World Series of Poker Main Event champ Chris Moneymaker, Twitch star Jaime Staples, vlogger Jeff Gross, and Big Brother Canada champ Kevin Martin.
Each winner will receive the following:
Entry into the Run It Up Reno - No Limit Hold'em Partner Event at 5pm on Sunday - October 21st.
Your PokerStars professional poker player as your teammate.
30-minute training/strategy meeting with your pro.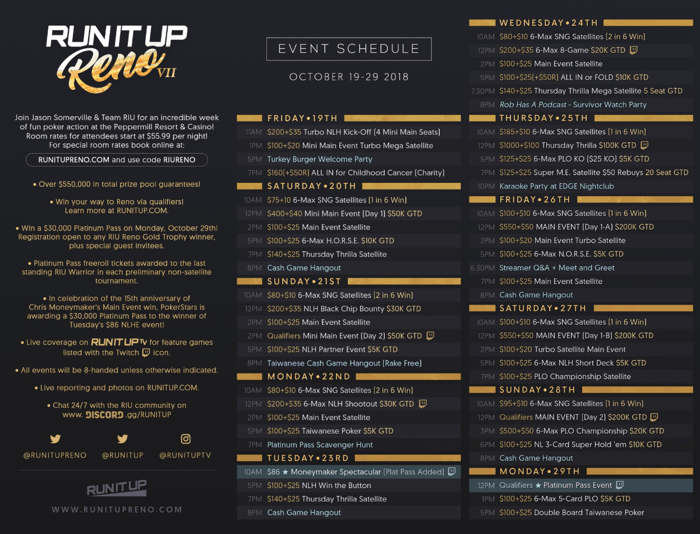 The pros are already jockeying for your bid. PokerNews caught up with three of them to chat a little about the RIU Reno promotion.
Why should people bid on you to be their partner at RIU Reno? What do you bring to the team?
Gross: "People should bid on me to be their RIU Reno Partner because I will be fun, engaged and give my best to help the team not only win but have a good time on the table and off. I bring experience, energy, and sound strategy to the MTT tournament format."
Martin: "I would be surprised if anyone besides me receives bids. Maybe a couple of dollars here and there for sympathy."
Staples: "From the poker side I have a RIU Reno title and main event final table under my belt. But more importantly in this unique team event, I think I will be a good partner that is able to navigate through the field."
Martin: "Luck. No one runs better than me. I get really competitive and I want to win but we'll have a great time along the way!"
Besides yourself, who do you think will receive the highest bid and why?
Gross: "I think that Jaime will receive a high bid. Seeing the interaction he had at the last RIU Reno while the Ultimate Sweat was going on there I could tell he was a fan favorite there at Reno."
Martin: "I would be surprised if anyone besides me receives bids. Maybe a couple of dollars here and there for sympathy."
Staples: Chris Moneymaker. Who wouldn't want to play with the guy that kicked off the poker boom, and won the main event!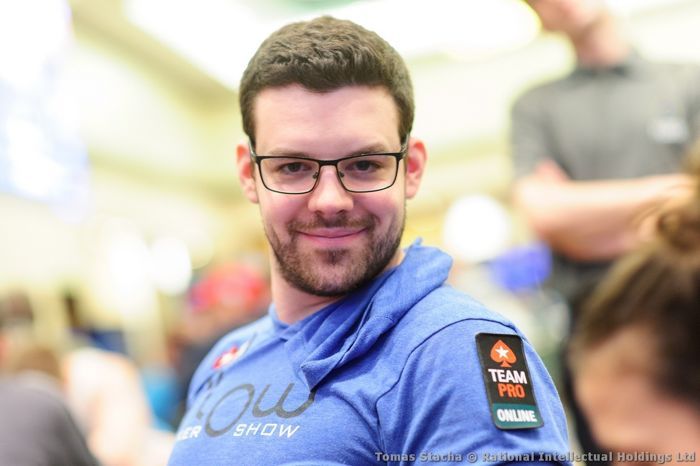 If someone bids on you and wins, do they get something besides what RIU is planning?
Staples: "30 Minutes of coaching before the event, and a good time guaranteed."
Martin: "Going to have the most amazing experience. Going to win, going to enjoy the whole way there. I'll cater the experience to the person who buys me. If we want to be competitive we can do some pregame coaching before. If we want to be five tequila shots in before we start I'm game for that as well!"
Gross: "If someone bids on me and wins they will also obtain a new friend and someone they can speak to in the future about poker and other wise! I will make sure they have a great time and a memorable experience."
Why should a poker player consider coming to RIU Reno?
Staples: It's the most fun poker series I have ever been to. There is some serious poker, some less serious poker, and a very relaxed and welcoming environment. It feels like summer camp (with lots of money on the line).
Martin: "There are a lot of buy-ins at Reno! Jason does a great job of providing an experience for everyone. If you want to play, high stakes is definitely available! If you want to keep your buy-ins relatively low, that's an option. Touch up on your game before you come down and hopefully you do well."
Gross: "A poker player should continue coming to RIU because this is the Poker Streamer event of the year. If you like twitch and engaging with your favorite streamers, this is the ultimate. You have access to players who are there to speak with you and help you have an amazing time."
Place your bids at 32auctions.com.runitupauction.