Matt Stout and Jeff Gross Grab Trophies at Run It Up Reno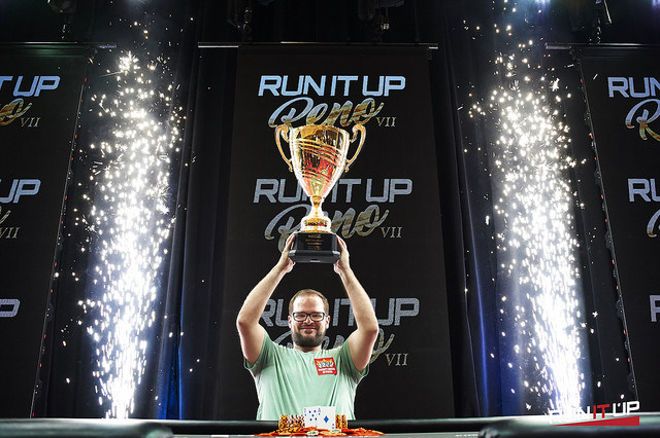 The fun's not quite over at Run It Up Reno VII as some side events still remain to be played — including a special $30,000 Platinum Pass freeroll — but two of poker's more recognizable faces claimed trophies over the weekend, including in the $600 Main Event.
None other than longtime tournament grinder Matt Stout emerged victorious for $70,000 in the biggest event of the series. He topped a field of 687 runners and bested Run It Up Ambassador and Team PokerStars Pro Online's Kevin Martin in heads-up play.
Another member of Team PokerStars also got his hands on a trophy on Sunday night or more accurately, Monday morning. It wasn't quite as lucrative as Stout's Main Event win or even Martin's runner-up finish, but Jeff Gross won the $550 Six-Max Pot-Limit Omaha for $8,075 in a field of 51 entries.
Stout Takes the Main
Stout, a veteran of World Series of Poker and World Poker Tour final tables with over $4 million in live cashes, would seem to be a huge fish in the small Run It Up Reno pond. He admitted in his winner's interview that he only attended the event at the prodding of his girlfriend, who wanted to play before the two become parents in the coming month or so.
However, Stout showed he's still got it despite playing lower tournament volume nowadays as he advanced to the final table. There, he didn't have much in the way of chips after losing a flip to Kyle Besaw, but he got back in the groove by doubling through Anthony Yeh with ace-king over ace-queen.
Stout then scored two eliminations. First, he picked up ace-jack when Dan Chevrie shoved with ace-five for 12 big blinds in the hijack. Not long after, Deb Swift shoved for 16 big blinds with ace-five and Stout woke up with eights to get it to six-handed.
After the elimination of Ilana Creed, Stout dispatched an ultra-short-stacked Besaw. Yeh was likewise very short and went out in fourth to Sok Chean.
Chean was in a good spot with the chip lead but went down in third nonetheless. First, he got coolered by Stout when both flopped aces up but Stout's top two proved superior to middle two. Then, he found himself dominated when he and Martin both gambled with flush draws but Martin's queen-high bested a jack-high draw. Unable to recover, Chean had to settle for a place-appropriate $33,330.
That left the two favorites heads up. Stout raise-called
to a shove of 22 big blinds by Martin, who needed help with
. Neither paired up or improved otherwise, leaving the popular streamer finishing second for $48,210.
Stout, who focuses more time on cash games and running his Charity Series of Poker as he transitions to fatherhood, admitted winning a tournament is still a special feeling.
"I feel great right now," he said. "It's a lot of hard work and a lot of heartache in tournament and once a year or every two years you get to feel like a genius again."
Run It Up Reno VII Main Event Official Final Table Results
| Place | Player | Prize |
| --- | --- | --- |
| 1 | Matt Stout | $70,000 |
| 2 | Kevin Martin | $48,210 |
| 3 | Sok Chean | $33,330 |
| 4 | Anthony Yeh | $23,150 |
| 5 | Kyle Besaw | $16,190 |
| 6 | Ilana Creed | $11,420 |
| 7 | Deb Swift | $8,170 |
| 8 | Dan Chevrie | $5,945 |
Gross Finds his Flow in PLO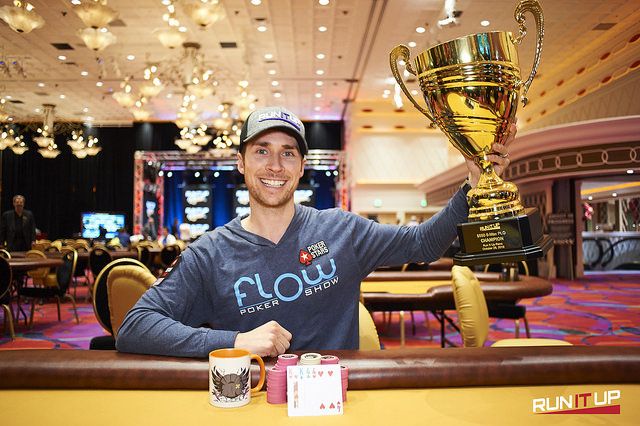 Gross has splashed around in some of the higher buy-in tournaments out there, but viewers to his Poker Flow Show know he's all about a good time as well, so Run It Up Reno fits right in his wheelhouse. While he may not have been able to make headlines in the Main Event, he grabbed his own hefty trophy in the $550 Six-Max PLO.
It wasn't an easy run by any means, as Gross was down to just a few big blinds when the tournament got five-handed. He managed to stage a comeback and get past Run It Up veterans Jordan Spurlin (third) and Kevin Gerhart (second) three-handed to take down his fourth live win.
Gross said that regardless of the stakes, winning a tournament is tough, and it was nice to come away with the hardware, especially at a place like Run It Up Reno, where it's the icing on the cake at an event that's fun no matter the result.
"It's a blast," he said. "It's almost like summer camp. I'm tired and ready to close on a high-note with the Platinum Pass."
Indeed, Gross has earned an entry to the event that's playing to a winner on Monday to close out another successful poker party at Peppermill Reno for patriarch Jason Somerville and the rest of the Run It Up crew.
| Place | Player | Prize |
| --- | --- | --- |
| 1 | Jeff Gross | $8,075 |
| 2 | Kevin Gerhart | $5,200 |
| 3 | Jordan Spurlin | $3,420 |
| 4 | Steven Filipovic | $2,400 |
| 5 | Claudio Elizalde | $1,800 |
| 6 | Sarah Sherman | $1,440 |
| 7 | Steven Wilkie | $1,200 |
| 8 | John Gwinn | $1,200 |