In Memoriam: Kevin "Racks" Roster Leaves Beautiful Legacy in his Final Days at the WSOP and Beyond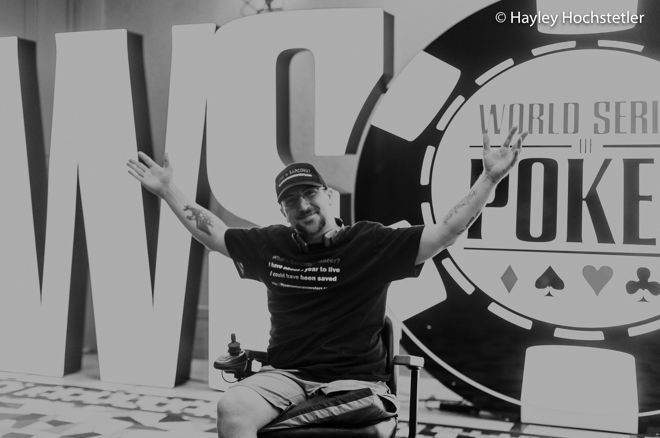 With mere weeks to live, Kevin "Racks" Roster decided to share his final days with the poker community, spreading awareness and impacting countless lives, all while living out his bucket list and continuing to do what he loved until it was time to peacefully exit the world with his family by his side.
Until his last breath, Roster knew he had made the right choice by sharing his journey with others via social media and at the poker tables at the World Series of Poker in Las Vegas and beyond. In his final bucket list tour, he battled at the felt while spreading the word about sarcoma, the rare and ultra-aggressive form of cancer that he was plagued with, inspired countless people within his reach, increased awareness about end-of-life rights and promoted potentially life-saving testing procedures.
"Chase your dreams and don't put them off. Travel. Experience."
Roster left an indelible mark on the poker world while touching the lives of so many, gave generously to causes dear to his heart, and left an amazing legacy for his nine-year-old son, Lucas. While he may not have won the WSOP hardware he was seeking, Roster knows he won big in more ways than he could have imagined.
"While my intentions were to win the cards just didn't cooperate, but something far, far greater occurred as I received considerable attention for my cause," Roster wrote about the experience. "I was able to reach millions of people and far exceed the expectations that I had for myself a street kid from Queens who grew up in group homes. I would like to thank the press and the poker community for helping to spread my message of awareness far and wide, beyond what I ever thought possible."
Leaving His Mark
For 36-year-old Roster, the decisive choice to die on his own terms and "rob cancer of its prize" as he told WHYY.org was clear to him from the start. Though his home state of New Jersey would become the eighth state to allow 'death with dignity,' waiting for the effective date of Aug. 1 was not a gamble Roster could take.
Following an April procedure to remove a large tumor in his left thigh and a May 20th prognosis of just weeks to live, Roster shipped out to Rancho Cordova, California where he would be able to obtain doctor-prescribed drugs to end his life on his own terms.
"While my intentions were to win the cards just didn't cooperate, but something far, far greater occurred as I received considerable attention for my cause."
With a prognosis of around 2-4 months, Roster set out on a bucket list tour to play the game he loved at the WSOP, all while sharing his story and spreading awareness. During the WSOP, Roster told PokerNews that the long days of grinding poker were taking their toll on his failing health, but he was determined to persist in his mission as long as he could manage.
"I could stay home and cry about it, but I decided to come to the World Series of Poker and live my life the way I've always lived my life, and you know have a nice run at the end."
The semi-pro poker player and entrepreneur with a collectibles business back in New Jersey had a nice run indeed, showing off his poker skills by cashing four times and making some deep runs at a WSOP bracelet.
His best cash was a 38th-place finish out of 6,035 entries in the $1,500 Monster Stack for $22,561 which he followed up with a 24th-place finish in a $1,500 Limit Hold'em event. Before leaving town, Roster got to tick off another bucket list item by playing in the $10,000 Main Event, but during the dinner break of Day 2 his health took a turn for the worse. He ended up busting out that evening and mentioned on Twitter feeling like he let people down, but the community picked him right up.
I'm out of the main. Thanks for all the support. I had an attack upstairs during the dinner break inspite of my bes… https://t.co/kWMj33h1D8

— Kevin Racks (@KevinRacksPoker)
After returning to California, Roster took a trip to Reno for one last shot at WSOP gold in the $500 Online Summer Saver. In the final online event that drew 1,859 players, Kevin "Racks" put together yet another deep run, finishing in 123rd place. Roster left his mark on the 2019 WSOP and on the poker world, while also contributing much of his winnings to cancer-fighting charities. He also got his own "dream ending," getting to meet many of his poker heroes.
This has been a fucking dream ending. Ty to @RealKidPoker @phil_hellmuth @GregMerson I guess Chris doesn't have a T… https://t.co/nNtY9HGIXo

— Kevin Racks (@KevinRacksPoker)
In addition to raising awareness about sarcoma and the importance of early testing, Roster offered perspective for many fortunate enough to get to play poker as a profession or a hobby: "Taking a beating on the tables is much easier after dealing with these kinds of life issues, you know. A bad day on the tables isn't that bad comparatively. I try to tell people that, but they don't always wanna hear it when they're steaming," Roster shared with PokerNews.
Roster continued to play poker and impact lives through the very end in his new home in the Sacramento area. He played on live streams at Stones Gambling Hall, played in the Ante Up Poker Tour at Thunder Valley Casino, and continued to spread awareness, inspire, and meet heroes of his own along the way.
recently someone comes up to me. & asks if they can talk to me. I say sure. They say its very hard for them, I'm th… https://t.co/VadRA36iU6

— Kevin Racks (@KevinRacksPoker)
Lots of people tell me I've done a good job raising awareness when the @lonmceachern one of the most iconic prolifi… https://t.co/4VjQ9IAfTZ

— Kevin Racks (@KevinRacksPoker)
Ending Things on His Terms
As Roster made very clear, he would continue living life to the fullest as long as he could, and he let the amount of pain he was in determine when it was his time to go. That time, he announced on Thursday, had come and Roster wrote the following in his farewell letter:
"It is with considerable regret that I am writing this letter to inform you that I have chosen to peacefully end my fight with sarcoma from a position of strength via the use of medical aid in dying tomorrow (Friday), July 26, 2019. At this point, it is my belief, and the belief of my doctors, that the disease which is overrunning my body will shortly be taking me either way. I take this decision not at all lightly and would like to have been able to do more. I missed out on many items from my bucket list, but had to take them where I could get them, as my health went downhill more quickly than I could have anticipated. At this point, the disease is holding me hostage, and I am taking back control, as I have tried to at every crucial step of my journey."
As he had done since getting his grim diagnosis, Roster let the world in on his journey until his final day.
"I've just been getting worse and worse and worse since I left the World Series of Poker after my first-ever respiratory attack. So, I wanna thank the community for the amazing support. I've met so many really amazing people and I've had so many people reach out and tell me I've helped them in one way or another, or that I'm an inspiration. I've had people tell me that they're getting checked by doctors and so you know, the whole thing was a victory."
Poker family, I am ending my battle with sarcoma cancer tomorrow via medical aid in dying. I can no longer go on, s… https://t.co/PhKbY4SkXZ

— Kevin Racks (@KevinRacksPoker)
"Those of you who've met me, you know if I could keep doing what I was doing, well I would definitely keep doing it," Roster said in his farewell video. "It's just been such an amazing experience to help other people. But again, when I go home, I'm in so much pain. I'm on morphine; I hate drugs — except for weed, I'll be clear. I support marijuana use for cancer patients or recreation."
Roster also wanted to make clear that he was exercising his right to end his battle on his own terms due to debilitating levels of pain and delirium, despite his apparent health or the optimistic attitude some may have seen recently.
"While my intentions were to win the cards just didn't cooperate, but something far, far greater occurred as I received considerable attention for my cause."
"It's just, I don't want anybody to take my story and use it the wrong way because at the end of day, you guys see my tough guy face and I put it on, and I come and I play at the table with you for three or four hours. And yeah I laugh and I have a good time but at the same time, I have to disappear several times a game to dose myself with morphine and at times, it's hard to even keep playing."
Part of Roster's mission since his diagnosis was to promote legislation that gives terminal patients options, including to end life on their own terms. As he wrote in his farewell, "I do believe that anyone and everyone else should have the right to consider all options when facing a terminal diagnosis. Unfortunately, this is not the case for 80% of the states in this country."
He also had a message for those who were touched by his story on a personal level. "Since my story has gone public, countless people have reached out to me via social media and in person to tell me their cancer and sarcoma stories. Your victories, defeats and battles proved to me that putting myself out there was the correct decision and I want you all to keep living laughing and fighting."
Final Words
Roster said his goodbyes to the poker community that he touched so profoundly, and continued inspiring with his words and actions.
"Again guys, you've been amazing. Thank you so much. I'm really happy I could be any kind of a help at all. And you know, I had an incredible run and it was just — it was a great time and I wish that it wasn't over. But it has to be, because I can't keep living like this. Alright man, or you know — poker fam, yo it's been real, I love y'all."
Too many people to respond to individually. Ty you all for the kind words. I appreciate them. I'm sad but not afrai… https://t.co/FPUDrpVH5M

— Kevin Racks (@KevinRacksPoker)
Even in his final moments, he was bringing humor and smiles to those around him.
I know I'm dying in a few hours gotta leave y'all on a humorous note. I just put on some shorts I haven't worn sinc… https://t.co/0d5tcRIdFC

— Kevin Racks (@KevinRacksPoker)
Continuing the Cause
While his bucket list tour is over, Roster's mark on the world will remain. Roster asked the community to not let sarcoma awareness die with him, requesting that those who can keep spreading the word about the disease and to keep charitable efforts going. "Together, we do make a difference, whether it feels like it or not," he said.
If you'd like to join in Kevin "Racks" Roster's ongoing mission to fight sarcoma and lobby for end-of-life rights, as he did until his final moment, here's how you can do that.
"In lieu of flowers or direct donations I ask you please support compassionandchoices.org and the Sarcoma Foundation of America through my personal dedication page located at: curesarcoma.org/kevin-racks-roster/."