PokerStars' Women's Day Platinum Pass Qualifiers Revealed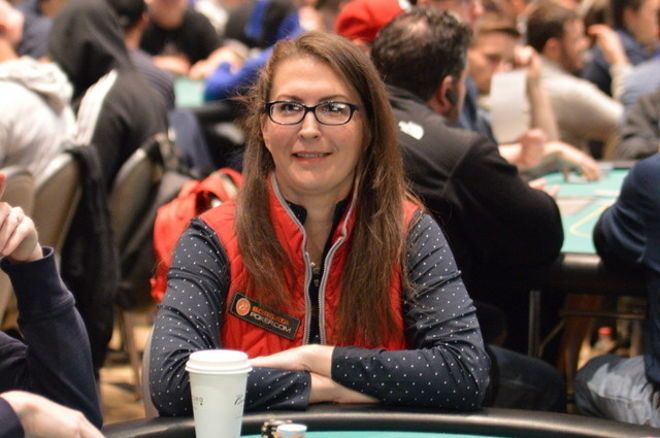 PokerStars announced a contest as part of International Women's Day on March 8 that would see one poker-loving woman walk away with a Platinum Pass for the 2021 PokerStars Players Championship (PSPC) event.
Fans of poker had to nominate any woman they thought had made an impact on the game of poker, or who they saw as an inspirational woman in poker. The sheer volume of nominations was unprecedented, which resulted in PokerStars increasing the number of finalists from six to nine. Those nine finalists have been officially revealed.
We received a huge number of nominations for deserving women all over the world and it has been amazing to see so many inspirational stories and the positivity and support from the whole poker community. Our judges had a hard job to pick just six finalists and after (not) much deliberation, we decided to increase the number of finalists from six to nine, as there were so many amazing women nominated. Due to the current global situation, we can't put a date on the live final but we will arrange this to happen before the PSPC takes place.
Daiva Byrne – a professional poker playing hailing from Lithuania but who now resides in Manchester, United Kingdom
Christina Reed – A semi-professional player and bank sales executive how called Flowery Branch, Georgia, USA home
Katie Stone – A New Jersey, USA professional poker player
Glada Shiyan Fang – A Malta-based Italian professional poker player
Meichelle Culchane – Oklahoma, USA's volunteer poker teacher for senior citizens
Jan Fisher – a partner in Card Player Cruises from Las Vegas, USA
Terry Hatcher – Calls Austin, Texas, USA home where she is a business owner, tournament director, and poker dealer
Alexis Sterner – a registered nurse from Orlando, Florida, USA
Aurelie Reard – a French professional poker player who no calls Cardiff, Wales home
Katie Stone, one of the nine finalists, was born and bred in New Jersey, USA where she continues her career as a professional poker player. Stone took some time from her extremely busy schedule to participate in a quick Q&A session with PokerNews.
Katie Stone reaches out to poker eomployees
Can you tell us a little bit about yourself?
I entered poker from the chess world around 2005/2006 and started playing regularly online around mid-2009. I moved to Mexico after Black Friday in 2011 along with a huge group of poker players which was absolutely the best two years of my life! I moved back to my home state of New Jersey in 2014 when online poker became legalized. My husband Joe Cappuccio is also an online pro and we have a 4.5-year-old son. I am a sponsored Pro for partypokerUS and BorgataPoker.com.
How does it feel to be a Platinum Pass finalist?
I am beyond grateful and so very excited. PokerStars is a big reason I play poker for a living; the 45man and 180man sngs are how I built my bankroll back in 2009.
How are you going to prepare for the final?
I haven't played real sngs much lately, but I do play a lot of satties online with one seat guaranteed, so this will be similar, but for a much bigger seat! Luckily one of my best friends and new mom, Katie Dozier, is a sng writer and crusher, so maybe I will reach out to her for some study sessions :)
How long have you been playing poker?
15 years
How did you get into poker?
I came from the chess world; lots of chess players started playing poker around the Moneymaker boom in the early 2000's...it was just a matter of time I guess :)
What do you enjoy about poker?
I love how I am continually able to incorporate ideas I learn from poker into my everyday life, and because there's so much to learn it's never boring.
How do you think we can encourage more women to get into poker?
I think a lot of it starts in the live poker rooms. Helping rooms enable more hospitable environments for new players is key. I spoke about this last summer at the TDA Summit hosted by Matt Savage at Aria in Las Vegas. One idea I talked about was how if dealers were able to issue warnings at the table, this would be a huge step in the direction of encouraging more pleasant experiences for new or inexperienced players. I am hoping to see a room somewhere out there take the first step in doing this so that others can see how much of an impact this could have.
Do you think there are any advantages to being a woman playing poker?
I think it can be both harder and easier; how we see it depends on our perspective, our experience and how we have adapted. I am not the same person today I was ten years ago, and I am also not the same player. I think it takes time to find yourself in poker, to decide what image works best for your ROI and your mental wellbeing, regardless of gender.
Kristen Bicknell is the 2019 GPI Female POY
What would you say to women who are intimidated by the game of poker?
I would say sure, poker can be intimidating and demands our respect, and rightfully so. Poker is the hardest game I have ever played and depending on the games you play, can get harder year after year. But this should also tell you that because it is so difficult, that it's also extremely tough to master, which means most people are in the same boat. The cool thing about a game that's so tough too, is that you remain fascinated and the intimidation eventually turns into respect.
What is your advice to future female leaders in poker and [your respective industry]? When I was just getting into poker in 2005/2006, I attended a poker training event where a then-household name in poker, a woman, told me after class one day that "no one will ever help you" in poker when I was asking about ways to get better. Me not believing her was either stubborn or foolish however I can understand how anyone can have this feeling due to the sometimes cut-throat nature of the game. My advice would be don't believe that woman and don't be that woman; be the opposite.
What more can women and men do to create better gender balance in society?
Study more poker, totally serious! Looking at different areas of your game and diving deep can be tough, frustrating, confusing and more. However the raw dissection, analysis and practice put into understanding and refining your game are what also allow you understand real-life situations and puzzles from all sides a bit better, as well as uncovering mental game and personality traits that may be holding you back either personally or professionally.
PokerNews wishes all nine amazing women the very best of luck in the competition.
---
The Stars Group is a majority shareholder in Oddschecker Global Media, the parent company of PokerNews