More than $2.6M Awarded During PokerStars PA & NJ Bounty Builders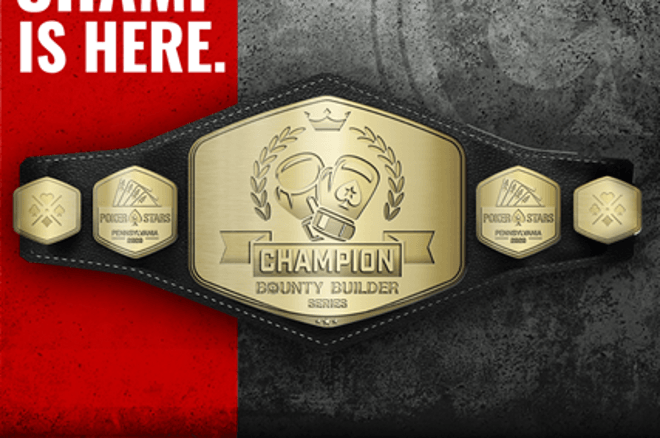 While bracelet events are dominating the headlines in the online poker world these days, they're not the only notable tournaments being held.
Stateside, PokerStars wrapped up two Bounty Builders series over the weekend, one in New Jersey and the other in Pennsylvania. Players were treated to nearly $2.7 million in prize pools across a slew of progressive knockout (PKO) formats, making for enjoyable action from July 12-26.
PA Players Smash Guarantees
The Pennsylvania series was the more ambitious of the two in terms of total guarantees, with $1.5 million promised. That was a big jump from the $500K guaranteed in a similar series back in February.
No worries for the operator, though. The strong turnout enabled PokerStars PA to soar past that number with $1,968,721 in total prize money generated by 32,731 entries. That number represented more than a 31% increase from the posted guarantees.
Of most prominence was the $200 Main Event, with a $150K guarantee. That generated a prize pool of $197,904, and "RiverMeDaddy" emerged as the winner, claiming $13,617 plus another $10,755 in KO bounties.
PokerStars also offered $16,000 in prizes for players who would garner the most knockout points throughout the 70-event series. That honor went to "Homie Sr", who banked $4,000 in prize money.
Here's a look at all of the championship event winers, who earned commemorative belts:
PokerStars PA Bounty Builder Championship Belt Winners
king12929
Christophonic
Homie Sr
DrAtomic7
wnunley
sawyer2117
Thicc Rick
BigDennyCool
wofaab
uwillmiss
SleazyAmishGirl
TegridyFarm$
TheBigSlick74
AndrewYang2020
BinkaX
sloyer57
RiverMeDaddy
werd3739
Click Here to Sign Up for PokerStars PA Today
"AvaGray" Continues NJ Domination
Meanwhile, at PokerStars NJ, the story was a familiar one for players looking at the final results of the $300 Main Event: Daniel "AvaGray" Lupo occupied the top spot, shipping $6,273 plus $7,984 more in bounties.
Lupo is one of the most dominant players in the U.S. regulated market, where he has piled up more than $3.3 million in cashes according to PocketFives and has claimed an amazing 15 combined titles between PokerStars' Spring Championship of Online Poker and New Jersey Championship of Online Poker.
While less lucrative for both the players and the operator than the PA series, the NJ series still surpassed it's guarantee of $600,000 by about 18%, drawing 9,481 entries to create $710,910 worth of prize pools.
Another notable reg, Mike "miw21000" Wang would rack up 174 points to take down the KO leaderboard and $4,000.
Here's a look at all of the belt winners:
PokerStars PA Bounty Builder Championship Belt Winners
vblinkchikv
donnysack
pairoffives055
maddy26884
Mc_Lovin1632
Maverick08618
NoRverNoFish
Scooby-D0O
stacks8080
gotabolt0
iHak201313
Mc_Lovin1632
jumbomom5
Goldy0131
jordanofpkr
JanJurik
AvaGray
Badwis
Click Here to Sign Up for PokerStars NJ Today
Market Still in Boom Period
Despite a slight dip from the height of the recent boom in April and May, online poker continues to thrive in Pennsylvania and New Jersey.
While the former market hasn't even been running a year, June was still its third-biggest month to date in terms of revenue, bringing in $3.2M ($) according to Poker Industry PRO.
New Jersey, meanwhile, saw $3.5M raked ($), more than double the amount from 2019.
With fall and the expected online championships around the corner, expect plenty more reasons to sign up and play at PokerStars. If you want to get in on the action, follow these links: