2020 PokerStars PACOOP Kicks Off Today; 50 Events & $1.5M Gtd.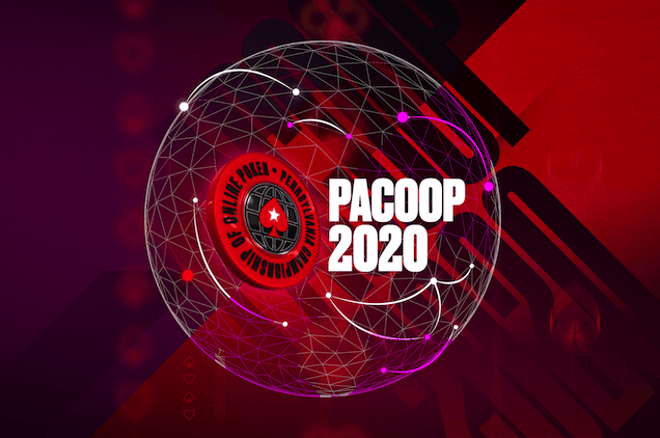 While the 2020 PokerStars World Championship of Online Poker (WCOOP) is already in full swing, the Pennsylvania Championship of Online Poker [PACOOP] will see the cards hit the virtual felt in the near future for its second edition after a successful inaugural series that paid out over $1.5M across the state's residents.
Those residing in PA can look forward to a 50-event series on PokerStars PA running from September 19 through October 5. The 17-day festival offers $1.5 million in guaranteed prize money, with the $300 NLHE, $200K guaranteed Main Event on Sunday, October 4 as the highlight of the series.
Buy-ins for the festival range from $20 all the way up to $500, with the schedule taking care of the PLO- and mixed-game aficionados as well. Satellites for the PACOOP will appear soon in the PokerStars PA client.
---
---
For those that come up short into one of the PACOOP events, special freeroll tickets are awarded with $1,250 in satellite tickets and entries to other PACOOP events being awarded. These Second Chance Freerolls run daily at 6:50 p.m. ET from Sept.20-Oct.3, with one more on Oct. 4 at 4:50 p.m.
To spice things up, a special Main Event Depositor Freeroll will be played out on Sunday, October 4 at 2 p.m. ET. Players who deposit at least $30 while using the code PACOOP will receive a ticket to the special freeroll with $7,500 in Main Event entries (30 seats) added to the prize pool.
Check out the full 50-event PACOOP schedule below for more information.
---
---
Full 2020 Pennsylvania Championship of Online Poker (PACOOP) Schedule
| # | Date | Time (ET) | Event |
| --- | --- | --- | --- |
| 1 | 19-Sep (Sa) | 6 p.m. | $100 NLHE [Nightly Stars – PACOOP Warm-Up], $50K Gtd |
| 2 | 19-Sep (Sa) | 8 p.m. | $50 NLHE [8-Max, PACOOP Warm-Up], $30K Gtd |
| 3 | 20-Sep (Su) | 1 p.m. | $100 NLHE [8-Max, Turbo, Deepstack], $35K Gtd |
| 4 | 20-Sep (Su) | 2 p.m. | $50 NLHE [6-Max], $20K Gtd |
| 5 | 20-Sep (Su) | 3:30 p.m. | $150 NLHE [8-Max, Progressive KO], $30K Gtd |
| 6 | 20-Sep (Su) | 5 p.m. | $100 NLHE [Sunday Special SE], $100K Gtd |
| 7 | 20-Sep (Su) | 7 p.m. | $100 PLO [6-Max], $15K Gtd |
| 8 | 20-Sep (Su) | 10 p.m. | $50 NLHE [8-Max, Sunday SuperSonic SE], $10K Gtd |
| 9 | 21-Sep (M) | 7 p.m. | $50 NLHE [6-Max, Hyper-Turbo, Progressive KO, Battle Royale SE Progressive KO], $30K Gtd |
| 10 | 21-Sep (M) | 8 p.m. | $75 PLO8 [8-Max], $12K Gtd |
| 11 | 22-Sep (Tu) | 7 p.m. | $200 NLHE [Super Tuesday SE], $40K Gtd |
| 12 | 22-Sep (Tu) | 8 p.m. | $20 NLHE [Mini Super Tuesday SE], $15K Gtd |
| 13 | 22-Sep (Tu) | 8 p.m. | $150 NLHE [8-Max], $15K Gtd |
| 14 | 23-Sep (W) | 8 p.m. | $500 NLHE [6-Max, High Roller], $50K Gtd |
| 15 | 23-Sep (W) | 9 p.m. | $150 NLHE, $15K Gtd |
| 16 | 24-Sep (Th) | 7 p.m. | $200 NLHE [Progressive KO, Thursday Thrill SE], $40K Gtd |
| 17 | 24-Sep (Th) | 7:30 p.m. | $20 NLHE [Progressive KO, Mini Thrill], $20K Gtd |
| 18 | 24-Sep (Th) | 8 p.m. | $100 PL 5-Card Draw [8-Max, Turbo], $10K Gtd |
| 19 | 25-Sep (F) | 7:30 p.m. | $200 8-Game, $15K Gtd |
| 20 | 25-Sep (F) | 9:30 p.m. | $150 NLHE [6-Max, Turbo], $20K Gtd |
| 21 | 26-Sep (Sa) | 5 p.m. | $100 NLHE [8-Max, Deepstack], $35K Gtd |
| 22 | 26-Sep (Sa) | 8 p.m. | $50 NLHE [Saturday Speedway SE], $15K Gtd |
| 23 | 27-Sep (Su) | 1 p.m. | $100 NLHE [8-Max, Turbo, Marathon], $35K Gtd |
| 24 | 27-Sep (Su) | 2 p.m. | $100 PLO [8-Max, Turbo], $10K Gtd |
| 25 | 27-Sep (Su) | 3:30 p.m. | $150 NLHE [6-Max], $25K Gtd |
| 26 | 27-Sep (Su) | 5 p.m. | $100 NLHE [Sunday Special SE], $100K Gtd |
| 27 | 27-Sep (Su) | 7 p.m. | $200 NLHE [Progressive KO], $35K Gtd |
| 28 | 27-Sep (Su) | 9 p.m. | $75 NLHE [Sunday SuperSonic SE], $12K Gtd |
| 29 | 28-Sep (M) | 7 p.m. | $200 NLHE [4-Max], $25K Gtd |
| 30 | 28-Sep (M) | 8 p.m. | $500 PLO [6-Max, High-Roller], $25K Gtd |
| 31 | 29-Sep (Tu) | 7 p.m. | $250 NLHE [Hyper-Turbo, Super Tuesday], $40K Gtd |
| 32 | 29-Sep (Tu) | 8 p.m. | $100 NLO8 [8-Max], $10K Gtd |
| 33 | 30-Sep (W) | 7 p.m. | $30 NLHE [6-Max, Turbo], $20K Gtd |
| 34 | 30-Sep (W) | 8 p.m. | $200 NLHE, $30K Gtd |
| 35 | 30-Sep (W) | 9 p.m. | $100 Stud Hi/Lo, $10K Gtd |
| 36 | 1-Oct (Th) | 7 p.m. | $250 NLHE [Progressive KO, Thursday Thrill], $40K Gtd |
| 37 | 1-Oct (Th) | 9 p.m. | $150 NLHE, $20K Gtd |
| 38 | 2-Oct (F) | 7 p.m. | $200 FLHE [6-Max, Turbo], $10K Gtd |
| 39 | 2-Oct (F) | 9 p.m. | $200 NLHE [Hyper-Turbo], $15K Gtd |
| 40 | 3-Oct (Sa) | 6 p.m. | $300 NLHE [6-Max], $40K Gtd |
| 41 | 3-Oct (Sa) | 9 p.m. | $75 NLHE [6-Max], $20K Gtd |
| 42 | 4-Oct (Su) | 2 p.m. | $100 NLHE [Turbo, Progressive KO, Deepstack], $25K Gtd |
| 43 | 4-Oct (Su) | 5 p.m. | $300 NLHE [Main Event], $200K Gtd |
| 44 | 4-Oct (Su) | 6 p.m. | $50 NLHE [Mini Main Event], $40K Gtd |
| 45 | 4-Oct (Su) | 8 p.m. | $100 NLHE [Progressive KO], $30K Gtd |
| 46 | 4-Oct (Su) | 9 p.m. | $100 PLO [6-Max, Hyper-Turbo], $10K Gtd |
| 47 | 4-Oct (Su) | 10 p.m. | $75 NLHE [Sunday SuperSonic SE], $10K Gtd |
| 48 | 5-Oct (M) | 7 p.m. | $100 NLHE [Nightly Stars SE – PACOOP Wrap-Up], $35K Gtd |
| 49 | 5-Oct (M) | 8 p.m. | $50 NLHE [8-Max, Phase 2], $50K Gtd |
| 50 | 5-Oct (M) | 9 p.m. | $100 NLHE [6-Max, Hyper-Turbo, Deep Hyper Turbo], $15K Gtd |