Tournament Spotlight: WCOOP-48: Progressive KO Sunday Slams at PokerStars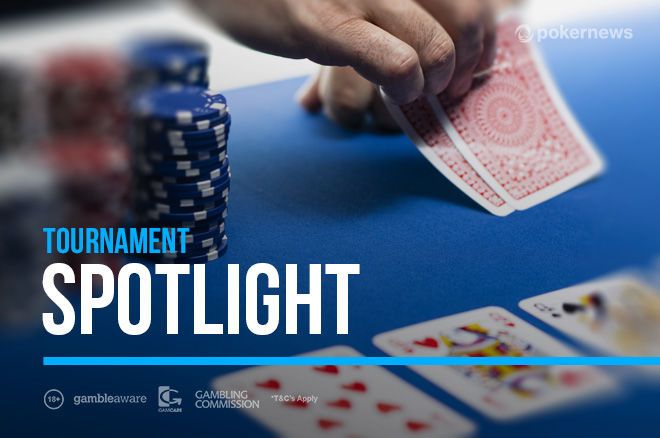 Progressive Knockout tournaments are extremely popular thanks to them making it possible to win large cash sums even if you don't make it into the money places. A trio of huge PKO tournaments take place at PokerStars this weekend, three WCOOP events with combined prize pools worth a cool $3.5 million.
WCOOP-48 [8-Max, Progressive KO, Sunday Slam] comes with three buy-in levels. The Low costs $55 to enter, the Medium is $530, while the High commands a $5,200 buy-in. Each comes with a seven-figure guaranteed prize pool: $1 million for the Low and High, and $1.5 million for the Medium.
One thing that stands out for each of these events is the excellent blind structure, which means you won't be in a position where you're pushing all-in or folding early on in the tournament.
Follow all the WCOOP action here at PokerNews
WCOOP-48 Schedule and Details
Players in the Low $55 buy-in start with 50,000 chips and play to a 15-minute clock where the blinds begin at 125/250/30a. Late registration is available for the first 3.75 hours and it's possible to purchase up to three re-entries during this time.
Day 1 shuffles up and deals at 7:05 p.m. CEST on September 13 and continues for 7.75 hours. Anyone who survives the day returns to the action on Day 1 returns to their seats at 7:05 p.m. CEST on September 14. Play here continues until only 24 players remain in the hunt for the title. Day 3, the final day, begins at 7:05 p.m. CEST prompt on September 15.
It is a similar story in the $530 Medium although there are a handful of difference. Starting stacks are 100,000-chips and blinds start at 250/500/60a, rising every 20-minutes. Late registration is open for 4.75 hours and only two re-entries are permitted.
Day 1 ends after 7.75 hours of play with Day 2 concluding when the field has been whittled down to a more manageable 16 players. There's also a Day 3; all start times are the same as the $55 Low event.
The $5,200 High WCOOP-48 will be a star-studded affair to say the least. Some of the game's elite grinders will sit down with 250,000-chips and play to a 20-minute clock where blinds start at 1,200/2,400/300a.
Late registration here is open for 5.5 hours and two re-entries are allowed before registration slams shut. This is a two-day event with Day 1 finishing when the tournament reaches the money places. The final day gets underway at 7:05 p.m. CEST on September 14, continuing until one man, or woman, has all the chips in play.
There are dozens of satellites into this trio of PKOs, as you'd expect from PokerStars. $2.20 is the cheapest you can get in for. Imagine turning $2.20 into a WCOOP title and a bankroll-filling prize. You and only you can make that happen.
$1.5M Of Prizes Guaranteed in the WCOOP Sweepstakes
Sign Up for a PokerStars Account Today
You're going to need a PokerStars account in order to be in with a shot of WCOOP glory. Download PokerStars via PokerNews, make your first deposit using the bonus code "STARS600" and you will receive a 100% bonus up to $600!
You can make three qualifying deposits in 60 days. After each deposit you have four months to earn the redemption points needed to release your bonus!
The Stars Group is a majority shareholder in Oddschecker Global Media, the parent company of PokerNews