Lone Star Poker Series Heads to Houston's Champions Social Jan. 22-31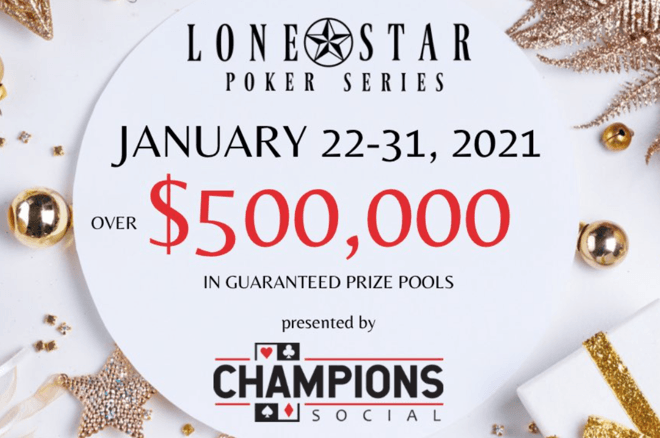 Table Of Contents
From January 22-31, the Lone Star Poker Series (LSPS) will host its second-ever stop. The LSPS, the brainchild of poker couple Kim Stone and Hayden Fortini, will visit Champions Social for a 16-event series culminating in a $600 buy-in, $200K GTD Main Event.
PokerNews is slated to offer a daily live blog throughout the series, which will be your one-stop-shop for all things Lonestar Poker Series including photos, side event recaps, chip counts, and more.
The stop will feature a $400 buy-in, $100K GTD Kickoff event that offers a pair of starting flights on Friday, January 22 and again on Saturday, January 23 for a total of four flights. The survivors from each will return on Sunday, January 24 to play down to a winner.
There's also a $300 NLH Ladies Event awarding a Tiffany Bracelet, the Event #8: $400 Triple Draw 3-Game Mix, and a $600 PLO Championship featuring a $25,000 guarantee. For more details and a look at the full schedule, check out the chart at the bottom of the article.
The stop will culminate in the $600 buy-in, $200K GTD Main Event, which will offer four starting flights. On Friday, January 29, Flight A will take place at 11 a.m. local time followed by Flight B at 5 p.m. Flights C and D will take place at the same times on Saturday, January 30 before the survivors from all four flights return to play down to a winner on Sunday, January 31.
In addition to a PokerNews blog, the Lonestar Poker Series will also feature daily live-streams from cash games, final table action from most events, and even Day 1s from the Main.
The Lone Star Poker Series debuted last October at Prime Social Club in Houston, Texas. The series, which offered more than $300,000 in guaranteed prize pools over 16 tournaments, proved to be a big success as Oziel Zuniga topped a 660-entry field to win the Main Event for $45,960 after a three-way deal.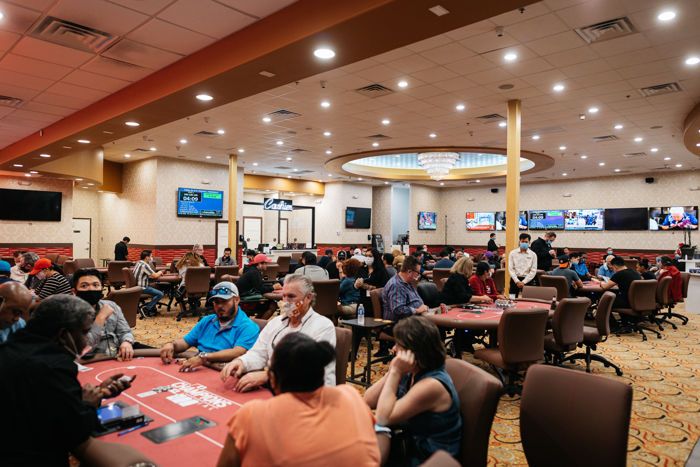 Interview w/ Champions Social's Michael Prokop
PokerNews had the chance to chat with Michael Prokop, the General Manager at Champions Social. A lifetime baseball player – he even went to McNeese State University on a scholarship – Prokop began his career in the casino industry in 1999 pulling coins from slot machines. From there, he worked his way up through the Slot Department then moved over to Table Games before having stints in West Virginia, Mississippi, Nevada, and Colorado.
"I played a little poker when I became of age at the Capital Card Room is Sacramento, California, but I didn't become involved on the casino side until I was the Director of Games at the Atlantis in Reno, Nevada," explained Prokop, whose wife and oldest son also work in gaming. "I was also responsible for Poker during my next stop as Director of Casino Operations at Mardi Gras & Golden Gulch Casinos in Black Hawk, Colorado."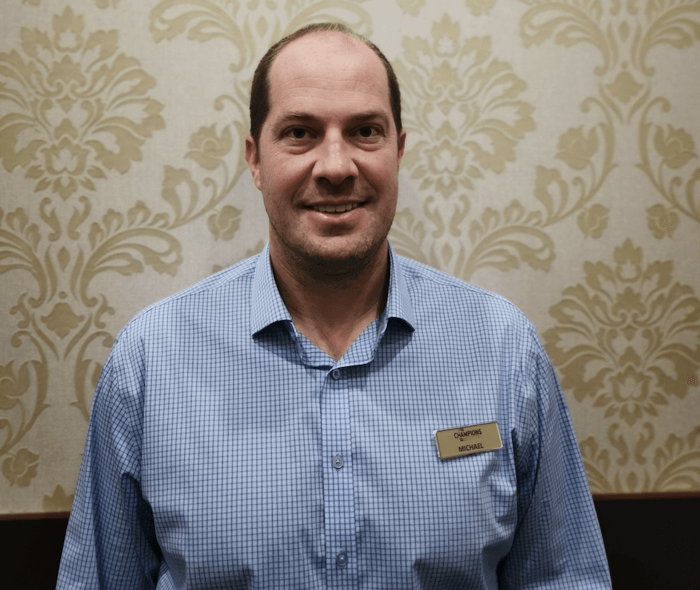 As for Champions Social, the room has been in development since late 2019 before celebrating its soft opening the weekend before the Coronavirus shutdown the US in March.
"I came on board on August 1 as Champions was looking for a General Manager, and my experience throughout operations and auditing made me a good fit for the role Champions was envisioning," said Prokop. "I enjoy the excitement of building and growing a team during the early stages of development, and I desired to be a part of the growth of Champions Social."
Since reopening, the venue has been on the lookout for a tournament series to partner with, and the fresh Lonestar Poker Series fits the bill.
"We appreciate the energy, excitement, and integrity that the Lonestar Poker Series is built on, and we were thrilled when we met and struck up a relationship up with Kim and Hayden around Christmas time. We began talking about how great of a fit the Lonestar Poker Series and Champions Social are together. We are all hoping this will be the first of many Series that we will team up together on."
Champions Social is known as being a large and spacious room with a full restaurant and bar. They offer any poker game of any size in either the main room, a private secondary room, or their secluded VIP room. What sets them apart from the competition is that they are the only room in Texas that has automatic shufflers on every game. They also offer Vietnamese Poker, Open-Face Chinese Poker, and electronic Mahjong tables for players who want to enjoy more variety.
For more on Champions Social, visit championssocial.com.
Lonestar Poker Series Champions Social Schedule
| Date | Day | Time | Event # | Title | Buy-In | Guarantee |
| --- | --- | --- | --- | --- | --- | --- |
| Jan 22 | FRI | 10:00 AM | | MEGA SATTELITE (1 IN 6) | $135 | 1 PACKAGE ($600+30) |
| | | 11:00 AM | #1 | 2021 SUPER STACK KICK OFF FLIGHT A | $400 | $100,000 |
| | | 3:00 PM | | MEGA SATTELITE (1 IN 6) | $135 | 1 PACKAGE ($600+30) |
| | | 5:00 PM | #1 | 2021 SUPER STACK KICK OFF FLIGHT B | $400 | $100,000 |
| Jan 23 | SAT | 10:00 AM | | MEGA SATTELITE (1 IN 6) | $135 | 1 PACKAGE ($600+30) |
| | | 11:00 AM | #1 | 2021 SUPER STACK KICK OFF FLIGHT C | $400 | $100,000 |
| | | 3:00 PM | | MEGA SATTELITE (1 IN 6) | $135 | 1 PACKAGE ($600+30) |
| | | 5:00 PM | #1 | 2021 SUPER STACK KICK OFF FLIGHT D | $400 | $100,000 |
| Jan 24 | SUN | 10:00 AM | | MEGA SATTELITE (1 IN 6) | $135 | 1 PACKAGE ($600+30) |
| | | 1:00 PM | #1 | 2021 SUPER STACK KICK OFF RESTART | | |
| | | 2:00 PM | #2 | NLH SUNDAY SPECIAL | $400 | $20,000 |
| | | 5:00 PM | #3 | NLH LADIES ONLY TIFFANY BRACELET EVENT $1,000 BRACELET ADDED | $300 | $8,000 |
| Jan 25 | MON | 10:00 AM | | MEGA SATTELITE (1 IN 6) | $135 | 1 PACKAGE ($600+30) |
| | | 11:00 AM | #4 | NLH 6-MAX | $400 | $15,000 |
| | | 3:00 PM | #5 | 6-MAX 8-GAME MIX | $400 | $8,000 |
| | | 6:00 PM | #6 | NLH TURBO | $250 | $5,000 |
| Jan 26 | TUE | 10:00 AM | | MEGA SATTELITE (1 IN 6) | $135 | 1 PACKAGE ($600+30) |
| | | 11:00 AM | #7 | NLH MEGA STACK | $400 | $20,000 |
| | | 3:00 PM | #8 | TRIPLE DRAW 3-GAME MIX | $400 | $8,000 |
| | | 6:00 PM | #9 | PLO DOUBLE BLACK CHIP BOUNTY | $400 | $10,000 |
| Jan 27 | WED | 10:00 AM | | MEGA SATTELITE (1 IN 6) | $135 | 1 PACKAGE ($600+30) |
| | | 11:00 AM | #10 | NLH DOUBLE BLACK CHIP BOUNTY | $400 | $20,000 |
| | | 3:00 PM | #11 | LONE STAR PLO CHAMPIONSHIP II | $600 | $25,000 |
| | | 6:00 PM | #12 | NLH TURBO | $250 | $5,000 |
| Jan 28 | THU | 10:00 AM | | MEGA SATTELITE (1 IN 6) | $135 | 1 PACKAGE ($600+30) |
| | | 12:00 PM | | PLO CHAMPIONSHIP II RESTART | | |
| | | 2:00 PM | #13 | LONE STAR SURPRISE BOUNTY $10,000 IN ADDED BOUNTIES | $600 | $30,000 |
| | | 5:00 PM | | MEGA SATTELITE (1 IN 6) | $135 | 1 PACKAGE ($600+30) |
| | | 6:00 PM | #14 | 8-MAX BIG O | $400 | $8,000 |
| Jan 29 | FRI | 10:00 AM | | MEGA SATTELITE (1 IN 6) | $135 | 1 PACKAGE ($600+30) |
| | | 11:00 AM | #15 | LONE STAR MAIN EVENT II FLIGHT A | $600 | $200,000 |
| | | 3:00 PM | | MEGA SATTELITE (1 IN 6) | $135 | 1 PACKAGE ($600+30) |
| | | 5:00 PM | #15 | LONE STAR MAIN EVENT II FLIGHT B | $600 | $200,000 |
| Jan 30 | SAT | 10:00 AM | | MEGA SATTELITE (1 IN 6) | $135 | 1 PACKAGE ($600+30) |
| | | 11:00 AM | #15 | LONE STAR MAIN EVENT II FLIGHT C | $600 | $200,000 |
| | | 3:00 PM | | LAST CHANCE TURBO SATELLITE | $135 | 1 PACKAGE ($600+30) |
| | | 5:00 PM | #15 | LONE STAR MAIN EVENT II FLIGHT D | $600 | $200,000 |
| Jan 31 | SUN | 2:00 PM | #15 | LONE STAR MAIN EVENT II RESTART | | |
| | | 3:00 PM | #16 | NLH MONSTER STACK CLOSER | $400 | $20,000 |