MICOOP Kicks Off Saturday; PokerNews to Cover Michigan's First Major Online Series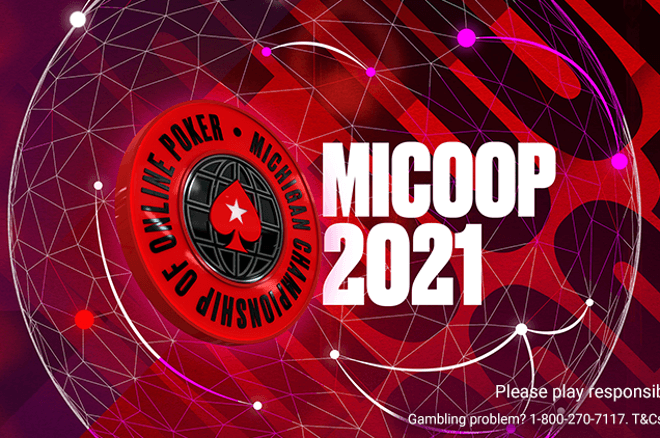 This Saturday, online poker players in Michigan will have the opportunity to compete in their first major series. From February 20 through March 8, PokerStars and FOX Bet will host the inaugural Michigan Championship of Online Poker (MICOOP), which will be comprised of 60 tournaments ranging in buy-ins from $10-$500 and offer $1,000,000 in guaranteed prize pools.
What's more, PokerNews will be offering live updates from eight of the premier events.
Things will kick off Saturday with the $100 buy-in, $30K GTD Event #1: Kick Off NLH, which will be reported here on PokerNews. The festival will conclude with a $300 buy-in, $125K GTD Main Event on March 7-8, which will also be reported.
In between, there will be a full slate of tournaments including a $500 High Roller, a Mini-Main Event with a $50 buy-in as well as multiple game varieties including Progressive Knockout Tournaments, Pot-Limit Omaha, and mixed games. Here's a look at the events PokerNews will live report over the next two weeks.
Event #1: $100 NLHE [MICOOP Kick Off, Nightly Stars SE], $30K Gtd (February 20, 2021)
Event #14: $200 NLHE [Super Tuesday SE], $30K Gtd (February 23, 2021)
Event #18: $500 NLHE [6-Max, High Roller], $35K Gtd (February 24, 2021)
Event #31: $250 NLHE [Sunday Special SE], $50K Gtd (February 28, 2021)
Event #38: $250 NLHE [Super Tuesday SE], $35K Gtd (March 02, 2021)
Event #41: $250 PLO [6-Max, High Roller], $12.5K Gtd (March 03, 2021)
Event #44: $250 NLHE [Progressive KO, Thursday Thrill SE], $35K Gtd (March 04, 2021)
Event #55: $300 NLHE [Main Event], $125K Gtd (March 07-08, 2021)
"Coming off the launch of our real-money gaming brands in Michigan, it is clear that players want the world-class offerings that only PokerStars can bring," said FOX Bet CEO Kip Levin. "As the sole online and mobile poker product in Michigan, our commitment and investment in PokerStars is vital as we aim to bring all aspects of a great customer experience to the poker community. We are excited for Michiganders to join our most popular series and crown our first big winner who will join in the prestigious footsteps of other Championship Of Online Poker (COOP) champions."
Satellites for the MICOOP are running now for as little as $2. Additionally, players can win their way via freeroll routes.
Main Event Depositor Freeroll: Deposit $30+ with code 'MICOOP' and get a ticket to a MICOOP Depositor Freeroll on March 7, where 35 Main Event seats will be up for grabs.
Second Chance Freerolls: Play a MICOOP event and fail to make the cash, and receive a ticket to a second chance freeroll, running daily.
To enjoy MICOOP, players need to register for PokerStars HERE.
MICOOP Schedule
PokerNews is slated to offer live updates from the bolded events.
| Event | Date | Time (ET) | Tournament |
| --- | --- | --- | --- |
| 1 | 20-Feb (Sa) | 6 p.m. | $100 NLHE [MICOOP Kick Off, Nightly Stars SE], $30K Gtd |
| 2 | 20-Feb (Sa) | 7 p.m. | $20 NLHE [Rebuy], $10K Gtd |
| 3 | 20-Feb (Sa) | 8 p.m. | $50 NLHE [8-Max], $20K Gtd |
| 4 | 21-Feb (Su) | 2 p.m. | $100 NLHE [8-Max, Deepstacks], $25K Gtd |
| 5 | 21-Feb (Su) | 4 p.m. | $50 NLHE [Progressive KO, Sunday Warm Up SE], $10K Gtd |
| 6 | 21-Feb (Su) | 5 p.m. | $200 NLHE [Sunday Special SE], $40K Gtd |
| 7 | 21-Feb (Su) | 5:30 p.m. | $25 NLHE [Sunday Special Mini], $12.5K Gtd |
| 8 | 21-Feb (Su) | 7 p.m. | $100 PLO [8-Max], $10K Gtd |
| 9 | 21-Feb (Su) | 8 p.m. | $75 NLHE [Second Chance], $7.5K Gtd |
| 10 | 21-Feb (Su) | 10 p.m. | $50 NLHE [8-Max, Hyper-Turbo, Sunday Supersonic SE], $5K Gtd |
| 11 | 22-Feb (M) | 7 p.m. | $100 NLHE [4-Max], $15K Gtd |
| 12 | 22-Feb (M) | 8 p.m. | $50 NLHE [6-Max, Progressive KO, Battle Royale SE], $20K Gtd |
| 13 | 22-Feb (M) | 9 p.m. | $50 PLO8 [8-Max], $7.5K Gtd |
| 14 | 23-Feb (Tu) | 8 p.m. | $200 NLHE [Super Tuesday SE], $30K Gtd |
| 15 | 23-Feb (Tu) | 8:30 p.m. | $30 NLHE [Super Tuesday Mini], $15K Gtd |
| 16 | 23-Feb (Tu) | 9 p.m. | $50 PL 5-Card Draw [Turbo], $3K Gtd |
| 17 | 24-Feb (W) | 7:30 p.m. | $100 PLO [6-Max], $7.5K Gtd |
| 18 | 24-Feb (W) | 8 p.m. | $500 NLHE [6-Max, High Roller], $35K Gtd |
| 19 | 24-Feb (W) | 8:30 p.m. | $50 NLHE [6-Max], $20K Gtd |
| 20 | 25-Feb (Th) | 8 p.m. | $200 NLHE [Progressive KO, Thursday Thrill SE], $30K Gtd |
| 21 | 25-Feb (Th) | 8:30 p.m. | $30 NLHE [Progressive KO, Thursday Thrill Mini], $15K Gtd |
| 22 | 25-Feb (Th) | 9 p.m. | $30 5-Card PLO [6-Max, Turbo], $3K Gtd |
| 23 | 26-Feb (F) | 5 p.m. | $100 FLHE [6-Max], $5K Gtd |
| 24 | 26-Feb (F) | 8 p.m. | $100 NLHE [Big Antes], $7.5K Gtd |
| 25 | 26-Feb (F) | 8:30 p.m. | $150 NLHE [6-Max, Turbo], $10K Gtd |
| 26 | 27-Feb (Sa) | 6 p.m. | $50 HORSE [Turbo], $3K Gtd |
| 27 | 27-Feb (Sa) | 7 p.m. | $50 NLHE [Rebuy], $10K Gtd |
| 28 | 27-Feb (Sa) | 8 p.m. | $100 NLHE [Turbo, Saturday Speedway SE], $10K Gtd |
| 29 | 28-Feb (Su) | 2 p.m. | $100 NLHE [8-Max, Marathon], $25K Gtd |
| 30 | 28-Feb (Su) | 4 p.m. | $50 NLHE [Sunday Warm Up SE], $12.5K Gtd |
| 31 | 28-Feb (Su) | 5 p.m. | $250 NLHE [Sunday Special SE], $50K Gtd |
| 32 | 28-Feb (Su) | 5:30 p.m. | $30 NLHE [Sunday Special Mini], $15K Gtd |
| 33 | 28-Feb (Su) | 7 p.m. | $50 PLO [8-Max, Turbo], $5K Gtd |
| 34 | 28-Feb (Su) | 8 p.m. | $100 NLHE [6-Max], $10K Gtd |
| 35 | 28-Feb (Su) | 10 p.m. | $75 NLHE [Hyper-Turbo, Sunday Supersonic SE], $10K Gtd |
| 36 | 1-Mar. (M) | 7 p.m. | $50 NLHE [4-Max], $10K Gtd |
| 37 | 1-Mar. (M) | 8 p.m. | $100 NLHE [6-Max, Progressive KO, Battle Royale SE], $25K Gtd |
| 38 | 2-Mar. (Tu) | 8 p.m. | $250 NLHE [Super Tuesday SE], $35K Gtd |
| 39 | 2-Mar. (Tu) | 8:30 p.m. | $50 NLHE [Super Tuesday Mini], $20K Gtd |
| 40 | 2-Mar. (Tu) | 9 p.m. | $50 Stud Hi-Lo, $5K Gtd |
| 41 | 3-Mar. (W) | 8 p.m. | $250 PLO [6-Max, High Roller], $12.5K Gtd |
| 42 | 3-Mar. (W) | 8:30 p.m. | $30 PLO [6-Max], $5K Gtd |
| 43 | 3-Mar. (W) | 9 p.m. | $100 NLHE [6-Max, Turbo], $10K Gtd |
| 44 | 4-Mar. (Th) | 8 p.m. | $250 NLHE [Progressive KO, Thursday Thrill SE], $35K Gtd |
| 45 | 4-Mar. (Th) | 8:30 p.m. | $50 NLHE [Progressive KO, Thursday Thrill Mini], $20K Gtd |
| 46 | 4-Mar. (Th) | 9 p.m. | $20 NLHE [Turbo], $15K Gtd |
| 47 | 5-Mar. (F) | 6 p.m. | $10 NLHE [6-Max, Rebuy], $10K Gtd |
| 48 | 5-Mar. (F) | 8 p.m. | $75 NLHE, $15K Gtd |
| 49 | 5-Mar. (F) | 9:30 p.m. | $20 NLHE [6-Max, Turbo], $5K Gtd |
| 50 | 6-Mar. (Sa) | 6 p.m. | $50 8-Game, $3K Gtd |
| 51 | 6-Mar. (Sa) | 7 p.m. | $50 NLHE [6-Max, Turbo, Zoom], $15K Gtd |
| 52 | 6-Mar. (Sa) | 8 p.m. | $50 NLHE [Turbo, Saturday Speedway SE], $5K Gtd |
| 53 | 7-Mar. (Su) | 2 p.m. | $50 NLHE [8-Max, Marathon], $10K Gtd |
| 54 | 7-Mar. (Su) | 4 p.m. | $100 NLHE [Progressive KO], $30K Gtd |
| 55 | 7-Mar. (Su) | 5 p.m. | $300 NLHE [Main Event], $125K Gtd |
| 56 | 7-Mar. (Su) | 6 p.m. | $50 NLHE [Mini Main Event], $35K Gtd |
| 57 | 7-Mar. (Su) | 7:30 p.m. | $200 NLHE [6-Max, Turbo], $20K Gtd |
| 58 | 7-Mar. (Su) | 10 p.m. | $100 NLHE [Hyper-Turbo, Sunday Supersonic SE], $10K Gtd |
| 59 | 8-Mar. (M) | 7 p.m. | $100 NLHE [Nightly Stars SE], $30K Gtd |
| 60 | 8-Mar. (M) | 9 p.m. | $20 NLHE [Heads-Up, Turbo, Progressive KO, Zoom], $10K Gtd |