Second Batch of Champions Crowned in the APL Online Series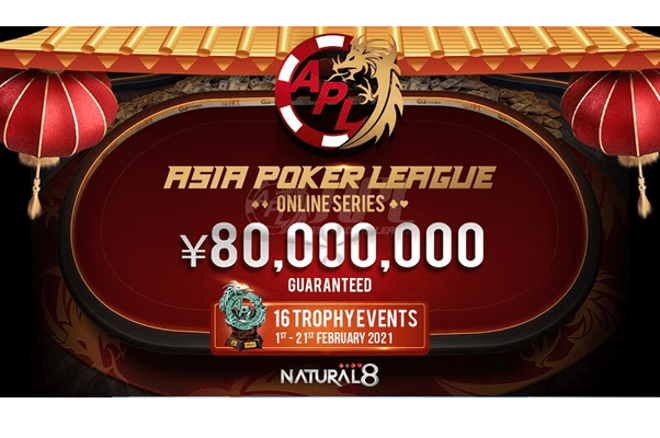 The inaugural Asia Poker League Online Series has entered its final week, and nine champions have been crowned so far. There are still seven exclusive APL Jade trophies up for grabs and all players on the GGPoker Network (GGPN) can get in on the action.
Let's take a look at the players who have joined the winner's club so far, including several Natural8 players who reached the final tables. Read on as we recap the action of the past seven days!
Head to the NEW Natural8 Hub
Want to stay up-to-date on all the latest Natural8 news right here on PokerNews? Why not try out the new Natural8 Hub!
Schlueter Claims Trophy in Event #1: 2021 Tip-Off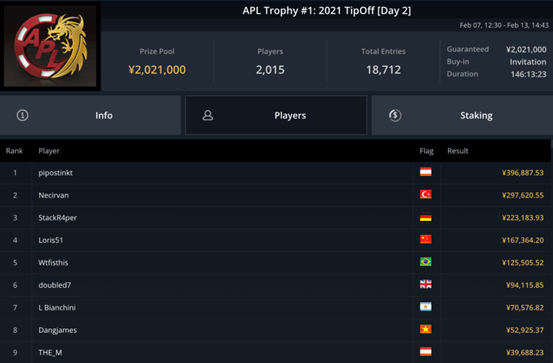 The first of three live-streamed final tables concluded this past weekend on Feb 13. Out of a field of 18,712 entries, nine returned to battle for the APL trophy and their share of the CN¥3,236,427.52 prize pool. Contenders ranged from eight different countries.
Among the notable finalists were several players who have seen previous success on the GGPN, including Leandro Bianchini who settled for 7th place and a payout of CN¥70,576.82. Brazil's Carlos "Wtfisthis" Henrique made it two spots further and fell in 5th place for CN¥125,505.52, followed by China's "Loris51" who banked CN¥167,364.20.
Germany's "StackR4per" reached the first spot on the podium and collected CN¥223,183.93, while Turkish player "Necirvan" had to settle for the runner-up spot and CN¥297,620.55. No deal was cut as Heinz "pipostinkt" Schlueter prevailed to earn the top prize of CN¥396,887.53 (~ USD61,456).
Three-Way Deal in Trophy Event #5: Seoul Starleague Classic
One of the mid-week tournaments to award a prestigious APL Jade trophy was the KRW220,000 Event #5: Seoul Starleague Classic. It came with a guarantee of KRW150,000,00 - which was comfortably surpassed thanks to 1,100 entries. The eventual KRW222,640,000 prize pool equaled approximately USD201,314.
All things considered, it took fewer than seven hours to determine a champion and the tournament concluded with a three-way ICM deal. The top 179 players were paid and two hopefuls received their buy-in of T$196.83 back, thanks to the Early Bird Bubble Protection feature.
Among the notables with a deep run was Yu Chung "WNCouple" Chang, who departed in 54th place for KRW748,982 on their second bullet. Recent WSOP Winter Online Circuit winner Aleksey "ImLuckPads" Savenkov received the same payout for their 47th place finish, while Leandro Bianchini exited in 44th place.
Players from China dominated the final table line-up, with four of them in the mix. "NKSSS" succumbed in 4th place for KRW12,982,711 and what followed was a three-way deal.
Chenglu Guo was the shortest stack when the deal was cut, and busted in 3rd place for KRW20,622,049. Polish player "Karol1991" earned the biggest slice of the pie at KRW25,927,109 but it was Turkish player "Zakharba7tir" who pipped them to the trophy and collected a win of KRW24,637,388 (~ USD22,277).
"Eye See Em" Second Natural8 Winner of the Festival in Event #6: Manila Metro Million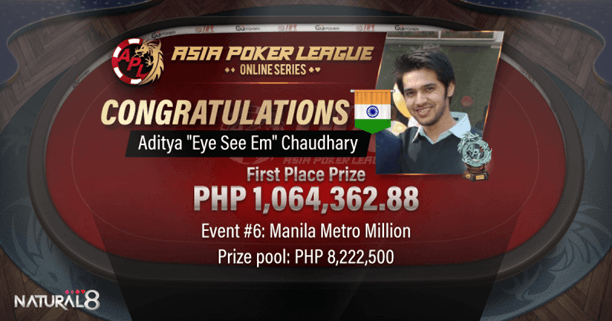 On Feb 11, the PHP5,500 Event #6: Manila Metro Million took place. A total of 1,625 entries ensured that the PHP7,500,000 guarantee was surpassed. 269 players claimed a share of the eventual PHP8,222,500 (~ USD170,162) prize pool, and "LoveToShove" received their buy-in back thanks to the Early Bird Bubble Protection feature.
Patrick "Egption" Tardif reached the final three tables and departed in 24th place for PHP35,373.86; the same payout was awarded to Martin Pineiro in 23rd place. Jung Chou "DragonChou" Chen made it one pay jump further but had to settle for 18th place.
Three Natural8 players made it to the nine-handed final table, with the first to run out of chips being "andyparker" in 8th place (PHP141,934.80). One contender after another fell, including Rajat "Oye Como Va" Sharma in 5th place for PHP336,580.64.
Heads-up was between the final two Natural8 players - "Eye See Em" and online poker streamer Hristo "icho" Anastassov. Anastassov collected PHP798,158.16 for their efforts, but it was ultimately "Eye See Em" who earned the trophy and PHP1,064,362.88 (~ USD22,027).
Fifth Time's the Charm for "bigwhailie" in Trophy Event #7: Taipei City Challenge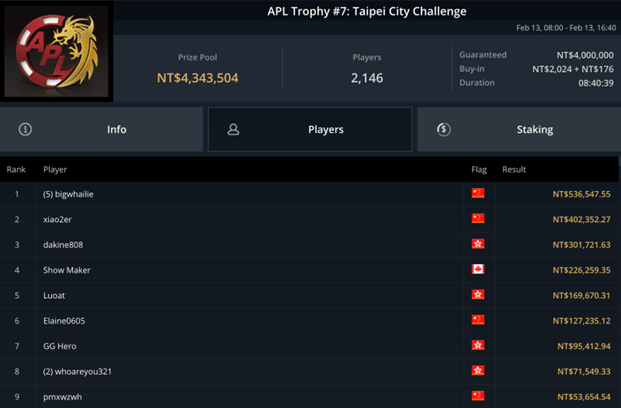 NT$2,200 Event #7: Taipei City Challenge saw its guarantee surpassed by nearly 10%, and Canada's "Show Maker" departing in 4th place for NT$226,259.35.
The biggest slice of the NT$4,343,504 (~ USD154,991) prize pool was awarded to four players from China and Hong Kong. Among them was Natural8 player "GG Hero", who had to settle for 7th place and NT$95,412.94.
Fellow player "dakine808" was the last hope to earn the title for Hong Kong, but they too fell in 3rd place for NT$301,721.63. The final duel saw China's "xiao2er" facing countryperson "bigwhailie" - the latter having fired five bullets in total. That turned out to be a golden decision as "bigwhailie" eventually took the event down for NT$536,547.55 (~ USD19,503).
Third Natural8 winner "keiji" Takes Down Event #8: Macau Grand Prix Superstack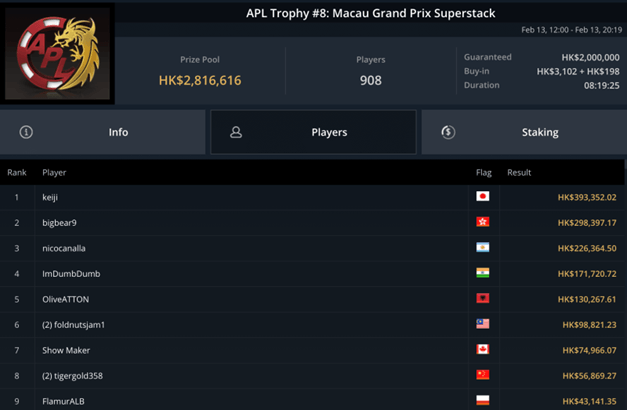 This past Saturday (Feb 13) saw half time reached across 16 trophy events of the festival, as HK$3,200 Event #8: Macau Grand Prix Superstack played down to a winner. The guarantee was crushed thanks to 908 entries, which created a prize pool of HK$2,816,616 (~ USD363,325).
Natural8 player Muhammad "foldnutsjam1" Siddiqui converted his second entry into a payday of HK$98,821.23. It was an international affair thereafter, as five players from as many countries battled over the rights to an APL Jade trophy.
Argentina's "nicocanalla" finished in 3rd place for HK$226,364.50 while Hong Kong's "bigbear9" ended as the runner-up for HK$298,397.17. That left only one player with all the chips - Natural8 player "keiji" from Japan. They earned the top prize of HK$393,352.02 and became the third Natural8 winner throughout the first eight trophy events.
"Runnerx22" Wins Event #9: Shanghai Masters of Poker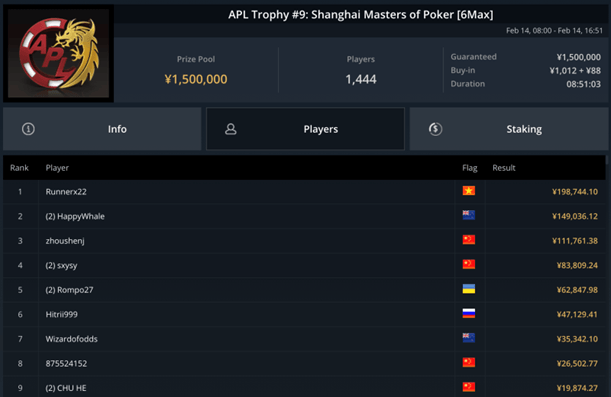 The 6-Max CN¥1,100 Event #9: Shanghai Masters of Pokerattracted a field of 1,444 entries, and the top 233 spots earned a portion of the CN¥1,500,000 guaranteed prize pool.
Aleksandr "Hitrii999" Shevelev was among the notables that made the final table, and eventually finished in 6th place for CN¥47,129.41. Malcolm "HappyWhale" Trayner came agonizingly close to victory but had to settle for 2nd place, which came with a payday of CN¥149,036.12. In the end, it was Vietnam's "Runnerx22" who ran the best. They collected the trophy alongside the top prize of CN¥198,744.10.
Final Table Set in Event #10: Asia Poker League Championship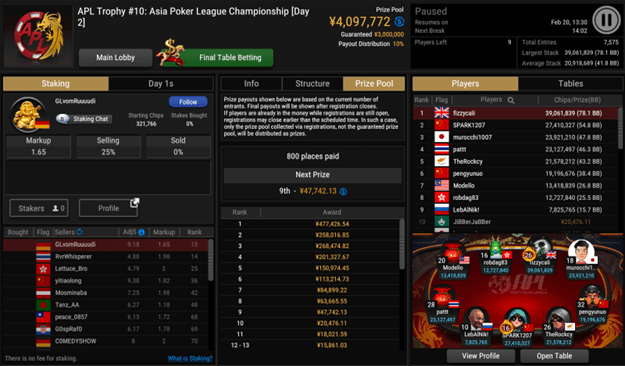 The multi-flight CN¥588 Event #10: Asia Poker League Championship is currently on break, as nine players remain. All made it through a massive field of 7,575 entries and have secured themselves a decent chunk of the CN¥4,097,772 prize pool.
The current guaranteed prize for each of the finalists is CN¥47,742.13 but the winner can look forward to a payday of CN¥477,462.54 - a huge return on their investment.
WSOP bracelet winner Guoliang "SPARK1207" Wei sits in 2nd place with 54.8 big blinds, trailing only UK's "fizzycali" who has 78.1 big blinds. Robert "robdag83" Glasspool reached yet another final table and has 25.5 big blinds at his disposal.
The tournament will play down to a winner on Feb 20.
Which Tournaments Are Up Next?
It will be a busy week for the APL Online Series, with the next trophy event already underway.
The first starting days for the CN¥1,888 Main Event are already underway, with this flagship tournament of the festival boasting a huge CN¥10,000,000 guarantee. All Day 1 survivors will return on Feb 21 to play down to the live-streamed final table.
New to Natural8?
New players can get up to $1,559 in bonuses - including a bonus of up to $1000 on their first deposit, an $8 instant bonus, $301 in prizes for completing the Honeymoon for Newcomers challenge, as well as entry to the $250 First Deposit Freeroll. There is also the newly-launched $2,188 Bitcoin Bonus, which rewards players who deposit using cryptocurrency.
Will Shillibier is based in the United Kingdom. He graduated from the University of Kent in 2017 with a B.A. in German, and then studied for a NCTJ Diploma in Sports Journalism at Sportsbeat in Manchester. He previously worked as a freelance live reporter, and video presenter for the World Poker Tour.