"Sky is the Limit" for SCOOP Main Event Winner 'Cantaloupe91'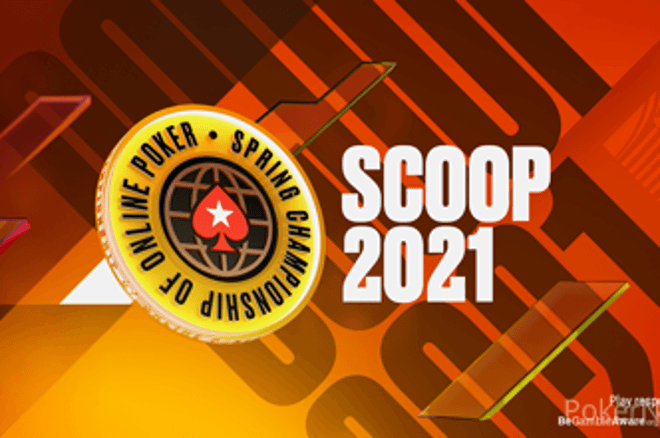 With over $139 million in prize money awarded, the 2021 PokerStars Spring Championship of Online Poker (SCOOP) crowned countless winners, including in both No-Limit Texas Hold'em and Pot-Limit Omaha Main Events.
The champion of the SCOOP 92-L: $109 NLHE 8-Max Main Event was Greece's 'Cantaloupe91', who walked away with $376,087 in prize money.
PokerNews caught up with the online MTT grinder to talk about the experience and what his future plans involve.
SCOOP Afterparty Comes With 60 Events
Want some more SCOOP action in your life? Jump into the SCOOP Afterparty!
"Big Expectations" Motivated 'Cantaloupe91'
"Before SCOOP I thought it would be crazy to win a massive title like this," he told PokerNews. But he also said that it was hard not to have "big expectations" upon entering the 38,000-player SCOOP 92-L Main Event field.
"I never miss Sundays and try to play at least twice more every week," said the MTT grinder. "But when I looked at the players remaining in this, the large part of the field were recreational. So I realised I might have a real shot."
And after a smooth final table, before he knew it he was playing heads-up having already locked up $265,000.
"We were playing heads-up for almost two hours," he said. "It was an interesting and long battle, so I just felt relieved during the last hand after seeing 100% next to my name!"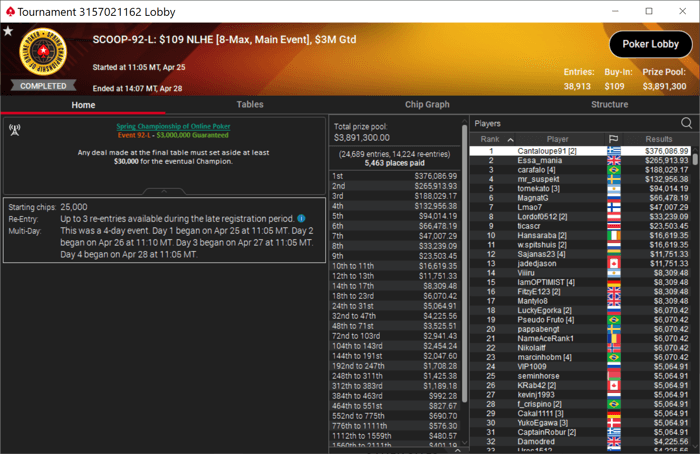 Time for Celebrations After Biggest PokerStars Cash
'Cantaloupe91' says that it will take some time for his victory to sink in, and to realise just how well he ran.
"It's not just about the money, it's the title as well. I mean, how many people can claim that they won a SCOOP Main Event? Not many people get to run so pure in a massive field. It really feels like I should lose 100 flips in a row to bring variance into balance."
With coronavirus restrictions limiting any celebrations, he says that he plans to celebrate once things get better, including a trip to a fancy restaurant. He says that he wanted to thank his family and friends for their support.
"I feel that I would never have succeeded in poker without their support. Especially my girlfriend! She understood it was going to be a tough month, but she was so patient with preparing meals and helping me."
---
Read More: PokerStars Player 'angelovskiy' wins $152k Deal Jackpot
---
Sky is the Limit
Although not his biggest cash, it is 'Cantaloupe91''s biggest cash on PokerStars, and he says that it will allow him to start taking some shots. That being said, he admits it can be difficult to adapt and that nothing is going to change overnight.
"It can be really tricky when you hit a big cash for moving up stakes. At the end of the day, I know I'm not 100% a better player than I was one week earlier.
"One amazing thing about poker is that sky is the limit, so you never know what's coming up next. You just need to be prepared and go for it when the opportunity comes."
Get Ready for PokerStars' SCOOP Afterparty!
The PokerStars SCOOP Afterparty is underway this month with 60 events for you to choose from.
In order to take part, you must have a PokerStars account. Sign up today through PokerNews to make sure you're ready to play!
Flutter PLC is a majority shareholder in PokerNews