Checkmate! Chess Grandmaster Ladva Wins Super MILLION$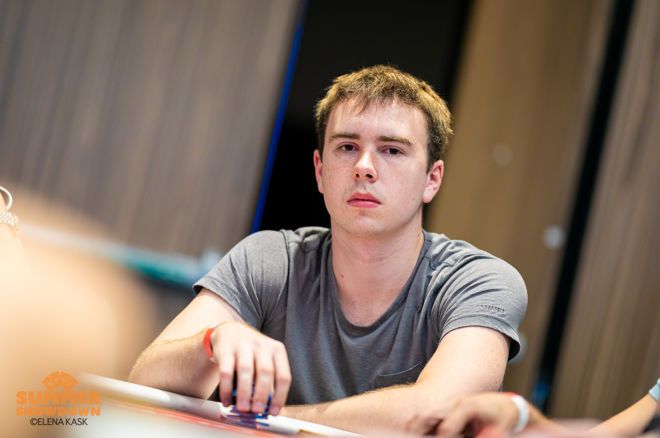 Ottomar Ladva sat down at the first GGPoker Super MILLION$ final table of Season 2 as the chip leader and built on his dominant position to claim the $325,957 top prize for himself. Ladva is better known for his chess skills in his native Estonia, but he has racked up some superb poker results over the past few months. Maybe a change of career is on the cards?
Super MILLIONS Season 2 Event 1 Final Table Results
| Place | Player | Country | Prize |
| --- | --- | --- | --- |
| 1 | Ottomar Ladva | Estonia | $325,957 |
| 2 | Igor Gofman | Russia | $254,559 |
| 3 | Connor Drinan | Canada | $198,800 |
| 4 | Juan Pardo Dominguez | Andorra | $155,254 |
| 5 | Adrian Mateos | Mexico | $121,247 |
| 6 | HaiFanFan | Uruguay | $94,689 |
| 7 | RRomashka | Estonia | $73,948 |
| 8 | Stoyan Obreshkov | North Macedonia | $57,750 |
| 9 | Thomas Muehloecker | Austria | $45,100 |
The final table lost its first player on the very first hand. Ladva min-raised with pocket eights from late position before calling when Thomas Muehloecker three-bet all-in for a shade under 11 big blinds with pocket sevens on the button. An ace-high board resigned Muehloecker to a ninth-place finish.
Stoyan Obreshkov was the next finalist heading to the showers. Obreshkov opened to 180,000 with king-queen from middle position, a raise which left him only 195,384 chips behind. Ladva called from the big blind with ace-eight of diamonds. Ladva set Obreshkov all-in on a nine-high flop, and Obreshkov called. No king or queen appeared on the turn or the river, and the tournament was down to seven players despite being in the first level of the evening.
Looking Back at One Year of the GGPoker Super MILLION$
Those seven became six when "RRomashka" crashed out. Connor Drinan limped with king-jack of diamonds before calling RRomashka's six big blind shove from the big blind, which he made with pocket jacks. Drinan flopped a flush draw, but it was the king of spades on the river that won the hand for Drinan.
The last five-figure prize, $94,689, went to Uruguay's "HaiFanFan." Juan Pardo Dominguez made it 154,000 to go during the 35,000/70,000/8,500a level, and HaiFanFan called from the big blind. A ten-eight-jack flop saw HaiFanFan shove 385,672 chips into the pot with what turned out to be king-queen, and Dominguez called with king-ten of clubs. Dominguez picked up a flush draw on the turn to leave HaiFanFan drawing thinly. The Uruguayan missed the river and headed into the night.
Fifth place and $121,247 went to the dangerous Adrian Mateos. The Spaniard did not really have any spots where he could build his stack, and eventually pinned his hopes on ace-four of clubs. A raise to 560,000 left Mateos with 512,765 chips behind, and they went into the middle of the table when Dominguez three-bet enough to set Mateos all-in, and Mateos called. The five community cards ran out kindly for Dominguez' pocket nines, and Mateos bowed out.
2021 WSOP Online Dates Announced; 66 Bracelets to be Won Across WSOP.com & GGPoker
Dominguez could not put Mateos' chips to good use because he was the next player out of the door. Igor Gofman opened to 176,000 with pocket kings on the button, and Dominguez put in the additional 96,000 chips from the big blind with eight-three of diamonds. Dominguez check-called a 305,600 bet on a six-high flop after pairing his three. The turn was the two of clubs, putting three clubs on the board. Dominguez bet 208,000 and was called. Dominguez checked the seven on the river before calling off his 1,974,689 stack when Gofman ripped it in! Game over for Dominguez.
Heads-up was set when Drinan ran out of steam in third, a finish worth $198,800. Drinan busted after limping in from the small blind for 100,000 with king-queen. Gofman made it 350,000 to go with ace-nine of spades from the big blind, and Drinan responded by jamming his 3,019,969 stack into the middle. Gofman called, an ace on the flop and a nine on the nine on the turn busted Drinan.
That hand propelled Gofman's stack to more than 12 million chips, way more than the 2.4 million in Ladva's stack. Ladva clawed his way back into contention before forging a lead for himself.
The final hand took place during the 70,000/140,000/17,500a level. Ladva limped with jack-eight of clubs before calling the 560,000 raise by Gofman, made with ace-king. Two jacks and a queen on the flop put the ball firmly in Ladva's court. Gofman bet 308,500 and was called. A harmless three on the turn saw Gofman check-call a 582,648 bet from his Estonian opponent. The river was a six, and Gofman had 2,688,667 chips with 2,930,896 in the pot. Gofman checked, Ladva set his opponent all-in, and was called. Gofman busted in second place for $254,559, leaving Ladva to bank a cool $325,957 and the title of champion.