Ethan Yau aka 'Rampage Poker': Bracelet Winner Crushing the Content Space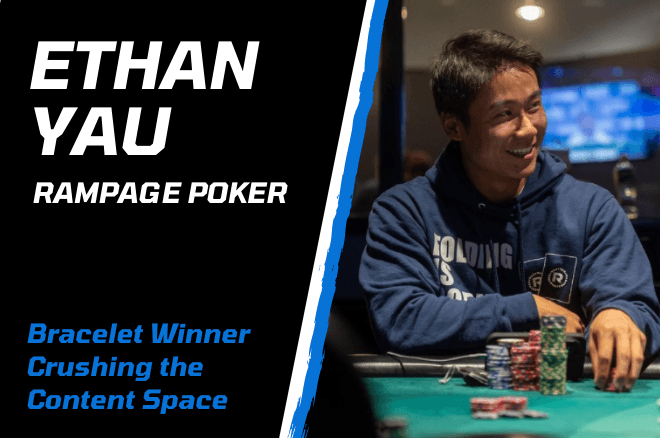 Table Of Contents
If you're getting ready to follow along with the World Series of Poker Online this summer on PokerNews, then there's one name you should familiarize yourself with: Ethan Yau.
The 23-year-old mastermind behind 'Rampage Poker' on various social channels has quickly become one of the most popular content creators in the poker space with over 77K followers on YouTube alone. At one point in July, Yau will join the PokerNews stream team offering commentary on the final table action on WSOP.com throughout July.
Yau will be able to offer his own insight on the pursuit of a WSOP bracelet, having won one himself last year during the WSOP Online.
PokerNews sat down with the bracelet-winner to find out a little bit more about him.
Follow along with live WSOP.com Online Bracelet Coverage
PokerNews will deliver daily updates of all online bracelet events on WSOP.com. Find them here!
Yau the Bracelet Winner
Yau grew up just outside Boston, Massachusetts, and has been playing poker for the past three years. He first started playing poker at college, losing $500 in his first cash game at a casino within 30 minutes of sitting down.
In the summer of 2020, things weren't as gloomy as on that first day. Yau crushed the opposition as "RampageP" in Event #26: Grande Final to win $164,494 and capture his first WSOP bracelet.
The result came as a surprise to Yau, who said prior to winning his bracelet he'd played maybe four or five tournaments.
"I don't usually play tournaments. But the money has allowed me to relax and plan some trips. I do want to come to Vegas this Fall for the live WSOP series, gotta hunt the second bracelet."
Launching the Luck Box Apparel Collection, available now! Boarding my flight to Vegas for a month right now, gonna… https://t.co/Z0nMEchAP7

— Rampage Poker (@rampagepoker)
"I also love traveling and hosting meet-up games. I really hope to travel internationally. I want to get out there, play poker, and make content."
---
All you need for the WSOP 2021: Click here
---
Yau the Content Creator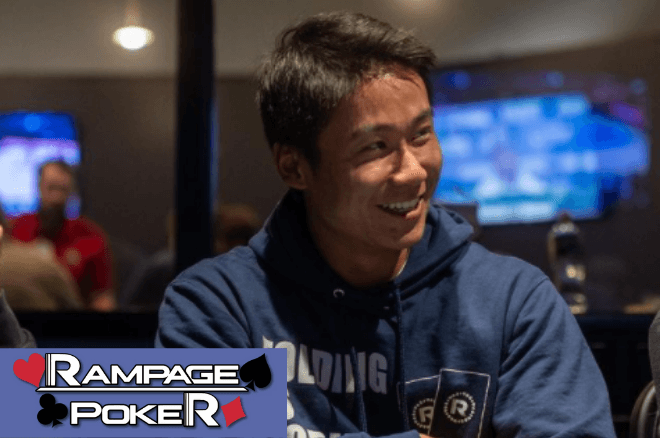 Early on in his poker career, Yau was inspired by popular poker vloggers Andrew Neeme and Brad Owen, and in January 2018 started documenting his own poker journey. In his words, it was the journey of 'someone who knew nothing about poker'.
"I had some experience making YouTube videos before. I used to make gaming videos," he told PocketFives last year. "So I was familiar with editing videos and posting a schedule. So I thought why not just go for it? Try. Because I needed to find a way to learn anyway."
His WSOP bracelet victory was made all the more memorable by the fact that Yau streamed the action to his YouTube channel. That video alone has now attracted over 200,000 views and is one of the most popular on Yau's channel.
While Yau's YouTube channel is a notable destination, he also regularly publishes content on his TikTok-channel where he's amassed over 150,000 followers and 2.5 million likes on the fast-growing social media platform.
After navigating the numerous hurdles posed by being allowed to even film in casinos, Yau came up against another hurdle: the coronavirus. As a predominantly live cash game player, he was faced with the prospect of not being able to film due to the closure of poker rooms across the United States.
"I was one of the first channels to be back up with new content," said Yau. "New Hampshire was one of the first to get poker rooms open again, and that helped."
So what does the future hold? Does Yau want to be doing this in 10 years' time?
"Ten years from now, I want no morning hours. 9 a.m., 10 a.m., noon...none of that. I like hustling and grinding so I'll keep on that path. Making content and I'll keep working to create something from nothing."
Click here for an overview of all WSOP streaming action on PokerNews