Two Plus Two Forums Sold For an Undisclosed Fee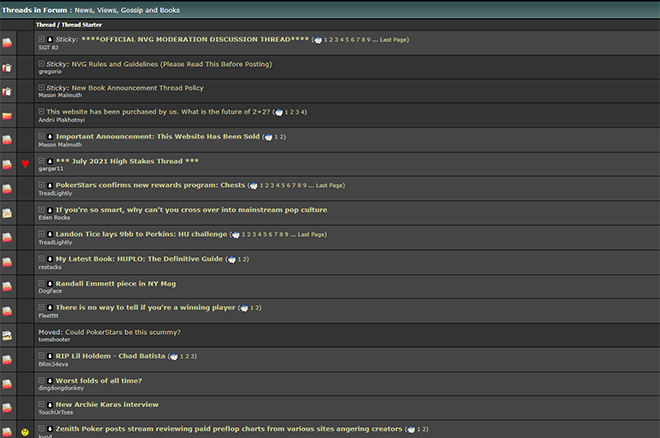 The Two Plus Two poker forums have new owners some 24 years after the website first launched. Co-founder Mason Malmuth announced the sale in the popular News, Views, Gossip, and Books sub-forum.
"I have an important announcement to make. This website, www.twoplustwo.com has been sold. It's hard to believe that it was 24 years ago when twoplustwo.com was launched, and at that time when we started with just one forum, we thought it was only fifty-fifty we would get a post. But here we are many years and over 60 million posts later, and it's time for new younger people to take over and make this site better than it has ever been," Malmuth wrote in a thread.
Malmuth revealed the new owners are the people behind the Hand2Note HUD, a third-party poker tracking software company that claims "We are going to be the most popular tracking software by 2023."
Todd "Dan Druff" Witteles, who has had a much-publicized fallout with Malmuth in the past, did some digging and revealed Vancouver-based Russian Andrii Plakhotnyi is the founder of Hand2Note.
Malmuth explained the fact he is approaching 70-years of age was one of the reasons for the sale.
"One of the reasons for selling twoplustwo.com at this time is simply that those of us, including myself, who run this site are getting old, and I'll be 70 this fall. So, when the offer came in to sell the site to new younger people who are on top of the latest programming technology and who should have the ability to make this site better than it ever was, we felt that the time was right and would be best for everyone, including those of you who are members of the Two Plus Two Community."
The Two Plus Two Publishing business is not part of this deal, and will continue to operate as it always has.
New Owner Highlights His Plans For The New Two Plus Two
Plakhotnyi created a new thread on his newly acquired poker forum where he detailed his plans for the future of Two Plus Two. Some of those plans include:
The building of an AI-powered platform and host it on twoplustwo.com instead of forumserver.twoplustwo.com
Focus on building an international community of professional poker players
A focus on user growth
Address the problem of strict moderation and bans
Prioritize user experience over profits
Members visiting the forums have noticed an immediate change: all banner ads have been removed. Plakhotnyi joked his company made the purchase just so it could take down banner ads on its first day.
Another major upcoming change is the removal of restrictions on the site's marketplace, which is becoming free for everyone.
Plakhotnyi is keen to build a community spirit among Two Plus Two's members and interact with them across various social media channels. He has already launched a Discord and Telegram channel, while the site now has a new Facebook page.
Only time will tell if Plkhotnyi's plans come to fruition. If so, this can only be a positive thing for the overall poker community.