Five (Non-Poker) Things to do in Las Vegas During the WSOP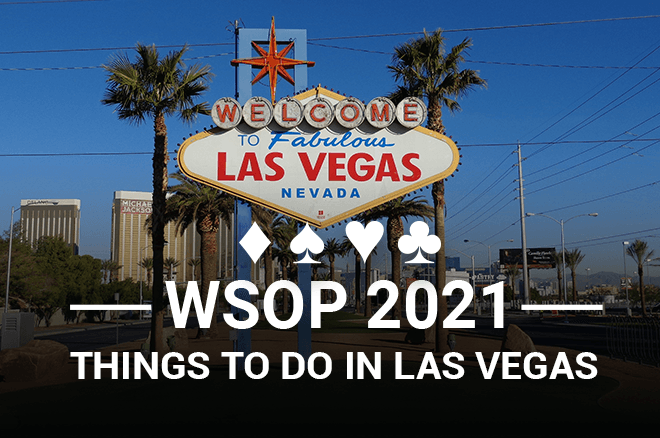 Table Of Contents
The long-awaited return of the live World Series of Poker finally arrives on Sept. 30. Thousands of poker players will take seats inside the Rio Convention Center in Las Vegas this fall, with many putting in hundreds of hours of play during the series.
There comes a time during every WSOP, however, that calls for a break from the poker tournament grind. While Las Vegas offers world-class dining, bars, and nightlife year-round, some of the city's best escapes give poker players a chance to escape the indoors and embark on one-of-a-kind experiences away from the bustle of the casino.
If you're in Las Vegas for the WSOP this fall, consider checking out the following experiences:
Red Rock Canyon
Many Las Vegas locals choose Red Rock Canyon as a go-to destination for outdoor activities, and with good reason. The spectacular red-hued hills sit as the backdrop for a world of hiking, cycling, scenic drives, camping, and special events.
Red Rock Canyon features 26 official trails, with difficulty levels that appeal to all levels of hiking experience. You can embark on easy or moderate trails that range from 1-5 miles, or you can choose to challenge some of the more strenuous hikes available in the canyon.
The Grand Circle Loop encompasses several different trails, and you can hike the entire 11.3-mile loop in 5-6 hours. The High Point Overlook (elevation 4,771 feet) is situated among these trails, offering stunning views of the area.
The 13-mile Scenic Drive marks a one-way road that allows visitors to traverse the canyon by vehicle or bicycle.
You can purchase a one-day pass for the Scenic Drive whether you plan on driving ($15), riding a motorcycle ($10), or pedaling through on a bicycle ($5). Timed reservations and entry passes are required, so be sure to plan ahead by checking out the official Red Rock Canyon Las Vegas website.
Red Rock Canyon is located about 20 minutes west of the Strip, and makes for an ideal getaway during the WSOP.
---
WSOP 2021: Try These 5 Hidden Gem Las Vegas Restaurants
---
Seven Magic Mountains
If you drive into Las Vegas from California, you might notice a collection of towers of colored rocks just off of Interstate 15 as you approach your final destination. Those towers are collectively known as Seven Magic Mountains.
Swiss artist Ugo Rondinone came up with the concept for Seven Magic Mountains, a public art project located about 10 miles south of Las Vegas. The installation first opened to the viewing public in May 2016, and was initially intended for a two-year run in the Nevada desert.
The artwork proved to be a big hit with tourists and Las Vegas regulars alike. Rondinone's project drew thousands of weekly visitors, and in 2018 the Bureau of Land Management extended a three-year extension that allowed the towers to remain on display through 2021.
The installation features seven towers of brightly colored and stacked boulders. Each tower stretches more than 30 feet in the air, with Rondinone intending the project as a gateway between the natural desert landscape and the artificial construct of Las Vegas.
Seven Magic Mountains is on display through the end of 2021, but no announcement has been made on the future of the project beyond that. The 2021 WSOP might offer the last chance for visiting poker players to experience the towers.
Starting the weekend bright and colorful at Seven Magic Mountains. # # IG: @graysoninteriors_

— NevadaArt (@nevadaart)
Grand Canyon Helicopter Tours
If viewing Las Vegas from high above the city in a helicopter sounds like a great escape, you can book a seat with any of several helicopter tour companies offering their services in the city.
The most ambitious of those tours take you from Las Vegas to the Grand Canyon and back. Beginning in Las Vegas, you'll take flight in a helicopter ride that goes east of the city, over Lake Mead, and into Arizona for unforgettable views of the Grand Canyon.
Depending on which company you book and which tour you choose, the entire experience takes anywhere from 3-5 hours. You can choose a tour that lands you on the floor of the Grand Canyon, add a limousine pickup at your hotel, or just take the standard ride that flies you from the Strip to the Grand Canyon and back.
Grand Canyon helicopter tours might be just the thing a poker player needs for a little change of perspective during the WSOP grind.
Top Golf
Skilled golfers and complete novices alike can find plenty to enjoy in a session at Top Golf Las Vegas at MGM Grand Hotel and Casino.
Top Golf takes the typical driving range and turns it into an unforgettable experience worthy of a place on the Las Vegas Strip. Take a spot in one of more than 120 hitting bays, situated among four floors.
The top two floors at Top Golf are 21+ only, and feature adult amenities like bars, VIP cabanas, and private event spaces. Top Golf Las Vegas also offers two pools, a 48-foot TV screen, restaurants, the TCL Gaming Lounge, and even a concert venue that fits up to 900 guests.
While Top Golf offers plenty of non-golf amenities, the venue also provides lessons from PGA pros, a Callaway Fitting Studio, and Toptracer shot-tracking technology. Whether you go for the golf or for some of the other features, Top Golf offers a perfect day off from the intensity of WSOP poker.
NASCAR Racing Experience
If getting behind the wheel of a NASCAR race car sounds like fun, you'll have plenty of opportunities to enjoy such an experience during the WSOP.
The NASCAR Racing Experience involves taking a trip to Las Vegas Motor Speedway and experiencing the life of a NASCAR driver firsthand.
After a coaching session, you get behind the wheel of a real NASCAR stock car, and take it for a ride around the track by yourself. You can also choose to take a NASCAR Ride Along, and soak in the rare experience from the viewpoint of a passenger.
Those wanting to take a drive with the NASCAR Racing Experience can catch a round-trip free shuttle from the Westgate Hotel and Casino.
For more 2021 World Series of Poker articles, make sure to check out:
All images CC0 Public Domain courtesy of pxhere.com