Old-School Poker Legends Jack McClelland, Perry Green Still Passionate About WSOP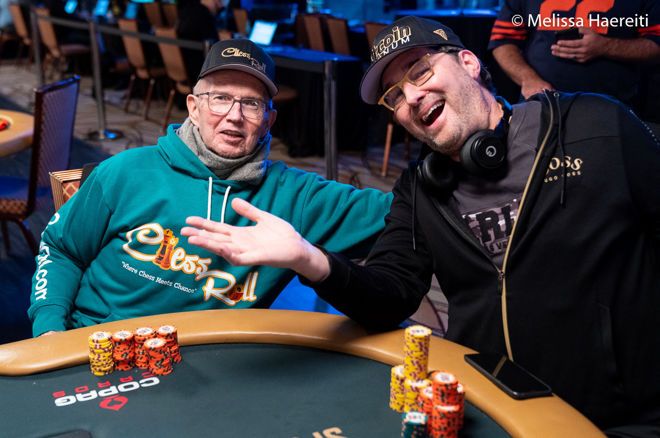 Table Of Contents
Poker Hall of Famer Jack McClelland reached a 2021 World Series of Poker final table on Monday, while three-time bracelet winner Perry Green competed in Event #23: $1,500 Eight Game Mix 6-Handed. Both old-school poker legends told PokerNews they still have a passion for the game and the World Series of Poker more than 40 years later.
In the 1980s and 1990s, McClelland served as the WSOP's tournament director. Two decades and a heart transplant later and he's still just as energetic as ever. The 70-year-old poker industry icon took fifth place in Event #19: $10,000 Seven Card Stud for $40,284, his biggest live cash ever. It was there he competed against a stacked final table that included one Phil Hellmuth.
Discussing Hellmuth's Behavior
Hellmuth, who busted right after McClelland in fourth place for $54,730, let slip his "Poker Brat" persona at the final table earlier in the day after losing a pot to Anthony Zinno. Hellmuth frustratingly slammed the table and threw his cards. McClelland has known Hellmuth for decades and didn't even bat an eye at the behavior.
"He's about the same," McClelland said when asked to compare Hellmuth's demeanor in 2021 versus back in the 1980s. "I've been to ballgames with him, I've played golf with him, he's the sweetest guy in the world. But at the table, it's just all to get in your head."
In 2013, the 2014 Poker Hall of Fame inductee had a heart transplant, which forced him to retire from running the Bellagio Poker Room. Eight years later, he's still in good spirits and back on the felt.
"I'm here," he enthusiastically said about his health situation. "Every day is a holiday. Everybody's so scared of these vaccines, I said heck these doctors do wonders. You take a couple of shots and go through life, don't go hide under the bed."
Growth of Poker and the WSOP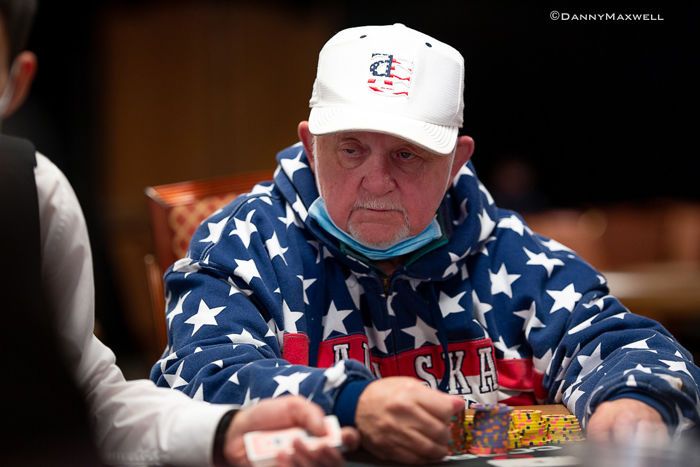 Decked out in patriotic American red, white, and blue gear, 85-year-old Perry Green showed up Monday for Day 1 of Event #23: $1,500 Eight Game Mix 6-Handed seeking his fourth bracelet. He won his first three in the 1970s, back when he was one of the top poker players in the world. More than 40 years later and his love for the game hasn't diminished one bit.
"Oh, I think more so," Perry expressed when asked if he's still as passionate about poker as he was in his younger days. "This might be nostalgia coming here to play, but I just like to play against the younger fellas. I don't play golf anymore, I don't do the physical things. But poker is a good stimulus for my brain. When you get to be over 85, you've got to do something to keep abreast of what's going on, especially in this changing world that we have."
McClelland and Perry, both competing in separate events in the Amazon room at the Rio at the same time, have been around the game since the 1970s. Neither poker legend could have guessed back then the game would have ever become as popular as it is today.
"Jim Albrecht and I, we had plans, especially for the Silver Anniversary in 1994, we worked five years to get sponsors," said McClelland, the former tournament director of the WSOP. "Everybody said nobody wants to watch poker for 60 hours, none of them could ever figure it out until they came out with the World Poker Tour. and Mori (Eskandani) does a fabulous job with poker on television too."
Perry added: "I think Jack Binion (envision poker growing to what it is today). There's no doubt he saw it coming, I think he said he expects poker to grow 10-15 percent annually, and he's been correct. In no way though did anybody envision it to be the acceptability that it is in society."
For more on Green, be sure to follow our live updates from Event #23: $1,500 Eight Game Mix 6-Handed here.