GGPoker Ambassador Fedor Holz Reaches Super MILLION$ Final Table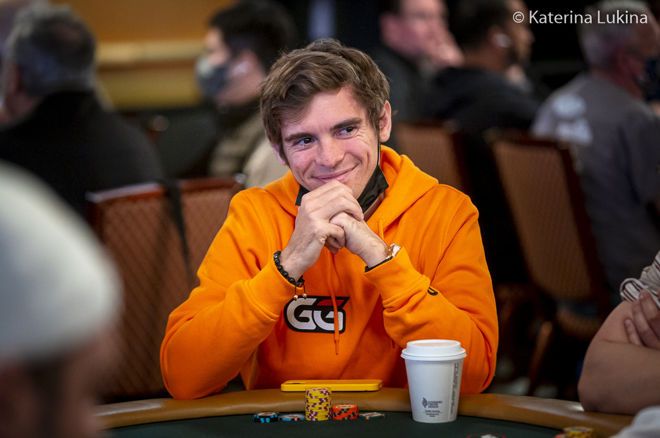 Table Of Contents
GGPoker Global Ambassador Fedor Holz has reached the final table of the $10,300 Super MILLION$ in second place and has every chance of walking away with the $557,636 top prize. Perhaps Holz has been using the recently launched Ask Fedor feature to help his already immense decision making?
This week's Super MILLION$ is part of the $150 million guaranteed GG Online Championship, which is one of the reasons 268 players bought in. The bumper crowd created a $2,680,000 prize pool that the top 30 finisher share. The final table should have been a nine-handed affair but the double elimination of "Zangezund" in tenth and Wiktor Malinowski in ninth means only eight players remain in contention for the title of champion.
$10,300 Super MILLION$ High Rollers Final Table
| Place | Player | Country | Chips | Big Blinds |
| --- | --- | --- | --- | --- |
| 1 | Artur Martirosian | Russia | 6,584,048 | 82.3 |
| 2 | Fedor Holz | Austria | 5,306,581 | 66.3 |
| 3 | Aleks Ponakovs | Latvia | 3,950,435 | 49.4 |
| 4 | Christian Rudolph | Austria | 3,858,988 | 48.2 |
| 5 | Andrii Novak | Ukraine | 3,152,050 | 39.4 |
| 6 | LUCKY88889999 | Singapore | 2,445,673 | 30.6 |
| 7 | Chris Puetz | Austria | 1,808,229 | 22.6 |
| 8 | Gab Yong "GabD" Kim | Hong Kong | 1,493,996 | 18.7 |
Watch All The Final Table Action Here
Russian star Artur Martirosian is the player leading the eight finalists into battle from 7:00 p.m. BST on May 10. Martirosian has 6,584,048 chips in his stack, the equivalent of 82.3 big blinds. The Russian is the biggest tournament winner at GGPoker thanks, in part, to him winning the Super MILLION$ four times. Victory tonight ties Martirosian with Niklas Astedt and Michael Addamo on five Super MILLION$ titles.
Fedor Holz is just one stellar player aiming to stop Martirosian becoming a five-time Super MILLION$ champion. This is only the second time Holz has graced a Super MILLION$ final table with his presence although he has only played 36 events across the tournament's two seasons; Martirosian has played 90 for comparison. Holz takes his seat armed with 5,306,581 chips of 66.3 big blinds.
Third place at the restart belongs to Aleks Ponakovs, who is a former champion of this event. Ponakovs reached the final table on February 15 where he finished fifth for $172,271. He navigated his way to the final table of the tournament the following week and got the job done, banking an impressive $475,125. Ponakovs will fancy his chances of winning another Super MILLION$ title as he sits down with an arsenal of 3,950,435 chips or 49.4 big blinds.
$10,300 Super MILLION$ High Rollers Final Table Payouts
1st - $557,636
2nd - $429,996
3rd - $331,572
4th - $255,677
5th - $197,154
6th - $152,026
7th - $117,228
8th - $90,395
Lurking just outside the top three with 3,858,988 chips (48.2 big blinds) is Christian Rudolph, a superstar that has won almost everything there is to win in the online poker world. Rudolph kicked off 2022 in style by taking down the first Super MILLION$ of the new year. Will he secure his second victory in this prestigious event five months after his maiden title?
Ukraine's Andrii Novak finds himself at the Super MILLION$ final table for only the second time but has done so with a healthy stack of 3,152,050 chips, or 39.4 big blinds. Novak has won a shade over $233,000 from Super MILLION$ tournaments, which means a fourth place finish or better will double that total. However, Novak is the kind of player who fights for the victory, so do not be surprised to see his name at the top of the payouts come the end of this event.
The player currently in sixth-place is hoping for a big helping of beginner's luck. Singapore's "LUCKY88889999" is competing in their first Super MILLION$ and that first foray into this event has resulted in their first cash and debut final table appearance. LUCKY88889999 is armed with a war chest containing 2,445,673 betting tokens, which are worth 30.6 big blinds. That is far from being short-stacked and being an unknown quantity could very well work in their favor.
Christopher Puetz and Gab Yong "GabD" Kim are the final table's two shortest stacks, but neither are running on fumes. Puetz has now reached five final tables from only 17 Super MILLION$ tournaments. He sits down with 1,808,229 chips or 22.6 big blinds. Kim, like LUCKY888999, has cashed and final tabled this event for the first time in their career. Kim has 1,493,996 chips at their disposal, the equivalent of 18.7 big blinds.