2022 WSOP Hands of the Week: Depaulo vs. Hellmuth, a Pure One Outer & a Royal Flush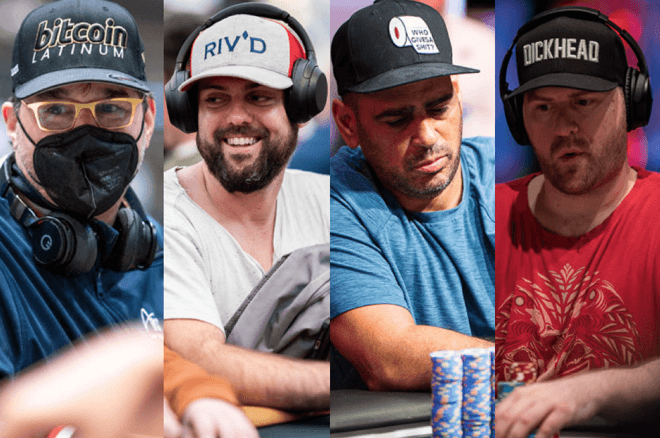 PokerNews is known throughout the world for our industry-leading live updates for both live and online events. In fact, right now we're offering various updates right here.
Over the years, we've captured memorable hands, many of which have become a part of poker history. In this column, we will bring you some of the biggest hands as reported in the PokerNews Live Updates from the first two weeks of the 2022 World Series of Poker (WSOP).
Remember, if you're playing an event PokerNews is covering, you can get in the updates via the MyStack App. You can download the app for iPhone or Android now to get started. Then, create a new PokerNews account or update your current one to start updating your status immediately. Your followers can see all the live action that you're involved in.
Click here to download the My Stack app for iPhone, or click here to download the My Stack app for Android.
2022 World Series of Poker Hub
Bookmark this page! All you need to know about the 2022 WSOP is here.
"Mixed Game Specialist" Depaulo Eliminates Defending Champ Hellmuth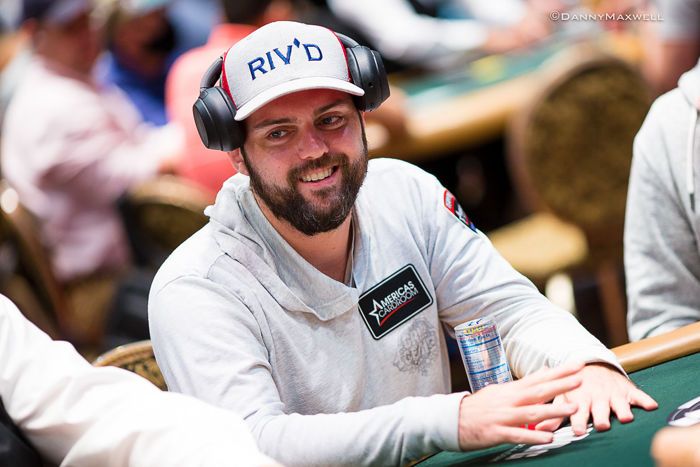 In Event #29: $1,500 No-Limit 2-7 Lowball Draw, Phil Hellmuth was looking to defend his title but was stopped in his tracks by one of the industry's most popular vloggers in Ryan Depaulo. It happened on Day 2 in Level 12 (1,000/2,500/3,500) when Hellmuth raised in middle position and Depaulo moved all in from the button, slightly covering Hellmuth's roughly 90,000 chip stack.
Both players stood pat and the hands were revealed.
Phil Hellmuth:

Ryan Depaulo:
The win vaulted Depaulo into the upper echelon of chip stacks in the room and called for a celebratory "PARKOUR!"
D'Ambrosio Talks His Way Into the Right Call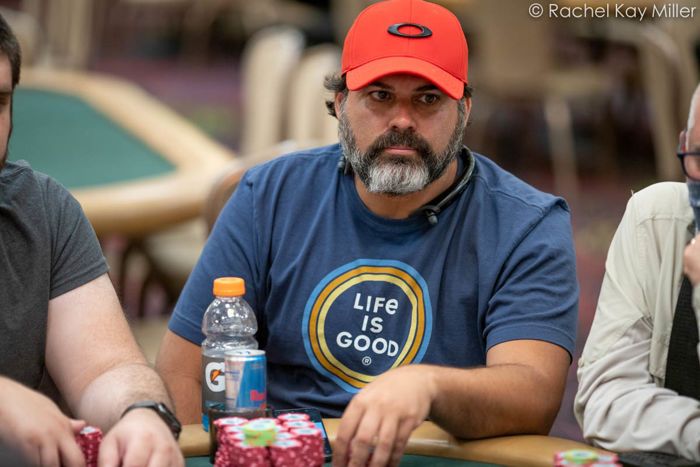 On Day 1 of Event #11: $600 No-Limit Hold'em Deepstack, it was Level 20 (10,000/15,000/15,000) when an early-position player raised to 28,000 and both Jimmy D'Ambrosio and the big blind came along.
The flop was
, the big blind checked and the original raiser bet 37,000. Only D'Ambrosio called.
On the turn
, the early position player check-called a bet of 27,000 from D'Ambrosio.
Things got interesting on the
river to put four hearts out there. The early-position player sized up to 70,000 and sent D'Ambrosio deep into the tank.
D'Ambrosio gave his opponent an intense staredown before starting his patented table talk.
"Blocker bet, right?" he inquired, to no response from his opponent.
"If I put you all in would you get excited or would you shift in your seat?" asked D'Ambrosio.
"Let me see your throat," he said next, as his opponent humored him.
Finally, D'Ambrosio settled on a call and his opponent tabled
for top pair. D'Ambrosio had that beat though with his
for a straight and picked up a nice pot.
Zhu Gets Some More Off Ross...With a Royal Flush!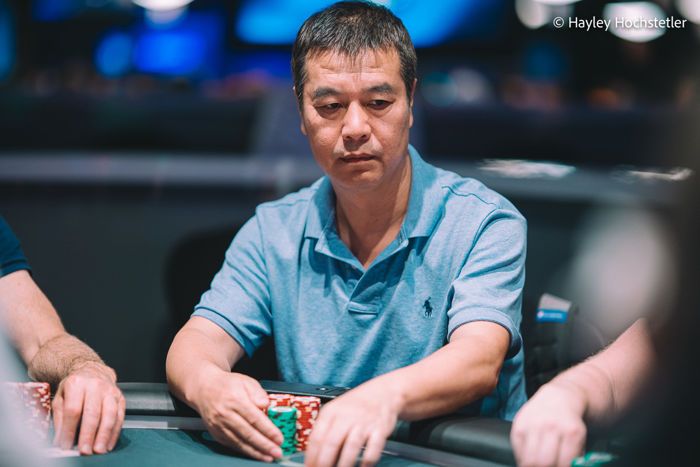 On Day 3 of Event #13: $1,500 Limit Hold'em, seven players remained in Level 29 (80,000/160,000) when Ben Ross raised from early position and both Steven Wolansky and Yueqi Zhu came along from the blinds.
All three players checked the
flop before Zhu bet on the
turn.
Only Ross called to the
river, when Zhu put out another bet.
"If you have a flush, you're good," Ross said as he called.
Zhu didn't have just a flush. He turned over the
for a royal flush as he stopped to take a picture of the board before players went off on break.
Click here to see where Zhu and Ross finished!
Vengrin Spikes Pure One Outer on River to Stay Alive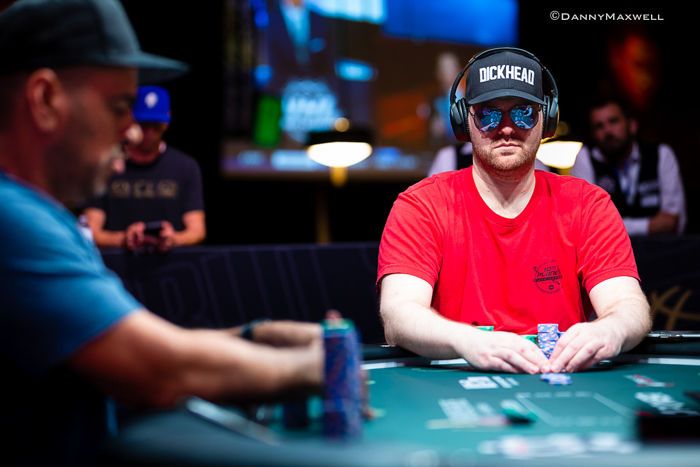 Due to a massive turnout, and the following hand, Event #7: $1,500 Omaha Hi-Lo 8 or Better required a fourth day to finish. However, late on Day 3 in Level 35 (200,000/400,000) Amnon Filippi raised to 800,000 from the button and Matt Vengrin defended to see a flop of
.
Vengrin checked, Filippi bet, and the former check-raised to 800,000. Filippi called and the dealer burned and turned the
.
Vengrin bet 800,000, Filippi popped it to 1.6 million, and Vengrin thought long and hard before calling, which left him just 750,000 behind.
When the
completed the board on the river, Vengrin bet all in and Filippi called.
"I have quads," Vengrin said and tabled the
. That caused Filippi to shoot out of his chair.
"You have jacks?" Chino Rheem asked from the rail.
"Of course I have jacks," a stunned Filippi said before showing the
for a flopped full house.
It was a brutal river card that gave Vengrin new life.
Click here to see who won the tournament!
Mather and Alleyn, Set Over Set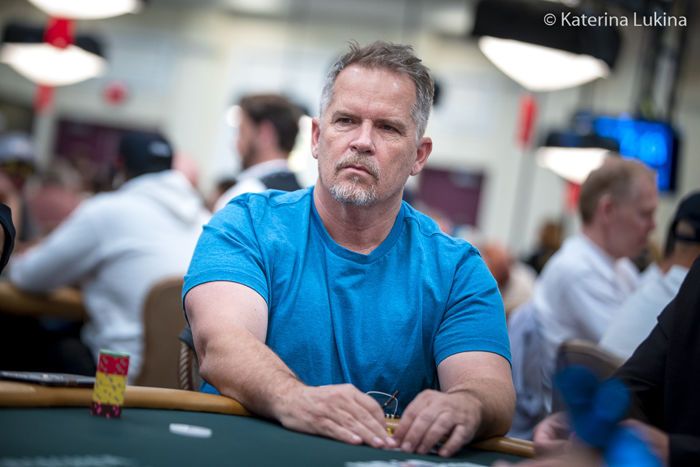 On Day 1c of Event #5: $500 The Housewarming No-Limit Hold'em, it was Level 13 (3,000/6,000/6,000) when Bob Mather was all in for his remaining stack from the button and Anthony Alleyn snap-called from the big blind.
Bob Mather:

Anthony Alleyn:
After they tabled their cards, Mather stood up and put on his backpack. The flop was
, and Alleyn was well in the lead. Lightning struck on the turn, and Mather spiked the
for a set, almost prompting him to sit back down in his seat. However, lightning would strike twice, as the
gave Alleyn the better set.
Alleyn clapped loudly in celebration, and Mather was eliminated.
Executive Editor US, PokerNews Podcast co-host & 2013 WSOP Bracelet Winner.