Owen, Neeme, and Yau in the Mix as Kim and Vanier Build Biggest Stacks on Day 2 of Five Diamond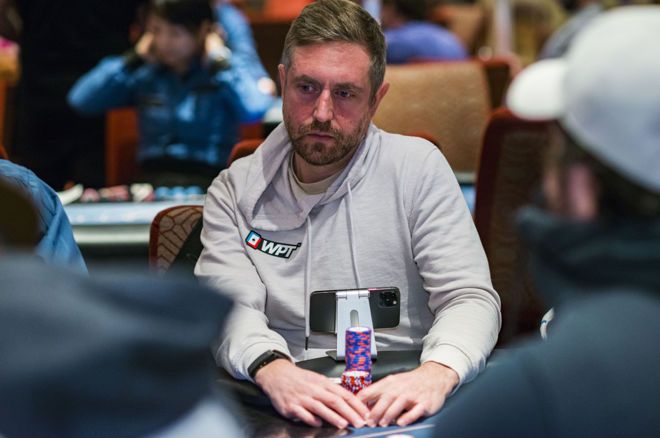 The World Poker Tour (WPT) Five Diamond World Poker Classic Main Event blazed past its $5,000,000 guarantee at Bellagio before registration closed at the start of level 10, adding 119 more entries Thursday to bring the final entry total to 569, creating a huge prizepool of $5,519,300.
When the bubble bursts Friday, 72 players will earn at least $19,050, with Sunday's champion earning a massive $1,042,000, which includes a seat into the WPT World Championship in December at Wynn Las Vegas.
Day 2 play ended close to that bubble with just 95 players surviving to see Day 3. Leading the way is Brian Kim who started the day with just 76,000 chips but rode a late heater to 1,350,000. WPT Player of the Year contender Mike Vanier finished just behind him with 1,286,000.
Top Ten Day 2 Chip Counts
| PLACE | NAME | CHIP COUNT |
| --- | --- | --- |
| 1 | Brian Kim | 1,350,000 |
| 2 | Mike Vanier | 1,286,000 |
| 3 | Francisco Fragoso | 802,000 |
| 4 | Albert Calderon | 790,000 |
| 5 | Ren Lin | 784,000 |
| 6 | Calvin Anderson | 766,000 |
| 7 | David Polop | 700,000 |
| 8 | Dan Colpoys | 644,000 |
| 9 | Mel Wiener | 600,000 |
| 10 | Ian Matakis | 547,000 |
Kim Rides Late Wave to Chip Lead
While Vanier held the chip lead for a good part of Thursday, a pair of massive hands in the final level rocketed Kim past him into top spot at night's end.
First, Kim doubled his 422,000 chip stack with pocket queens in a three-way preflop all-in pot versus Joao Simao who held ace-king, and a short-stacked Dan Smith and his ace-jack. Kim held on the ten-high board and was pushing toward a million chips.
He would fly past that mark shortly after during hand-for-hand play in a massive pot with Upeshka De Silva.
At blinds of 2,000/4,000/4,000, Kim raised to 9,000 on the button and was called in the big blind by De Silva.
Kim continued for another 8,000 on a
flop and was check-raised to 28,000 by De Silva. Kim then made it 45,000 to go and De Silva called.
On the
turn, De Silva check-called a bet of 102,000 from Kim, then went deep into the tank for several minutes on the
river after Kim moved all in for De Silva's final 320,000.
The clock was called on De Silva, and he ultimately called off with
for a flopped two pair. However, he was crushed by Kim's
for a flopped straight which give Kim the chip lead on the final hand of the night.
After starting the day with one of the shorter stacks, Kim is looking forward to taking a massive 270 big blinds into Day 3.
"It's always extremely fun to have one of the bigger stacks going into the money. I know how it feels to have ten to twenty big blinds going into the money bubble, so having a big stack is pretty awesome and hopefully, I can put it to use for a deep run."
Second After Day 1, Second After Day 2
Vanier began the day with the second-biggest stack in the room with 286,000 chips and as mentioned built that stack to chip leadership most of the day until Kim's late run. Regardless, as the only other player over a million to end Day 2, he's thankful for a day that has him poised for a deep run and potentially a whole bunch of Player of the Year points.
"Yah, I got hit by the deck all day, it was pretty smooth sailing. I think I only lost one pot of any significance, with kings versus ace-jack for 75,000, 19 big blinds at the time and that's it. I didn't lose very many hands today."
Owen, Neeme, and Yau on the Verge of Something Big to Vlog About
While Ethan Yau entered the day as the chip leader with 293,000 chips, the man known as "Rampage" was unable to go on much of a rampage Thursday, but still managed to grow his stack to 376,000 by day's end, good enough for a healthy 75 big blinds for Day 3.
Andrew Neeme built himself a stack of over 700,000 in the later stages of the day, but some late hits dropped him down a bit to 440,000 for Day 3.
"We're still alive, so that's always good. I ran good, I won a big flip against Joseph Cheong, ran good against him in a couple spots, he's obviously a way better player than I am, but I had the cards so I can't complain."
With the bubble due to burst early on Day 3, Neeme is excited about the prospects of potentially earning his first WPT main event cash.
"I've never cashed a $10k tournament, so if we can pull that off and put that on my resume I'll be happy. But the field is super stacked for this thing so yah, one step at a time, get there and keep it going, that'd be good."
Just slightly below Neeme in the vlogger standings is fellow WPT ambassador Brad Owen with 430,000 chips. Owen survived what he said was a rollercoaster of a day where he had to climb back from being a short stack in the middle of the day.
He's now on the verge of earning a fourth five-figure cash in a WPT event following deep runs in both Tampa and Australia that earned him over $60,000 total.
"I ran extremely well today. I won every all-in that I was involved in, I think there were about six of them. I got it all in good I think for five of them, but then there was one hand where I got out of line. I think fatigue set in a little bit and I four-bet ripped ace-ten offsuit from the hijack against the cutoff for around 35 big blinds and they had pocket queens and we flopped top two pair. So, when things like that are happening, hopefully, you can take advantage of it and turn it into something special."
Plenty of Other Stars Rise and Fall
There was a good crew of other notables to survive the day such as Calvin Anderson (766,000), Justin Bonomo (403,000), Nick Petrangelo (350,000), and Robbi Jade Lew (186,000) to name just a few.
Meanwhile, many others weren't as fortunate including former WPT Players of the Year Daniel Negreanu and Anthony Zinno, LearnWPT instructor Andrew Lichtenberger, and poker power couple Kristen Foxen and Alex Foxen.
Also among those to bust on Thursday was WPT contest winner Eric Nathanson who unfortunately lost his 200,000 stack quite early in the day, but was still thrilled by the experience.
Thank you everyone! This has been amazing. Had an unfortunate run to start day 2 and I'm out.

— Eric Nathanson (@2outhits)
Day 3 and the Money on Tap Friday
With just 23 more eliminations needed to burst the bubble, the final 72 players should be in the money quite early on Day 3. Another five 90-minute levels are on the schedule, beginning at level 14 which has blinds of 3,000 / 5,000 with a 5,000 big blind ante. Again, there will be no dinner break, but 15-minute breaks at the conclusion of each level.
The WPT action clock will also be in play, with players having 30 seconds to act on each street with 30-second time extensions available to begin the day. Once the final three tables are reached, the remaining players will reset to a maximum of six extensions.
PokerNews will be on site with continued coverage until a champion is crowned on Sunday, so keep your browsers locked right here.
The WPT Five Diamond World Poker Classic is a $10,400 buy-in, $5 million GTD tournament that runs from October 19-23. WPT Five Diamond is the longest-standing recurring WPT tournament, taking place at Bellagio since 2002. It has endured the test of time, and holds unique historical significance as the starting point for the World Poker Tour. PokerNews will be offering daily content from the event, so stay tuned for more big WPT recaps, stories, and more!
*Images courtesy of WPT/Joe Giron.
Did You Know the World Poker Tour is Online?
The launch of WPT Global means that poker players around the world now have the chance to win their way to WPT events, win prizes and enjoy exciting games such as Poker Flips. As one of the world's largest cash game poker networks, WPT Global is available in over 50 countries and territories around the world.
WPT Global offers a large deposit match bonus: 100% on deposits up to $1,200 (using any payment method). New players depositing a minimum of $20 automatically receive this match bonus which is unlocked in $5 increments (credited straight to the cashier) for every $20 of rake contribution.
Both tournaments and cash games count towards bonus unlocking; new players have 90 days from the date of first deposit to unlock and claim their full bonus amount.