ClubWPT Qualifiers Bill Hays & Mark Symons Cash WPT World Championship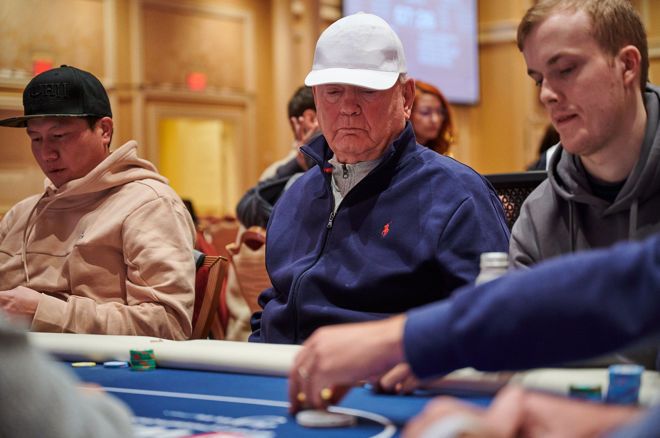 The World Poker Tour (WPT) Season 20 culminates at Wynn Las Vegas with its $10,400 WPT World Championship, a tournament that attracted an astounding 2,960 runners.
The field included 27 players who qualified by playing on the subscription-based ClubWPT. Since May, ClubWPT has running special promotions awarding passports and entries into the championship tournament.
ClubWPT awarded its final qualifier a passport into the championship on November 13th. The winner of each satellite won a $12,000 Passport to the WPT World Championship. The passport included the tournament buy-in, as well as a hotel and travel stipend.
For the past few months, PokerNews has been profiling several of the ClubWPT qualifiers, including 76-year-old Bill Hays from Jackson, Tennessee. The married man with two grown children took a break from selling his janitorial and temp service companies to make his way to Las Vegas.
It was there that he finished as the last ClubWPT Qualifier, taking 193rd place for $21,750. A chunk of change that will help the Diamond Member in his plans to relocate to the Gulf Coast.
ClubWPT 'Stream Team' Finally Gathers at Wynn in Las Vegas Post-COVID
Last ClubWPT Done in By Giveaway Winner
Hayes played a big hand on Day 2 against one of the best poker players in the world – Dan Smith. It happened when Hays was all in from the big blind for 258,000 against Smith, who was in the small blind. The former held Big Slick and was racing for his tournament life against the pocket jacks of Smith.
Hayes hit the flop big by making top two pair, and he held through both the turn and river to double through Smith. That hand helped propel Hays to the deepest run in the tournament among the ClubWPT qualifiers.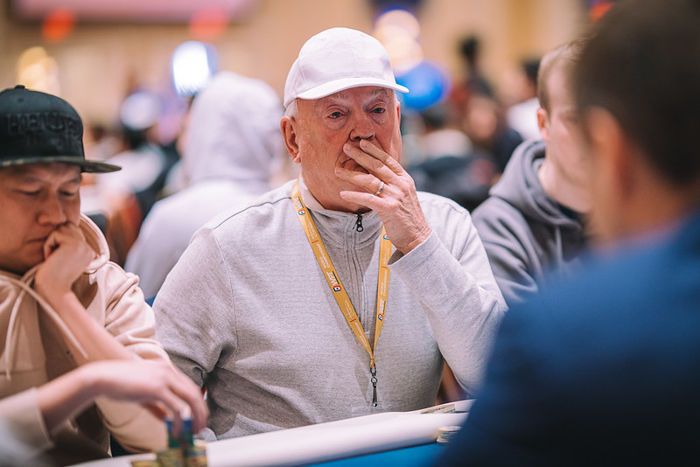 According to updates from the WPT World Championship, Hays fell on Day 3 in Level 18 (15,000/25,000/25,000) after he moved all in for his last 285,000 from early position. The next player to act called before Lori Ann Persinger, who won a giveaway from Andrew Neeme to get into the tournament, three-bet jammed. The called in between folded and Hays discovered the bad news.
Bill Hays:

Lori Ann Persinger:
The
flop was kind to Hays as it gave him a flush draw, but neither the
turn nor
river completed it. Hays exited in 193rd place for $21,750. Meanwhile, Persinger would go on to finish the tournament in 30th place for $119,300.
Bad Beat for Ramoth
The WPT World Championships saw 10 of the ClubWPT qualifiers survive their starting flights to advance to Day 2, but midway through the second day just six remained in Hays, Mark Symons, Tony Greene, Billy Haines, Quran Cruse, and Bruce "wlkwolf13" Ramoth.
We previously profiled Ramoth on PokerNews here. He became the second player to win a coveted seat via ClubWPT way back in May.
The 54-year-old from Selawik runs a small business with his loving wife, Nora. "We have seven children and 19 grandchildren," he told PokerNews. "I have played poker since I was around seven or eight years old. I started playing Texas hold'em about 20 years ago. This WPT tournament satellite is my biggest win playing poker so far."
Unfortunately for Ramoth, he fell in Level 14 (5,000/10,000/10,000) when he was all in for roughly 125,000 from the small blind and looking to survive against Krasimir Yankov.
Bruce Ramoth:

Krasimir Yankov:
Ramoth got it in as a heavy favorite, but lady luck was against him as the
flop gave Yankov the lead with a set. The
turn left Ramoth looking for a king on the river to stay alive, but it was not meant to be as the
bricked on the river.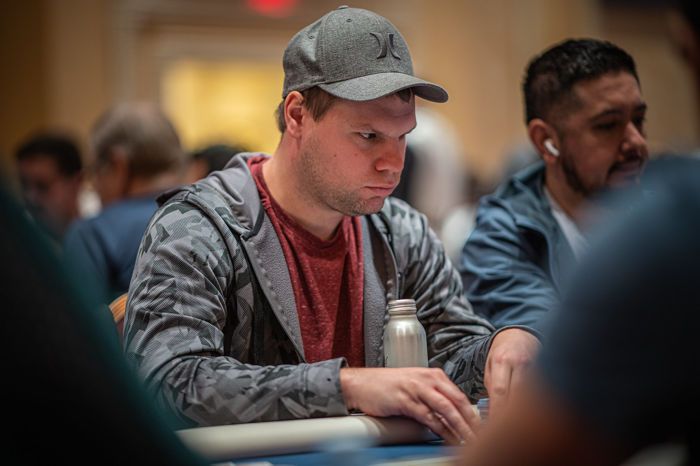 The other qualifiers failed to cash with the exception of ClubWPT qualifier Mark Symons, who was also the ClubWPT Player of the Year. He turned his online entry into a 290th-place finish in the biggest World Poker Tour event in history, good for $19,150.
Learn More About the Subscription-Based ClubWPT here!
2022 WPT World Championship ClubWPT Qualifiers
| Date Qualifier | Player | City | State |
| --- | --- | --- | --- |
| 5/14/2022 | Drew Rautenberg | Medfield | MA |
| 5/28/2022 | Bruce Ramoth | Selawik | AK |
| 5/29/2022 | Quran Cruse | West Hartford | CT |
| 6/5/2022 | Bill Hays | Jackson | TN |
| 6/12/2022 | Anthony Greene | Penfield | NY |
| 6/19/2022 | Michael Ensey II | Gun Barrel | TX |
| 7/3/2022 | Jason Kilby | Wakeman | OH |
| 7/10/2022 | Philip Aleman | Staten Island | NY |
| 7/10/2022 | Kurt Carlson | Golden | CO |
| 7/17/2022 | Ronald "Tigar" Penepent | Cleveland | TN |
| 7/24/2022 | Sepideh Moghaddam | Bellaire | TX |
| 8/7/2022 | Joseph Giannone | Citrus Heights | CA |
| 8/14/2022 | Dan Lincoln | West Bridgewater | MA |
| 8/28/2022 | William Haines | Superior | CO |
| 8/28/2022 | Albert Cohen | Mount Dora | FL |
| 9/4/2022 | Richard Jaros | North Anson | ME |
| 9/11/2022 | Mike Robinson | Lone Star | TX |
| 9/18/2022 | Timothy Robins | Lincoln | NE |
| 9/25/2022 | Stacey Breslin | Lakemoor | IL |
| 10/2/2022 | Jerry Tucker | Florence | KY |
| 10/9/2022 | Charles Ralston | Hot Springs | AR |
| 10/16/2022 | Joseph DiTommaso | Concord | NH |
| 10/23/2022 | Bob Bacon | Overgaard | AZ |
| 10/30/2022 | Richard Hill | Paso Robles | CA |
| 10/31/2022 | Mark Symons | Byron Center | MI |
| 11/6/2022 | Steve Hohn | Fort Worth | TX |
| 11/13/2022 | Peter Espitia | Los Angeles | CA |
Did You Know the World Poker Tour is Online?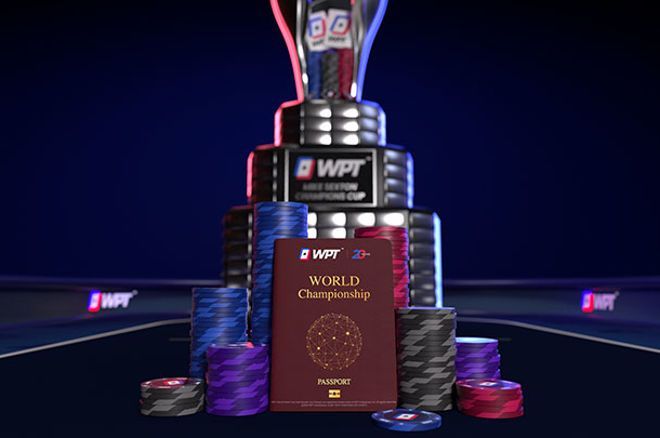 The launch of WPT Global means that poker players around the world now have the chance to win their way to WPT events, win prizes and enjoy exciting games such as Poker Flips. As one of the world's largest cash game poker networks, WPT Global is available in over 50 countries and territories around the world.
WPT Global offers a large deposit match bonus: 100% on deposits up to $1,200 (using any payment method). New players depositing a minimum of $20 automatically receive this match bonus which is unlocked in $5 increments (credited straight to the cashier) for every $20 of rake contribution.
Both tournaments and cash games count towards bonus unlocking; new players have 90 days from the date of first deposit to unlock and claim their full bonus amount.
Executive Editor US, PokerNews Podcast co-host & 2013 WSOP Bracelet Winner.