Ethan "Rampage" Yau Fades the Jinx and Wins WPT $25K High Roller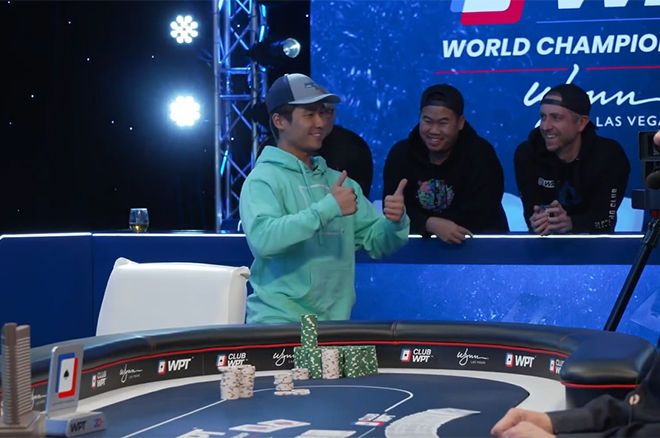 Poker players have a habit of jinxing or "bokking" themselves when it comes to making predictions about how their tournament will end up. All too often, someone will post a tweet stating they're the chip leader at the final table only to be the first finalists out of the door. Remember how Mark Newhouse famously said "I'm not finishing ninth again," only to finish ninth in back-to-back WSOP Main Events?
Ethan "Rampage" Yau tweeted what turned out to be an anti-jinx. Yau had navigated his way through the majority of the 108-strong field in the $25,700 High Roller event at the WPT World Championships at Wynn Las Vegas. Eleven places were paid, and Yau was down to only seven big blinds with 12 players remaining. Not fancying his chances, Yau predicted he was about to bubble this event. However, he could not have been more wrong.
I'm gonna bubble this 25K and it's going to suck, preparing for it now. 12 left, 11 pay. I'm last in chips

— Rampage (@rampagepoker)
It is fair to say that Yau rode his luck a little at the final table, but what tournament champion doesn't? That's right, Yau is the $25,700 High Roller champion, having defeated Kevin Rabichow heads-up for the title and a career-high $894,240 in prize money!
WPT World Championship $25,700 High Roller Final Table Results
| Place | Player | Prize |
| --- | --- | --- |
| 1 | Ethan "Rampage" Yau | $894,240 |
| 2 | Kevin Rabichow | $518,940 |
| 3 | Taylor Paur | $328,320 |
| 4 | Elijah Berg | $226,260 |
| 5 | Ben Yu | $168,750 |
| 6 | Aram Oganyan | $133,920 |
| 7 | Tobias Schwecht | $109,890 |
| 8 | Justin Zaki | $92,880 |
| 9 | Justin Saliba | $81,000 |
Justin Saliba saw his deep run end in a ninth-place finish worth $81,000. Saliba lost almost all of his stack triple-barrelling with ace-jack on a draw-heavy board but failing to shake off Rabichow, who made an exception river call with pocket fives. A few hands later, with blinds of 50,000/75,000/75,000a, Saliba was all-in for only 60,000 from early position, and Justin Zaki re-shoved for 575,000. It was suited ace-five for Saliba and ace-nine for Zaki. No fives appeared on the board, and Saliba was gone.
Zaki was the next player heading for the cashier's cage despite helping himself to Saliba's. Zaki came unstuck when Aram Oganyan open-shoved for 11 big blinds from the button with ace-seven, and Zaki called all-in for five big blinds with ace-try from the big blind. Zaki failed to connect with the community cards and he bowed out in eighth-place for $92,880.
Who's Who of Poker Shows Up on Day 1a of Historic WPT World Championship
The first six-figure score went to Tobias Schwecht, the $109,890 he collected being a career-best for him in the live arena. Schwecht min-raised to 250,000 from the button before calling all-in when Taylor Paur three-bet jammed for 2,250,000 from the button. Schwecht revealed pocket queens, and Paur ace-jack. An ace on the flop proved enough to reduce the player count by one.
The final six became five with the elimination of Oganyan, who had been nursing a short-stack for a while. Oganyan made a move with king-queen, raising to 475,000 from under the gun before calling off his last remaining 475,000 chips when Elijah Berg shoved for 2,000,000 in the cutoff with pocket tens. An ace-high board failed to come to Oganyan's rescue, and he headed away from the table to collect a $133,920 prize.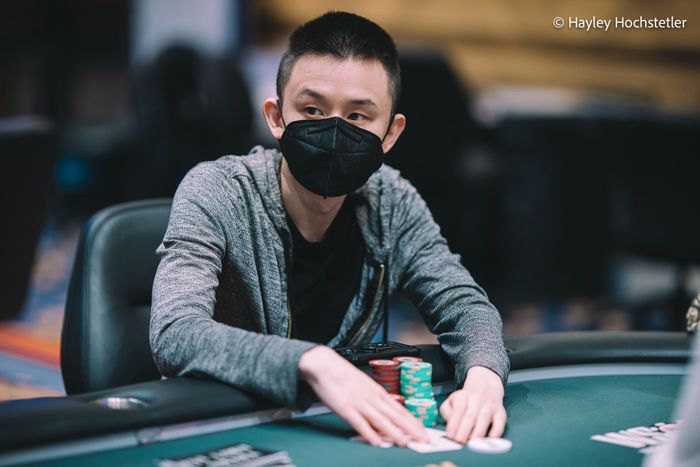 Ben Yu busted in fifth, a finish good for $168,750. With blinds of 75,000/150,000/150,000, Yu open-shoved from the cutoff with queen-eight of clubs for a mere 275,000 chips. Rabichow called in the small blind with jack-nine, and Paur came along for the ride in the big blind with five-four. Both active players checked the flop, but Paur fired on the turn when he improved to two pair, which folded out Rabichow. Yu was drawing to a chop on the river, but ultimately missed and busted from the $25,700 High Roller event.
Things didn't look good for Yau during four-handed play because he was propping up the rest of the players at the bottom of the chip counts. Yau looked down at nine-eight of diamonds and decided to move all-in for 1,975,000 from the button, essentially eight big blinds. Matters looked worse when Berg re-shoved with ace-queen. However, Yau flopped a flush draw and an open-ended straight draw. A three of diamonds gave Yau a flush, but Berg held the ace of diamonds so the hand was not yet over. Another three on the river doubled Yau and left Berg nursing a six big blind stack.
Berg recovered a little but then crashed out to a coinflip with Rabichow. Rabichow min-raised to 500,000 and called Berg's 2,475,000 shove. Berg showed ace-ten of clubs, Rabichow pocket sevens, and those sevens held on a board void of drama. Berg busted and banked $226,260 for his efforts.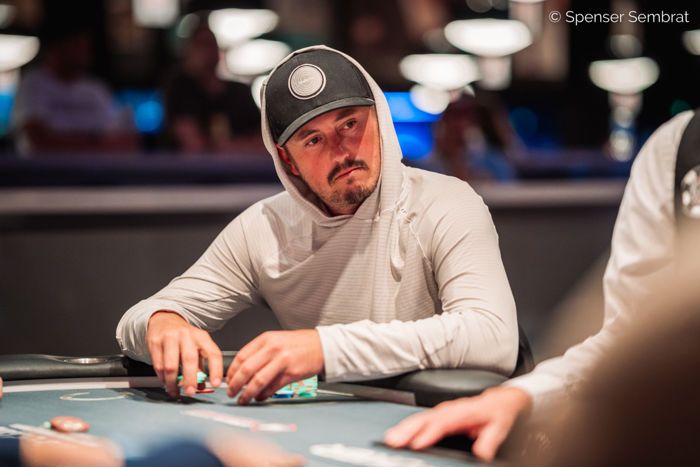 Three-handed play lasted 20 minutes, ending with Paur reeling in a $328,320 score. Pau completed the small blind with ace-nine of clubs, Yau took the bait and raised all-in for 9,900,000 with jack-eight of clubs. Paur called off his 6,100,000 stack and looked set for a massive double. However, Yau, sporting a luck box hoodie, managed to win the hand despite a club flush draw landing on the flop. Yau spiked a jack on the turn, which proved enough to send Paur to the showers and the tournament into the heads-up stage.
Yau held a substantial three-to-one chip lead going into heads-up, but Rabichow is a phenomenal heads-up player, so the contest was far from over. Half hour later, the final hand took place and Yau had completed his amazing comeback.
Rabichow completed the small blind during the 150,000/300,000/300,000a level, Yau shoved for 14,000,000, and Rabichow called off his 7,325,000 stack. Rabichow revealed queen-jack of spades, and Yau the dominating king-jack of hearts. The nine-high flop gave Rabichow outs to a gutshot straight, with the ace of spades on the turn adding outs to a flush for the all-in player. After burning a card, the dealer placed the four of diamonds on the river, busting Rabichow in second-place for $518,940, and leaving a delighted Yau to scoop an $894,240 top prize and the title of champion.
Giving everyone who bought action on @StakeKings on the first bullet a full refund + 2x. LFG https://t.co/RXO83jmVbF

— Rampage (@rampagepoker)
Yau was obviously in a generous mood after his impressive victory because he has promised to refund everyone that bought a piece of his first bullet's action on the staking site StakeKings. One person who replied to Yau's tweet estimates doing so will cost Yau $75,000! Wat a guy, what a champion!
Did You Know the World Poker Tour is Online?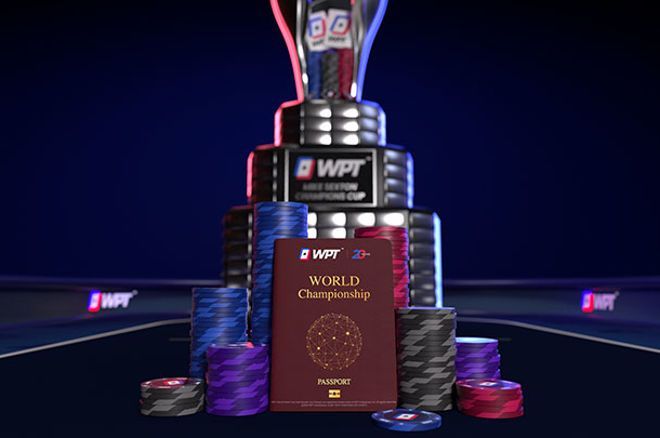 The launch of WPT Global means that poker players around the world now have the chance to win their way to WPT events, win prizes and enjoy exciting games such as Poker Flips. As one of the world's largest cash game poker networks, WPT Global is available in over 50 countries and territories around the world.
WPT Global offers a large deposit match bonus: 100% on deposits up to $1,200 (using any payment method). New players depositing a minimum of $20 automatically receive this match bonus which is unlocked in $5 increments (credited straight to the cashier) for every $20 of rake contribution.
Both tournaments and cash games count towards bonus unlocking; new players have 90 days from the date of first deposit to unlock and claim their full bonus amount.