Top Stories of 2022, #1: The Year of Hustler Casino Live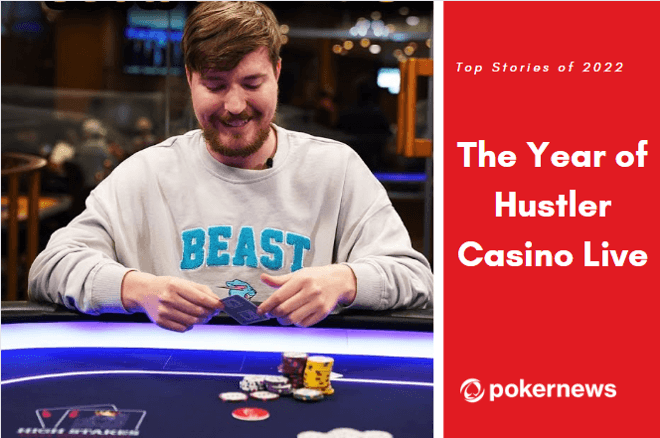 In 2022, Hustler Casino Live exploded with some of the wildest hands, juiciest controversies, and biggest games we've ever seen on a livestreamed cash game poker show.
The Nick Vertucci and Ryan Feldman creation launched in August 2021, and it didn't take long for the stream to gain some traction. Two months later, the poker show from Hustler Casino in Los Angeles brought on the G.O.A.T., Phil Ivey, for a memorable weekend that drove the HCL YouTube subscriber tally from around 25,000 to over 70,000 in a short period of time.
By March 2022, Hustler Casino Live had cracked the 100,000 subscriber mark, and that was just the beginning. As we close out the year, HCL now has around 205,000 loyal followers, and there's still plenty of room for growth.
So, what led to the explosion in the show's popularity? There are a number of reasons, but none more so than the five you're about to read about.
Robbi-Garrett Alleged Cheating Saga Goes Mainstream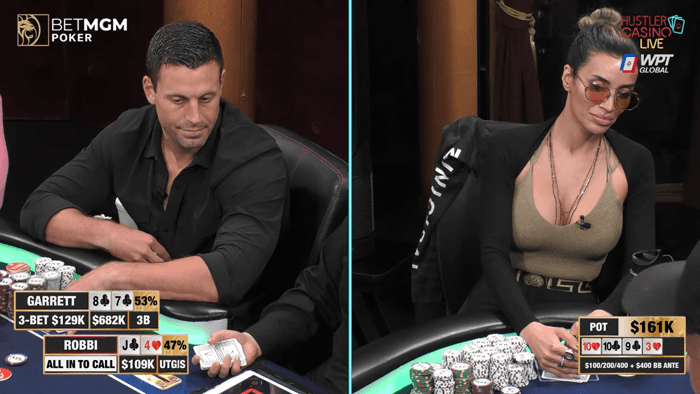 On Sept. 29, one of the most controversial and memorable incidents in poker history took place. Garrett Adelstein, the most popular regular on the HCL stream, lost a $269,000 pot bluffing with eight-high against newcomer Robbi Jade Lew, who made a six-figure call on the turn with nothing but jack-high — not even a gut-shot straight draw.
Immediately after seeing his opponent's exposed cards at showdown, Adelstein accused his opponent of cheating. The two feuded away from the livestream stage inside the casino where Lew refunded him $135,000. But she denied cheating and has since stuck to that story.
Over the following week, mainstream media such as the New York Post, Los Angeles Times, and the BBC picked up the story. Robbi-Garrett, the infamous jack-four off-suit hand, was all over social media, and not the poker segment. People who think a royal flush is a bathroom mishap and the secret to winning at poker is counting cards were even talking about it.
Everyone seemed to have an opinion on if she did or did not cheat, and most expressed confidence one way or the other. It was either "she indisputably cheated" or "she definitely didn't cheat." There was very little middle-ground.
But after a two-month long investigation by a third-party company hired by High Stakes Poker Productions, HCL's production company, no evidence of wrongdoing was found. That doesn't mean Lew has been fully exonerated, but up to this point, there's simply no way to prove Adelstein's accusations.
Not only was the Robbi-Garrett controversy the biggest Hustler Casino Live story in 2022. One could argue it was the biggest story in all of poker since Black Friday in 2011. Neither player has since returned to HCL, although Lew hinted to PokerNews in December that she might be coming back soon, and Adelstein tweeted that he's also interested in reappearing in 2023.
Twitch, YouTube Streamers Game was Bonkers
On May 2, Hustler Casino Live hosted what quite possibly will still be remembered 10 years from now as the most epic livestreamed game in poker history. On that day, some of the biggest names on Twitch and YouTube such as MrBeast, Ninja, and Alexandra Botez competed against poker pros Tom Dwan and Phil Hellmuth, and the game was absolutely out of control entertaining.
At one point in the stream, over 100,000 concurrent viewers were tuned in across various YouTube and Twitch channels, a poker record that may never be broken. To put it in perspective, a regular HCL Friday night stream will get anywhere from 10,000-20,000 viewers, on average, far more than any other livestreamed poker show.
Hellmuth took some heat from poker Twitter for buying in short against recreational players who were splashing around. There were more crazy six-figure pots than we can mention. But the most thrilling, at least for those who love to see Hellmuth on tilt, was a hand the "Poker Brat" played against Ninja, one of the most popular Twitch video game streamers ever.
Hellmuth was all in and way ahead preflop with a better pair, and then he improved on the flop hitting a set, leaving his opponent drawing only to runner-runner quads or runner-runner straight for a chop. The turn brought about a card that gave Ninja four outs to a chop, and then he offered up a sexual favor if the dealer would turn over the card he needed on the river. We'll let you see for yourself exactly how that memorable hand played out below.
Garrett Adelstein Gets Revenge on Slow-roller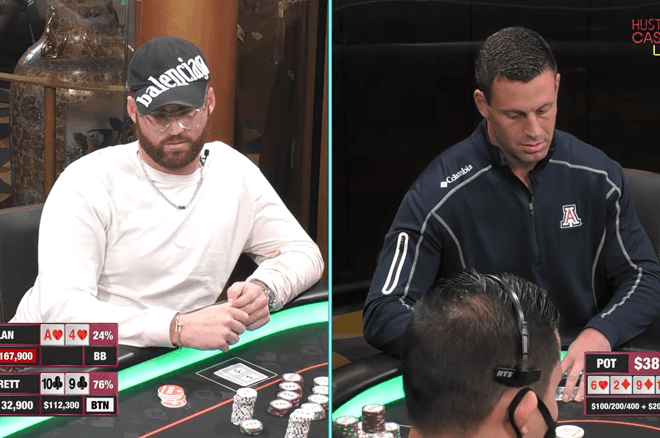 In February, Adelstein was on the receiving end of a slow-roll from Dylan Gang, who had become one of the regulars in the high stakes games. Gang slow-rolled in a $200,000 pot, which brought out the insults from Adelstein's many fans.
Some may call it karma, others revenge, but one week later, the tables were turned. Adelstein hit top two pair and called an all in bet against the nut flush draw of Gang on the turn. With $390,000 in the pot, the river bricked and Gang lost his stack and left the game. He hasn't returned to Hustler Casino Live since.
Revenge was on Adelstein's side, but he didn't slow-roll his opponent. Instead, he turned over his cards, showed the two pair, and then took down the massive pot like a true professional.
Creation of New Poker Personalities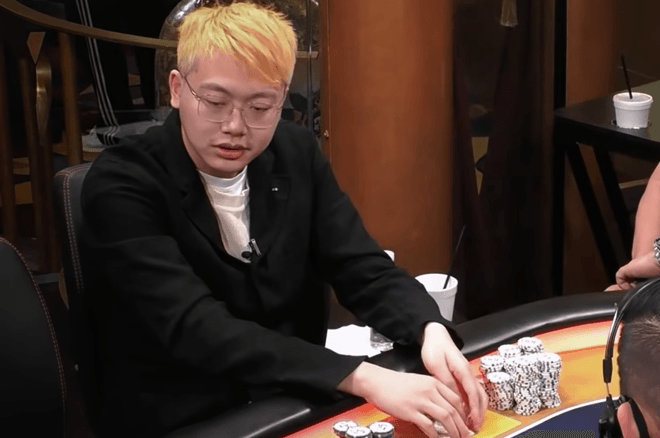 The production quality from High Stakes Poker Productions, which owns and operates HCL, is top-notch in the industry. But what truly makes this show boom is the players at the table.
Over the past year, we've seen new stars bust onto the poker scene through Hustler Casino Live. Entertaining players such as crypto millionaire "Wes Side" Wesley, the high VPIP Alan Keating, wealthy high-stakes poker beginner J.R., "Nik Airball," and the "Max Pain Monday" regulars Billy "DGAF," Sashimi, and others.
Poker has been in dire need of new characters to root for and against, and that's exactly what Hustler Casino Live has provided over the past year. But the show also brings on poker royalty and such as Hellmuth, Dan "Jungleman" Cates, Jean-Robert Bellande, and Phil Ivey.
Largest Pot in US Livestream Poker History ($1.2 Million)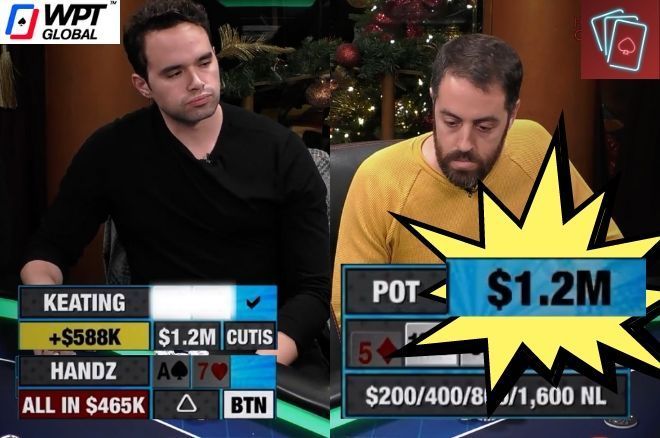 Just a few weeks ago, Keating was involved in the largest pot in US livestreamed history, and the hand was absolutely bonkers. Here's how it all played out:
In a $200/$400/$800/$1,600 No-Limit Hold'em cash game, Handz raised to $9,000 on the button with A♠7♥. He was called by Ben Lee in the small blind with 8♣5♣, Eric Persson holding A♦J♥ in the first straddle, and Keating with K♠2♠ in the second straddle.
The flop came out 10♠6♠5♥ and was checked to Handz who continued for $25,000 into a pot of $37,200. Keating was the only caller.
Keating then check-called $70,000 on the 4♦ turn and the pair went heads-up to the river which was the 7♠, completing Keating's flush.
With $227,000 in the pot, Keating chose to bet $155,000 and Handz then shoved, putting Keating all in, his attempt to turn a small pair into a bluff. He had $309,000 additional behind and spent over two minutes in the tank before calling with his flush, beating the rivered pair and nut-flush blocker of Handz to scoop the $1.15 million pot, the largest in US livestreamed poker history.