2022 Global Poker Awards Categories Revealed; 29 Trophies Up for Grabs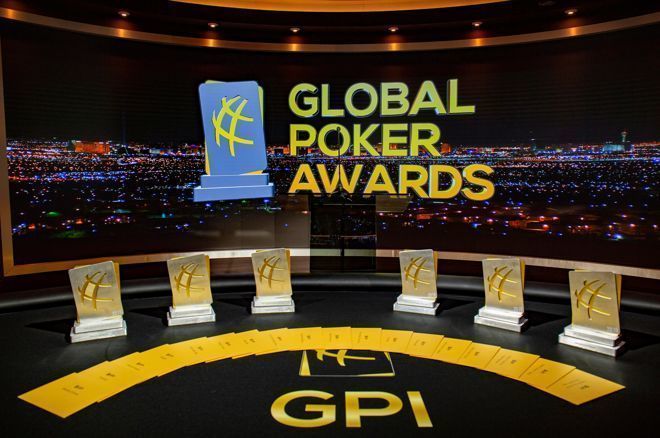 Table Of Contents
Via a press release from Global Poker Index and The Hendon Mob, the categories have been revealed for the 2022 Global Poker Awards show, which takes place March 3 at the PokerGO Studio in Las Vegas.
There will be 29 shiny GPI trophies handed out, and the event will be live-streamed on PokerGO starting at 8:30 p.m. ET. Various poker players, content creators, and industry personnel will have opportunities to grab one or more of those trophies.
We don't know who will win 26 of the awards, but we do know three of the winners — Stephen Song and Cherish Andrews. That wasn't a miscount as Song has already been declared the winner of both the 2022 GPI Player of the Year and GPI Mid-Major Player of the Year awards, while Andrews is the GPI Female Player of the Year recipient.
Tough to Project Winners
Last year's Global Poker Awards was focused heavily on Ali Imsirovic, who stole the show with three trophies including GPI Player of the Year. This year, however, it's unlikely he'll get any recognition given that he was accused of cheating in 2022 and was temporarily banned from competing in PokerGO events.
Imsirovic, who won 14 high rollers in 2021, was a lock to win multiple categories last year. But there was more parity in tournament poker last year, which makes categories such as Players' Choice for Toughest Opponent tough to predict. The race for GPI Player of the Year went down to the wire with Song, who won the WPT Prime Championship in December, pulling it out in the end.
Other top categories include Rising Star in Content Creation, Best Final Table Performance, GPI Breakout Player, Comeback Player, and Best Twitter Personality.
Voting panel members were expected to receive their ballots on Monday for the first round of voting. The final round of voting for the fourth edition of the Global Poker Awards will take place Feb. 2. Poker fans will also have some say in the voting process with a fan vote on four GPI Fans Choice awards.
Check out 2021 GPA Winners here!
Full List of 2022 Global Poker Awards Categories
GPI Poker Player of the Year
GPI Female Player of the Year
GPI Mid-Major Player of the Year
PGT Player of the Year
GPI Breakout Player
Best Final Table Performance
Poker ICON
Players' Choice for Toughest Opponent
Comeback Player
GPI Award of Merit
The Hendon Mob Award
Best Twitter Personality
Charitable Initiative
Best Streamer
Best Vlogger
Rising Star in Content Creation
Best Industry Person
Best Tournament Director
Best Event
Best Mid-Major Tour/Festival
Best Broadcaster
Best Podcast
Best Media Content: Written
Best Media Content: Video
Best Media Content: Photo
Fans Choice: Poker Personality
Fans Choice: Best Hand
Fans Choice: Best Trophy
Fans Choice: Fave Live Stream