Tournament Poker Player Surrenders During Heads-Up Play & Just Takes 2nd-Place Money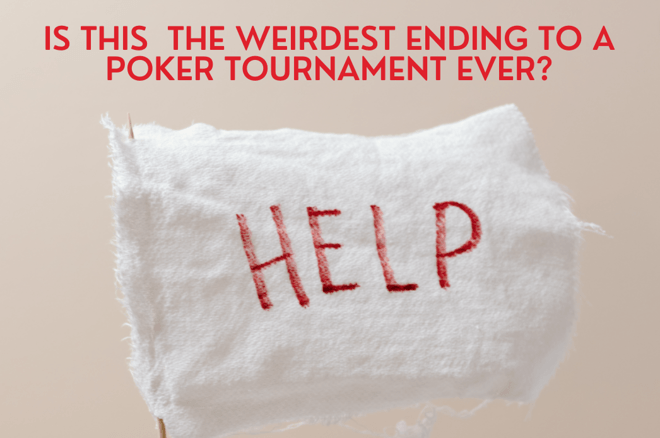 Table Of Contents
Jacob Mitich had the easiest heads-up battle ever — literally — in a $400 buy-in tournament at the Potomac Winter Poker Open when his opponent, William Pinkerton, simply conceded and took second-place money. We're not talking about chump change either as there was a $8,716 difference between first and second-place payouts.
Pinkerton didn't even ask for an ICM chop, a chip chop, a Tomahawk Chop, or any kind of chop. He was down approximately 6-1 in chips and still had more than 10 big blinds. Clearly, he was an underdog at that point, but anyone who has followed tournament poker for more than, oh, five minutes, knows that you're never out until there isn't a single chip left in front of you. At the very least, he could've moved all in dark and rolled the figurative dice.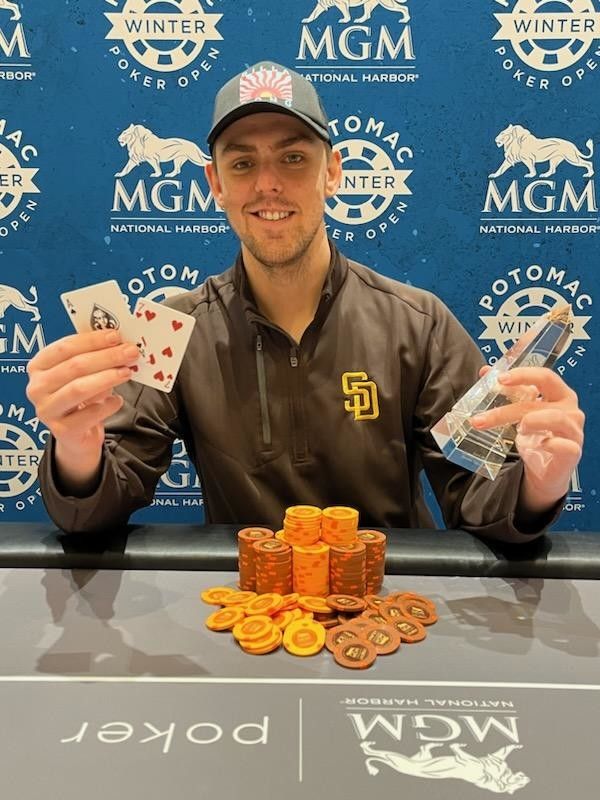 Chip and a chair, as the late Poker Hall of Famer Jack "Treetop" Straus famously said. Just ask Phil Hellmuth, who rallied to win after being down approximately 96,000-4.000 in chips to Daniel Negreanu in the first of three High Stakes Duel matches between the two poker legends.
Needless to say, the poker world was a bit flabbergasted by what transpired, which is why PokerNews reached out to Mitich (our attempts to locate Pinkerton were unsuccessful) to get a few more details.
"Yeah, I definitely haven't had that happen before. It was extremely odd," Mitich explained. "As soon as the guy busted in third, the guy who I was heads-up with looked at my chips and said I'll just take second. I said what do you mean you'll just take second and his response was, 'You have way too many chips, there is no way I can come back. I said okay, GG."
Mitich, who offered to buy Pinkerton dinner, said that he believed his opponent to be a recreational player. In fact, Pinkerton had told him that he was attending flight school and just playing for fun.
"The dealer said, 'Alright, we're done here.' And floor guy was a little confused but he was just like, 'Alright, that's it I guess,'" Mitich said before adding, "Poker is alive."
Event #6:$400 Monster Triple Stack Final Table Results
| Position | Name | Country | Prize |
| --- | --- | --- | --- |
| 1 | Jacob Mitich | United States | $22,298* |
| 2 | William Pinkerton | United States | $13,582* |
| 3 | Brett Butz | United States | $9,865 |
| 4 | James Liddell | United States | $7,617 |
| 5 | Minwoo Ahn | United States | $5,506 |
| 6 | Jim Dike | United States | $4,310 |
| 7 | Belram Rais | United States | $3,212 |
| 8 | Alan Gendelman | United States | $2,524 |
| 9 | Cory Sitzman | United States | $1,835 |
*Denotes heads-up surrender.
Strange End to a Poker Tournament
PokerNews was on-site live reporting the 275-player Potomac Winter Poker Open no-limit hold'em tournament, which paid $22,298 to its winner. Pinkerton took home $13,582, nearly $9,000 less than he'd have won had he rallied to defeat Mitich.
With three players left, Mitich was behind with
against the
of Brett Butz, who was all in and at risk preflop. Mitich would end up rivering a straight, sending Butz to the cashier's cage in third place ($9,865).
That set up what was supposed to be heads-up play with the blinds at 150,000/300,000 and the chip leader up about 19,000,000 to 3,500,000.
According to our live reporter, it appeared to him that Pinkerton was ready to go and wasn't too concerned with the potential pay jump. A $13k score is still a nice score, any way you slice it.
Still, it was one of the more odd endings to a poker tournament you'll ever see.
This wasn't an instance where a player lost to a runner-runner flush to bust with the tournament on the line, a common occurrence. Pinkerton simply decided to surrender instead of battling to beat the odds.
Poker World Reacts
As you probably expected, when news of the surrender spread on social media, the poker community was a bit flabbergasted and confused as to why anyone would just quit during heads-up play. Aubrey Williams (@TheAwwbrey) was baffled as to what she had just read from our live reporting update of the tournament conclusion.
Wtf did I just read, the guy got to heads up and just gave up didnt even get a deal aaaa what????… https://t.co/Z8RoQq0NtL

— Aubrey Williams (@TheAwwbrey)
"Maybe his opponent pulled some mind-clouding maneuver on him," Zachary Elwood wrote.
"Maybe he had somewhere to be, or a flight to catch? there are only a few acceptable reasons why I could see someone giving up when HU," @yaboiijimothy opined.
"Seeing several reasonable explanations on here but maybe they made a side deal?" @oldmaninvegas asked.
"Pro tip: don't forfeit your chips in a tournament, especially in high ICM situations. Idk what how big of a chip deficit it was to start HU, but I'm sure he could have gotten at least $200 from the winner in a chop of sorts," @goad advised.
PokerNews attempted to catch up with Pinkerton before he left the tournament room but were unable to locate him.
Follow PokerNews Live Coverage of the Potomac Winter Poker Open
Executive Editor US, PokerNews Podcast co-host & 2013 WSOP Bracelet Winner.