Severin Rasset Talks PokerStars in US: $1M GTD Weekly, Nevada Update & Live Event Return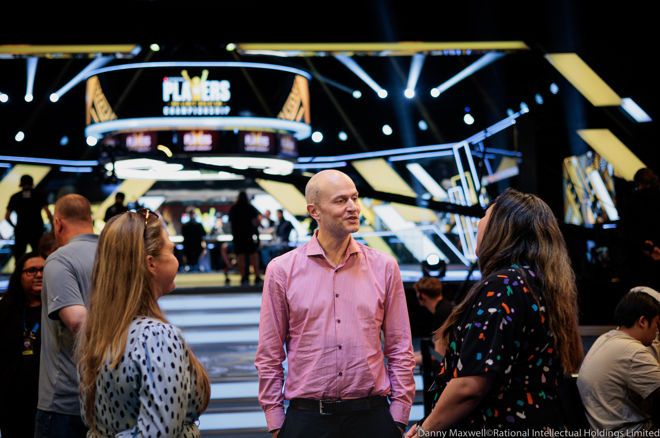 In case you didn't know, PokerStars is back in the United States. It actually has been for quite some time in New Jersey as well as in Michigan and Pennsylvania, though each was a segregated market. At the start of the New Year, PokerStars hit the ground running by becoming the first online operator to merge their NJ and MI player pools, instantly making it the largest online poker network in the US.
One man responsible for making that happen was Managing Director of North America for PokerStars Severin Rasset, who helped usher in a similar liquidity merge in Europe.
"We had similar things happening in Portugal, which was operating as a closed liquidity for a while," he explained. "Portugal has about 14 million inhabitants. So, very similar to the size of New Jersey or Pennsylvania. Then Portugal joined with Spain, which was a big, dynamic change to the market."
He added: "I've been through quite a lot of these changes in the regulatory and so just using this experience while getting the most out of the team in the US and plugging my experience in with their expertise and their own experiences, I think we're gonna have a really good mix."
Rasset recently spoke to PokerNews at the PokerStars Caribbean Adventure (PCA) in the Bahamas about recent developments concerning PokerStars US including the reveal that they're offering $1 million in guarantees each week, updates on Pennsylvania and Nevada, and the potential return of live events in America.
Exclusive: PokerStars Managing Director Severin Rasset on "Way More Generous" Rewards for Players
On the Merging on MI & NJ Markets
On January 1, PokerStars flipped the figurative switch to merge the New Jersey and Michigan player pools. There wasn't a major celebration straight away, but it was a momentous day for online poker.
"Very exciting days. When you work for months on liquidity – the technical team, the commercial teams – to arrive there seeing it going live and immediately making an impact," Rasset explained. "This is something that we've been looking forward to. Having more liquidity means that we can do much more, we have the right product, we have the right software, but having the ability to get more depth and breadth, more games, it's something that is really making a big difference."
He continued: "Having this ability to suddenly merge liquidity between New Jersey and Michigan is a game changer for us and hopefully just the first step or so, like offering a much bigger liquidity for all American players."
With an expanded player pool, Rasset and company know it is more important than ever to keep their foot on the gas by appealing to players, be it through either promotions, new games, or tournament series.
"What is important is that you continue to offer something that you know is really strong and can be differentiated from the rest of what is offered. We are also launching Zoom, a different type of cash game that requires liquidity. So, we're doing it in a temporary fashion to see if players like it, and we're gonna also do it during peak hours to make sure that we can actually run them. We're gonna learn from that to see, again, what is the reaction from players. We adjust to make it appealing for them."
Rasset was also excited to reveal that February brings a very exciting development – that PokerStars US will be guaranteeing $1 million in weekly prize pools for NJ & MI, while Pennsylvania will offer $500,000!
"Also, $1 million guaranteed on a weekly basis is even more important to me than a series because the series is creating like a peak of activity, but the weekly schedule is what says to players they can come back any day, you can come back any weekend, whenever you feel like playing there will be something exciting waiting for you. And that's really what makes a difference in terms of keeping players engaged."
SCOOP Upcoming
While the specifics are yet to be announced, Rasset did confirm that PokerStars US will offer a SCOOP series, which is slated to be even bigger and better than the recently-completed PSPC Online.
"A couple of teasers that I think we're going to try even bigger than what we did for the PSPC is SCOOP," said Rasset. "It's something that is really deeply ingrained into the history of PokerStars and is something that we have been very proud of really creating this championship. I think winning an event in the scope of the SCOOP means something for the players, there is a lot of pride. We want to make sure that we create the best offering, so I think we're going to try to surprise them with bigger guarantees than we did for the PSPC Online."
Detroit Red Wings, PokerStars Form Online Poker Partnership in Michigan
Will Pennsylvania Also Merge?
As of 2021, Michigan had a population of 10 million, while New Jersey had 9.2 million. That means if Pennsylvania were ever to join the network with its 13 million population, the player pool would grow exponentially. However, that's not an easy process as Pennsylvania would first have to navigate political hoops to join the Multi-State Internet Gaming Agreement (MSIGA).
"If it was up to me, we'd do it tomorrow," said Rasset. "There are a few steps that are important. We are working with the regulators to explain to them why we think it's a benefit, and we feel now we have much more ammunition to explain to them given what's happening with New Jersey and Michigan merging. But there's also a political aspect.
He continued: "We need the Governor of Pennsylvania to sign the MSIGA, and that's part is outside of our control. The best that we can do is explain the rationale that we think it's having a positive impact for the player experience, and then hope for the best. But we know that when Pennsylvania joins we will be aiming to be the first one to release and bring them into the merged player pools."
Learn more about PokerStars in PA here!
What About Nevada?
Nevada is the most mature online poker market in the US, though right now WSOP.com is the only operator. PokerStars was prevented from entering the market when it launched as they were deemed a "bad actor" for continuing to offer its services to US players after the UIGEA in 2006. According to legislation, bad actors were barred for 10 years. Well, that period is almost up, so has PokerStars thought about Nevada?
"Yeah, absolutely," said Rasset. "That's something that we're always looking at on a regular basis. It's also important to notice that our sister brand, Fan Duel, also got licensed over there. So, this is something that we're working with them to see what would be the right requirements for us to be able to be there. It's something that we evaluate on an ongoing basis. There's no immediate plan to come there, but we are looking into it."
Return of Live Events
Prior to Black Friday, PokerStars had launched their own tour in the United States called the North American Poker Tour (NAPT). It proved to be quite successful in its short existence. Given that PokerStars has return to the US, at least in a trio of states, have they thought about returning to the live space on a more permanent basis?
"We're seeing the PSPC at the moment and the excitement that it creates for players. They truly enjoy this experience, and I think that's something that is really complimentary to what we offer online, but it's a completely different poker experience when you play live versus playing online … but the short answer is yes, we are also going to be back live in the US, and I think that's something that will also help overall to show that we have this passion for poker, we have an appreciation for the players, and that we know how to run things to make a difference."
While Rasset couldn't share specifics regarding any upcoming live efforts, he did indicate that there is likely to be movement on that front later in 2023.
Learn more about PokerStars in MI here!
The Future of Poker in US
The expansion of online poker in the US has come at a snail's pace, but given what's happened both in that space and with live poker as of late, Rasset it bullish on the future.
"Coming from Europe with having brand operations experience for a long time over there. There is an excitement about poker overall, both live events and online," he explained. "There is a character about the game that is really quite unique in the market, and the players have this passion that you feel is here to stay. So, I took the job here because I really believe that there is a strong future for poker overall in the US and because I think with PokerStars we have the best brand to actually deliver the best product. With states opening one by one, I think that we have like 5-10 years ahead of us where the seeds will just continue to grow on a regular basis"
He added: "There are [legislative] drafts in Indiana; New York is showing some movement. You have states that seem to be happening in the next three to five years, and the goal is to put us in the best position so that when there is a new state opening or joining the liquidity we can actually make sure that we're ready. We can immediately add players to the overall pool. The vision is to create a large merged player pool in the US where we can offer more and more exciting tournaments with every year being better than the one before."
Learn more about PokerStars in NJ here!
$1 Million a Week on PokerStars MI/NJ
As Rasset mentioned, one of the most exciting announcements is that PokerStars is offering $1 million in guaranteed prize pools on a weekly basis to players in Michigan and New Jersey. This will be offered across a packed schedule of daily and nightly tournaments.
With an attractive variety of daily tournament buy-ins starting at $5 and ranging up to $250, as well as reoccurring nightly tournaments ranging from $25-$50 buy-in, the new guaranteed prize pool gives the PokerStars community even more rewards and games every day. Since shared liquidity was announced on January 1, players have been enjoying PokerStars US' largest guarantees to date. With more players, more tournaments and bigger prizes, the excitement keeps growing.
Similarly, players in Pennsylvania will play for a $500,000 guaranteed prize pool with the same tournament structure. Reoccurring nightly tournaments include:
Shared Liquidity Schedule for Nightly Stars
| Day | Event |
| --- | --- |
| (Mon-Sat) | 6:00 PM - $25 Mini Nightly Stars |
| | 7:00 PM - $50 Nightly Stars KO |
| | 7:00 PM - $50 Nightly Stars |
| (Sun) | 8:00 PM - $50 Turbo Nightly Stars KO |
| | 8:00 PM - $50 Turbo Nightly Stars |
PA Schedule for Nightly Stars
| Day | Event |
| --- | --- |
| (Mon-Sat) | 6:00 PM - $25 Mini Nightly Stars [Turbo] |
| | 6:30 PM - $50 Nightly Stars KO |
| | 7:00 PM - $50 Nightly Stars |
| (Sun) | 8:00 PM - $50 Turbo Nightly Stars KO |
| | 8:30 PM - $50 Turbo Nightly Stars |
Weekly PokerStars US Tournaments
| Day | Event |
| --- | --- |
| Sunday | Sunday Special |
| Monday | Battle Royale |
| Tuesday | Super Tuesday |
| Wednesday | Wednesday Storm |
| Thursday | Thursday Thrill |
| Friday | Friday Night Fight |
| Saturday | Deep Stack Saturday |
Executive Editor US, PokerNews Podcast co-host & 2013 WSOP Bracelet Winner.