No Longer 'PC,' Garrett Adelstein Teases Return to Live-Stream Poker, Trashes "Nik Airball"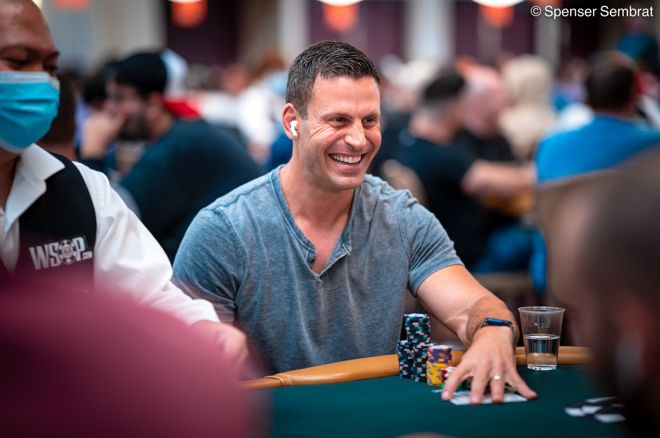 Table Of Contents
The gloves are coming off and "PC" Garrett Adelstein has "died" following the recent news that the Los Angeles high-stakes poker legend isn't welcome back on Hustler Casino Live (HCL) for the time being.
With the possibility of returning to HCL for the first time since the infamous J4 incident in September not being an option for now, the poker pro has to make some decisions on where and when to play.
Adelstein Not Welcome Back At Hustler Casino Live For Now
Nik Airball, Garrett Adelstein Feud
While he hasn't officially announced a date and location of his return to live-stream poker, nor has he committed to a return, he did tease in a tweet the likelihood of coming back "soon." In a separate tweet, he also bashed Nikhil "Nik Airball" Arcot, a regular in the Hustler Casino Live big games.
New @DougPolkVids is hilarious, especially the memes of me looking like someone just shot my dogs. No question, I w… https://t.co/ZzQl4NavJd

— Garrett Adelstein (@GmanPoker)
Not only did Adelstein trash Airball's poker game on Twitter, he also took aim at his character, referring to the poker player as an "even worse human being."
@wakethesheep_ @DougPolkVids PC Garrett has died. Airball is bad poker player and a much worse human being. Fuck that guy.

— Garrett Adelstein (@GmanPoker)
Adelstein hasn't competed in a public poker game since he accused Robbi Jade Lew, a newcomer to the show, of cheating six months ago. One day prior to the incident, Nik Airball trash-talked Adelstein on Twitter in a series of tweets.
On Tuesday, the tables had turned and it was Adelstein taking shots at Nik Airball, who didn't just sit back and take it. He fired back with his own tweet.
I'm a bad person? I don't block people from games, I don't rank the recreational players I want to play with, I bat… https://t.co/ibQIxc7ywS

— Nik Airball (@nikairball)
On top of being a regular on Hustler Casino Live, Arcot is one of the show's top promoters. He wrote in a separate tweet that he is "loyal" to HCL co-owners Nick Vertucci and Ryan Feldman, and took shots at Adelstein's insistence on playing in hand-picked lineups.
"I don't shut ANYONE out of games," Nik Airball wrote.
The New Garrett Adelstein
Prior to the J4 incident, Adelstein had one of the squeakiest clean images in poker. He was a fan favorite on HCL and Live at the Bike for years, and few had negative things to say about him publicly. Not only that but he brought in viewers to both Los Angeles area live-stream poker shows.
Right up there with Phil Galfond, Maria Ho, and a few others, his reputation was that of a Mother Teresa type.
While he still has fans — many of them, in fact — that image has taken a bit of a hit due to manner in which he handled the alleged cheating incident. Beyond leaving the game upon accusing Lew of cheating he then continued to double down on the accusations in the days and months following.
Many poker fans were critical of him for accepting a $135,000 payment from Lew in the moments after the J4 hand. Some argue that he should pay her that money back, although he announced months ago that he would instead donate it to a charity. So, when he tweeted that comment on Tuesday at Nik Airball, he was met with some heavy criticism from some, but also many poker fans had his back.
"You need to meditate on this man not a good energy," said Hoodie Allen (@HoodieAllen) advised Adelstein.
"New garrett is going to be awesome," @JackRafff123 tweeted.
"Hah @GmanPoker give it up man. You're just hurting your own 'built up' image. Which you can legit thank @TheRyanFeldman for. Literally no one has missed you & stream is thriving. I had a ton of respect for you but you can't just be throwing the show under the bus & @nikairball," @SunnySaini_15 quote tweeted.
"Who would've thought Garrett would come back to the game like this? Im all for it! I can't wait to watch the new Garrett play," @K1gdev_ wrote.
"I'm not sure where you get the idea that he's a bad person. I've gotten to know Nik quite well, and he has good intentions. You were upset about trivial poker politics and used that to slander him regarding the Robbi and Rip situation. I had plans to play a Friday game with Stan," @The_Brownball posted.
Doug Polk, co-owner of The Lodge Card Club in Austin, Texas, offered up a place for Adelstein and Nik Airball to battle it out — his live-stream.
Nik Airball responded to Polk's tweet, saying "He's scared. Always has been, always will be. Real battlers play anyone, he is only willing to battle people who have no chance against him."
If Adelstein doesn't travel out to Texas for his first live-stream appearance since September, it's likely the return will take place on Live at the Bike, the show he's been competing on for years. Houston Curtis, LATB's executive producer, told PokerNews that when Adelstein is ready to play, he "looks forward to welcoming him."
Wherever he winds up, and when it happens, all eyes will be on one of the most popular live-stream poker players of all-time. But this time, not everyone will be watching to cheer him on. Some will be hoping to see him get stacked. One thing is certain, however, and that is the poker community will be tuned in to whichever show it is that lands him.
.