Mattress Mack, Doyle Brunson, Jack Binion Speak at Horseshoe Las Vegas Grand Opening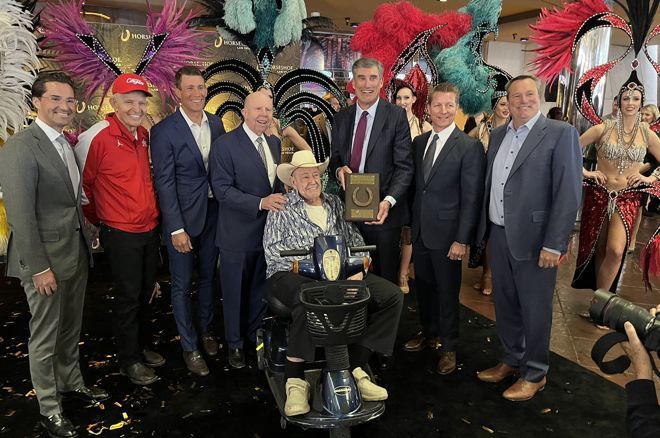 Friday wasn't a good night gambling-wise for Texas billionaire Jim "Mattress Mack" McIngvale, but he put that aside to help officially introduce the all-new Horseshoe Las Vegas (formerly Bally's), the site of the World Series of Poker (WSOP).
Mattress Mack, who owns the Gallery Furniture retail chain, sat next to poker legend Doyle Brunson and Jack Binion, former owner of Binion's Horseshoe in downtown Las Vegas, the original WSOP home.
Binion, whose father Benny Binion created the WSOP in 1970, spoke to reporters at a cocktail reception from inside his iconic Jack Binion's Steakhouse brand restaurant, a staple at Horseshoe casinos around the country. The Las Vegas Strip version, which sits just steps from the main WSOP tournament area, opened last summer to rave reviews.
Check out our Horseshoe Las Vegas Poker Room review here!
The Beginning of a New Era
At 5:30 p.m. from the casino's valet area, executives from Caesars Entertainment officially introduced the company's rebranded property. Although the hotel had switched everything over to the Horseshoe brand back in December, grand opening ceremonies, especially in Las Vegas, don't typically take place until a few months later.
For those who attended the 2023 WSOP at what was then Bally's, you may have noticed some outdated carpeting and a casino floor that needed facelift. Since the final card was dealt in the Main Event back in July, the entire property has undergone a complete transformation inside and out.
The property now has new carpeting, new restaurants, renovated hotel rooms, a newer modern poker room, a freshly painted exterior. If you haven't been there since last summer, you might not even recognize the place. Poker fans are going to be in for quite a pleasant surprise when they arrive at the Horseshoe in May for the start of the World Series of Poker.
The @HorseshoeVegas Official Grand Opening took place last night with special guests @MattressMack @TexDolly and th… https://t.co/bfmUOnjbpI

— PokerNews (@PokerNews)
Q & A with Legendary Panel
From inside Jack Binion's Steakhouse, three icons in their own right spoke to a host of reporters, including PokerNews. Jack Effel, the VP of the WSOP, as questions for Binion, McIngvale, and Brunson, who were seated in front of the iconic Jack Binion's sign.
Effel's first question was to Binion, and he asked the former casino owner how it felt to be back at the Horseshoe?
"Glad to see Horseshoe back in Las Vegas, the epicenter of gambling," Binion responded.
Effel then turned his attention to Mattress Mack, who famously won the largest sports bet in history last fall when he put $10 million down on his beloved Houston Astros to win baseball's World Series. The Astros defeated the Philadelphia Phillies in the Series and won the furniture store owner $75 million.
"We'd have all night poker games with my friends in high school, so that's how I got involved with poker."
"$76 million pays for a lot of Tempur-Pedic Mattress," McIngvale said.
PokerNews caught up with the sports betting legend who also has some interest in poker for a brief interview. Mattress Mack backed a group of Texans during last year's WSOP.
"I started gambling when I was in high school," McIngvale explained. "We'd have all night poker games with my friends in high school, so that's how I got involved with poker."
Mattress Mack admitted he's not very skilled at poker and doesn't play high-stakes, but he does enjoy the game.
Friday wasn't all good times for McIngvale, however. He showed up to the private party decked out in University of Houston gear. Prior to the start of the NCAA Tournament, he put $4 million down on a Houston winning the men's college basketball national title. Most of that wager was placed at a Caesars Sportsbook, which he raved about.
The Houston Cougars entered March Madness as the second ranked team in the AP Top 25 poll, which meant they were among the favorites to win it all. Had they done so, the furniture store owner would have taken home $35 million. During the private party, however, it became official that his bet wasn't going to win when the Cougars were defeated by Miami, 89-75, in the Sweet 16.
McIngvale hedges his wagers with a promotion at his store. If the team he bets on wins, customers who purchased a specific mattress valued at $3,000 or more will have their purchase refunded. He told PokerNews that all the money he won on the Astros went back to the customers.
But this night wasn't all about Mattress Mack's big bets. It was to celebrate the return of the Horseshoe brand casino to Las Vegas, and for Caesars Entertainment to promote its newly renovated property.
Binion was one of the first casino owners to offer free drinks to his customers at the old Binion's Horseshoe downtown on Fremont Street. He discussed with the crowd how important it was for him and his staff to take care of customers and treat them like family. When Effel asked him what he enjoys most about the Horseshoe brand of casinos, he said he most appreciated the same great customer service he gave customers when he was in business.
Monthly Industry Poker Tournament at Horseshoe Las Vegas
The poker room at Horseshoe Las Vegas has been rebranded and will soon have a Hall of Fame wall and a wall of photos for all the past WSOP Main Event champs.
That stylish poker room will host a $160 buy-in poker industry tournament April 6. On top of the prize pool that accumulates, Effel will add on a free entry into the WSOP Casino Employees event to the winner.
Earlier this month, the ARIA in Las Vegas hosted the first monthly industry event prior to the start of the Global Poker Awards. The tournament, presented by Poker Royalty, will take place on the first Tuesday of every month.