PartyPoker Launches Round the Clock Freerolls; Gives Away $2,500 Daily!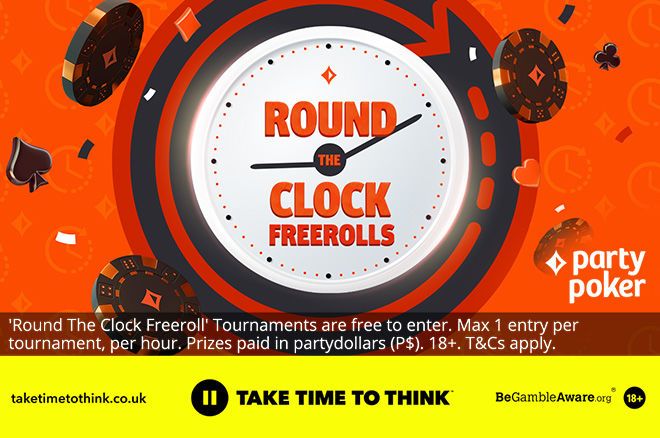 Freerolls are a great way to experience playing in a poker tournament without risking any of your bankroll. They are also brilliant for building a bankroll because they award real-money prizes. The problem usually lies in that freeroll tournaments do not run that frequently, that is unless you play online poker at PartyPoker.
From March 22, 2023, until further notice, PartyPoker is running a quite epic promotion known as Round the Clock Freerolls, which is exactly how it sounds. At the top of the hour all day every day, a Free To Play – Round The Clock – Poker Tournament shuffles up and deals. Those freerolls come with prize pools, awarded as Party Dollars, of $50, $100, and even $200, all for free. Tot up all the prize pools and you discover PartyPoker is giving away $2,500 of Party Dollars each and every day!
How Can I Play in the Round the Clock Freerolls at PartyPoker?
The Round the Clock freerolls have no entry requirements; you can play them if you have a PartyPoker account. You can download the excellent PartyPoker software via PokerNews and grab a value-packed welcome package if you are not already a PartyPoker customers.
All you need to do is locate the Round the Clock Freerolls by clicking the "Freerolls" filter in the tournament tab, or sort the tournament lobby by buy-in, or use the incredible PokerNews Online Tournament Calendar below, and jump into the action. Each freeroll has 60 minutes late registration should you wish to turn up fashionably late or can't make the start at the top of the hour.
What Are Party Dollars?
Party Dollars, or P$, are a virtual currency uses at PartyPoker that replaced Tournament Dollars (T$) in April 2022. Party Dollars can be used to buy into any real-money PartyPoker games, from mulit-table tournaments and Sit & Go games, to cash games, fastforward, and SPINS. Any real-money currency you win is credited to your account in that currency.
There is no rush to spend any Party Dollars you win because they have a 12-month expiry date, giving you ample opportunity to use them to enter your favourite poker games, or perhaps try one that is new to you.
Help Yourself to a PartyPoker Welcome Package
Download PartyPoker via PokerNews and deposit at least $10 to receive a 100% match up to $600 welcome bonus in addition to up to $30 worth of free play.
A $10 deposit yields $10 worth of tickets over the course of a week:
Day 1: 2x $1 SPINS tickets + 1x $5.50 MTT ticket
Day 2: 4x $0.25 SPINS tickets
Day 4: 1x $3.30 MTT ticket
Day 6: 4x $0.25 SPINS tickets
Increase your deposit to at least $20, and the following ticket package is yours:
Day 1: 1x $5.30 MTT ticket
Day 2: 2x $1 SPINS ticket
Day 3: 1x $5.50 MTT ticket
Day 4: 1x $5.50 MTT ticket
Day 5: 3x $2.20 MTT tickets
Day 6: 2x $3 SPINS tickets + 1x$3.30 MTT ticket
Residents of the United Kingdom enjoy a slightly different welcome from PartyPoker. Their deposit of at least £10 comes with a 100% match up to £400 first deposit bonus plus $10 worth of Party Dollars, which can be used in any of the site's games every day for six days.
To release the total Deposit Bonus amount, you must accumulate four times the Deposit Bonus amount in loyalty points. Each time the player accumulates 10% of the Total Loyalty Points required, they will receive a 10% increment of the Deposit Bonus