Coolers and Bad Beats: The Festival Kicks Off in Spectacular Style at 888poker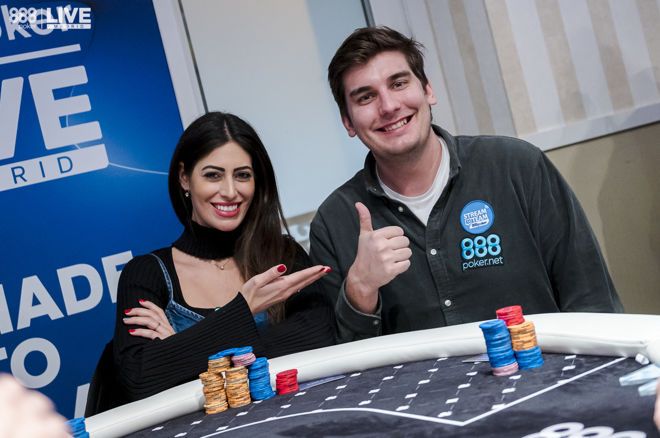 888poker guaranteed that it will award at least $1 million in prize money by the time the latest The Festival Online Series crowns its champion, and it should have no problem in achieving that goal if they opening three events are anything to go by. Why? Because all three tournaments smashed their advertised guarantees.
What better way to kick The Festival Online Series off in style than by running a $109 buy-in $100,000 guaranteed Mystery Bounty Opening Event? That's exactly what 888poker did, and it proved to be a massive hit, with 1,072 entries creating a $107,200 prize pool.
The biggest winner from this remarkable tournament was not the champion, despite them turning $109 into $9,423. That is because "Trendki11," who fell in 21st place for $291.72, managed to pull out the whopping $10,000 mystery bounty before they crashed out of the event. Add into the mix a couple of other bounty payments, and Trendki11 took home a tournament-best $10,515, even though they busted with three tables remaining! That is the beauty of mystery bounty tournaments.
Everyone at the nine-handed final table saw more than $1,000 land in their 888poker accounts. Here is how that final table went down.
$100,000 The Festival Online Mystery Bounty Opening Event Final Table Results
| Place | Player | Country | Bounties | Prize | Total prize |
| --- | --- | --- | --- | --- | --- |
| 1 | emperor_H | Morocco | $568 | $8,854 | $9,423 |
| 2 | katekajie | Montenegro | $1,634 | $6,457 | $8,092 |
| 3 | CurrD | United Kingdom | $84 | $4,747 | $4,831 |
| 4 | AvadoKedavra | Costa Rica | $2,292 | $3,517 | $5,810 |
| 5 | YamaaKK | Brazil | $42 | $2,602 | $2,644 |
| 6 | Fumapalheiro | Brazil | $808 | $1,944 | $2,753 |
| 7 | kaua. | Brazil | $662 | $1,464 | $2,126 |
| 8 | Andrew_flash | Germany | $1,898 | $1,109 | $3,008 |
| 9 | Tom "sheeeeeeeet" Hall | United Kingdom | $210 | $846 | $1,057 |
Tom "sheeeeeeeet" Hall sat down at the final table with 35 big blinds at his disposal, but he was the first finalists heading for the exits. Nothing went right for Hall during the opening half hour of the final table, and his exit hand was typical of his final day. "katekajie" min-raised from under the gun with ten-eight of diamonds, two players folded before "kaua." three-bet all-in for 12.3 big blinds with pocket tens. From the cutoff, Hall called off his 10.3 big blind stack with ace-queen, and the initial raiser ducked out of the way. No ace or queen appeared on the board, and Hall was gone.
Snowmen Refuse to Melt; Crack Aces
Germany's "andrew_flash" had managed to improve their chip stack substantially, but they busted in cruel circumstances. The German looked down at pocket aces and min-raised from under the gun. "emperor_H" three-bet to six big blinds from the next seat along with a pair of eights in the hole, and andrew_flash jammed for a shade over 29.5 big blinds in total. Surprisingly, emperor_H called. An eight on the flop gifted emperor_H a set of eights, which held to reduce the play count by one.
The final seven became six when the first of three Brazilians crashed out. Down to only 4.4 big blinds, kaua. open-shoved from the button with jack-ten, and "AvadoKedavra" called in the big blinds with ace-nine. Neither player paired any of the hole cards, and ace-high was good enough to send kaua. to the showers.
kaua.'s fellow Brazilians "Fumapalheiro" and "YamaaKK" were the next Samba stars heading for the exits. Fumapaleiro commited their last to big blinds with ace-five, with the ace of clubs, on an all-club flop only to lose to the red kings of "CurrD." YamaaKK lasted a few more hands before three-betting all-in for 18 big blinds from the small blind with ace-trey of spades, only for emperor_H to call with pocket rockets. The board failed to come to the rescue of the all-in player, and only four players remained in contention for the title.
888poker Casts The Wizard's Spell and Gives Away $300,000
It Didn't Come Seven
AvadoKedvara lost a chunk of their stack in a battle of the blinds against CurrD, when CurrD's short-stack shove with queens was paid off by the sevens of AvadoKedvara, leaving them with 11 big blinds in their arsenal. AvadoKedvara found pocket sevens again and jammed for 5.8 big blinds on the button, only for katekajie to call with queen-ten in the big blind. A queen on the flop proved enough to send AvadoKedvara to the sidelines.
Heads-up was set when CurrD crashed out in third at the hands of katekajie. CurrD min-raised on the button with eight-seven of spades, and katekajie called in the big blind with jack-four of spades. A nine-seven-five rainbow flop saw both players check, leading to the ten of spades landing on the turn. katekajie bet 2.2 big blinds into the 4.9 big blind pot, and CurrD called. The ace of spades on the river gave both players a spade flush, and it was curtains for CurrD. katekajie checked, CurrD bet 3.1 big blinds, katekajie shoved, CurrD couldn't find a fold, and they busted in third place for $4,831.
Emperor_H held a 55.9 to 44.6 big blind chip advantage, and they stayed in control for most of the one-on-one encounter. The final hand started with a min-raise with ace-seven from emperor_H, and a three-bet to 8.2 big blinds with pocket nines by katekajie. emperor_H shoved all-in, and katekajie called off the 21.4 big blinds they had behind. The board double-paired with kings and tens, counterfeiting katekadjie's hand, eliminating them in second-place in the cruellest of ways.
Keeping a Bounty in Play in a Knockout Tournament at 888poker
Other The Festival Opening Event Results
Two other The Festival Online Series events ran alongside the $100,000 guaranteed Mystery Bounty. The first was a $22 buy-in $25,000 guaranteed affair that saw 1,373 players create a $27,460 prize pool. "PAPA_VINCENT" took that down for $2,556, with 21st place finishers "cinostyler" capturing the top $2,500 mystery bounty.
One-hundred-and-four high rollers paid $525 for the chance to become the $40,000 Mystery Bounty High Roller champion, and "DirtyPig" outlasted them all. The victory came with a total prize worth $11,796, with fifth-place finisher "Browne118" reeling in a $4,000 bounty as part of their $5,620 mystery bounty haul.