What is the Best Way to Play in the 2023 PokerStars SCOOP Main Event?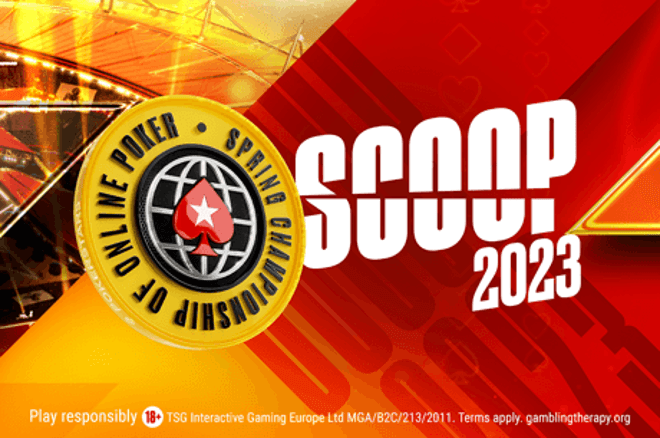 The 2023 Spring Championship Of Online Poker (SCOOP) commences at PokerStars from May 7, and it is sure to attract tens of thousands of poker players of all bankroll and skill levels. While all of the SCOOP events are more than worthy of your time and effort, a trio of No-Limit Hold'em tournaments stand out from the crowd: the 2023 SCOOP Main Events.
The 2023 SCOOP Main Events come in three buy-in levels of $109, $1,050, and $10,300. Those respective tournaments boast guaranteed prize pools of $2 million, $4 million, and a whopping $5 million. What would you give to be still in the mix once the largest prizes from those pots are awarded? Dreaming of winning a PokerStars SCOOP Main Event is all well and good, but those dreams remain so if you do not take a shot at glory. Like the legendary ice hockey star Wayne Gretzky once famously said, "You miss all of the shots that you do not take."
Check out the PokerNews Online Tournament Calendar
Find the perfect MTT for you with the PokerNews Online Tournament Calendar
PokerNews is not advocating flicking in $109, $1,050, or $10,300 just for the sake of it because there are not many poker tournament grinders that have a sufficient bankroll to do so. However, PokerStars is famous across the online poker industry for paving the way for everyone to have a chance to play for life-changing money via its extensive satellite program, and there are dozens upon dozens of SCOOP Main Event satellites to sink your teeth into over the coming days and weeks.
SCOOP Edition Spin & Go Satellites
Spin & Go tournaments remain as popular as when they initially launched at PokerStars thanks, in part, to them making it possible to turn a small investment into a massive payout, and do so in a matter of minutes. In the run-up and during the $75 million guaranteed 2023 SCOOP, there are SCOOP-edition Spin & Go tournaments waiting for you to enter.
SCOOP Spin & Go games come with buy-ins of $0.50, $4, and $20. Most of the time these tournaments see you playing for a cash prize worth double the initial buy-in. However, hit the larger prize pool multipliers and you'll be playing for a SCOOP ticket. The jackpot, so to speak, in these SCOOP-edition Spin & Go games is a $1,050 SCOOP Main Event ticket for the $0.50 level, and a $10,300 SCOOP Main Event ticket for the $4 and $20 buy-in satellites.
Do You Know Which Poker Players Have Won the Most SCOOP Titles?
Enter the SCOOP Main Event Fast Track From $1.50
Fast Track satellites are available for the 2023 SCOOP Main Event, and are accessible to everyone. There are four levels to play through on your way to banking a SCOOP Main Event seat, but you can buy in at any stage.
The Fast Track satellites start with a $1.50 buy-in sit & go, which feeds into the $20 SCOOP Fast Track [Rd 2/4] tournament. These progress to a $109 Fast Track satellite, which see players progress to a $1,050 finale where $10,300 SCOOP High Main Event seats are awarded.
SCOOP Main Event Satellites From Only $0.55
Imagine turning $0.55 into a shot at the big time; you can at PokerStars. Fifty-five cents does not buy you much these days, but at PokerStars it gets you on the qualification ladder for the SCOOP Main Event.
There are dozens of SCOOP Main Event satellites running around the clock, starting at $0.55 and topping out at $1,050. Buy into one of the higher buy-in satellites if your skill and bankroll allow, or try turning a few cents into the opportunity to play for a share of a guaranteed $5 million. The choice is yours.
3 Must-Read SCOOP Satellite Strategy Tips
2023 SCOOP Schedule
The $75 million guaranteed PokerStars SCOOP is not only about the trio of No-Limit Hold'em Main Events because there are more than 300 tournaments running between May 7-31. The table below has the start days and times of all those events. Good luck.
| Date | Start Time (BST) | Event |
| --- | --- | --- |
| 07-May | 13:05 | SCOOP 02 L: $5.50 NLHE [SCOOP Kickoff - Mini Sunday Kickoff], $40K Gtd |
| 07-May | 13:05 | SCOOP 02 M: $55 NLHE [SCOOP Kickoff - Sunday Kickoff], $200K Gtd |
| 07-May | 13:05 | SCOOP 02 H: $530 NLHE [SCOOP Kickoff], $300K Gtd |
| 07-May | 15:05 | SCOOP 03 L: $11 NLHE [Sunday Warm-Up], $100K Gtd |
| 07-May | 15:05 | SCOOP 03 M: $109 NLHE [Sunday Warm-Up], $375K Gtd |
| 07-May | 15:05 | SCOOP 03 H: $1,050 NLHE [Sunday Warm-Up], $400K Gtd |
| 07-May | 17:30 | SCOOP 04 L: $22 NLHE [Progressive KO, Mini Sunday Million, Freezeout], $200K Gtd |
| 07-May | 17:30 | SCOOP 04 M: $215 NLHE [Progressive KO, Sunday Million], $1M Gtd |
| 07-May | 17:30 | SCOOP 04 H: $2,100 NLHE [Progressive KO, Sunday HR, Freezeout], $400K Gtd |
| 07-May | 18:30 | SCOOP 05 L: $11 PLO [6-Max], $40K Gtd |
| 07-May | 18:30 | SCOOP 05 M: $109 PLO [6-Max], $100K Gtd |
| 07-May | 18:30 | SCOOP 05 H: $1,050 PLO [6-Max], $200K Gtd |
| 07-May | 20:05 | SCOOP 06 L: $3.30 NLHE, $25K Gtd |
| 07-May | 20:05 | SCOOP 06 M: $33 NLHE, $175K Gtd |
| 07-May | 20:05 | SCOOP 06 H: $320 NLHE, $275K Gtd |
| 07-May | 21:30 | SCOOP 07 L: $33 NLHE [7-Max, Progressive KO, Mini Sunday Cooldown, Freezeout], $150K Gtd |
| 07-May | 21:30 | SCOOP 07 M: $215 NLHE [7-Max, Progressive KO, Sunday Cooldown, Freezeout], $275K Gtd |
| 07-May | 21:30 | SCOOP 07 H: $1,050 NLHE [7-Max, Progressive KO, Sunday Cooldown High Roller, Freezeout], $250K Gtd |
| 08-May | 17:30 | SCOOP 08 L: $11 NLHE, $115K Gtd |
| 08-May | 17:30 | SCOOP 08 M: $109 NLHE, $375K Gtd |
| 08-May | 17:30 | SCOOP 08 H: $1,050 NLHE, $400K Gtd |
| 08-May | 19:15 | SCOOP 09 L: $22 HORSE, $25K Gtd |
| 08-May | 19:15 | SCOOP 09 M: $215 HORSE, $50K Gtd |
| 08-May | 19:15 | SCOOP 09 H: $2,100 HORSE, $50K Gtd |
| 08-May | 20:05 | SCOOP 10 L: $5.50 NLHE [Progressive KO, Single Re-entry], $40K Gtd |
| 08-May | 20:05 | SCOOP 10 M: $55 NLHE [Progressive KO, Single Re-entry], $200K Gtd |
| 08-May | 20:05 | SCOOP 10 H: $530 NLHE [Progressive KO, Single Re-entry], $300K Gtd |
| 08-May | 21:30 | SCOOP 11 L: $3.30 NLHE, $18K Gtd |
| 08-May | 21:30 | SCOOP 11 M: $33 NLHE, $100K Gtd |
| 08-May | 21:30 | SCOOP 11 H: $320 NLHE, $150K Gtd |
| 08-May | 22:30 | SCOOP 12 L: $33 NLHE [7-Max, Progressive KO, Mini Daily Cooldown, Single Re-entry], $75K Gtd |
| 08-May | 22:30 | SCOOP 12 M: $215 NLHE [7-Max, Progressive KO, Daily Cooldown, Single Re-entry], $175K Gtd |
| 08-May | 22:30 | SCOOP 12 H: $1,050 NLHE [7-Max, Progressive KO, Daily Cooldown High Roller, Single Re-entry], $200K Gtd |
| 09-May | 15:05 | SCOOP 13 L: $2.20 NLHE, $15K Gtd |
| 09-May | 15:05 | SCOOP 13 M: $22 NLHE, $100K Gtd |
| 09-May | 15:05 | SCOOP 13 H: $215 NLHE, $200K Gtd |
| 09-May | 16:30 | SCOOP 14 L: $11 NL 5-Card Draw [6-Max, Progressive KO], $12.5K Gtd |
| 09-May | 16:30 | SCOOP 14 M: $109 NL 5-Card Draw [6-Max, Progressive KO], $18K Gtd |
| 09-May | 16:30 | SCOOP 14 H: $1,050 NL 5-Card Draw [6-Max, Progressive KO], $30K Gtd |
| 09-May | 17:30 | SCOOP 15 L: $109 NLHE [Super Tuesday], $400K Gtd |
| 09-May | 17:30 | SCOOP 15 M: $1,050 NLHE [Super Tuesday], $500K Gtd |
| 09-May | 17:30 | SCOOP 15 H: $10,300 NLHE [Super Tuesday High Roller], $600K Gtd |
| 09-May | 19:15 | SCOOP 16 L: $11 PLO [6-Max], $30K Gtd |
| 09-May | 19:15 | SCOOP 16 M: $109 PLO [6-Max], $80K Gtd |
| 09-May | 19:15 | SCOOP 16 H: $1,050 PLO [6-Max], $175K Gtd |
| 09-May | 20:05 | SCOOP 17 L: $22 NLHE [Progressive KO, Single Re-entry], $125K Gtd |
| 09-May | 20:05 | SCOOP 17 M: $215 NLHE [Progressive KO, Single Re-entry], $275K Gtd |
| 09-May | 20:05 | SCOOP 17 H: $2,100 NLHE [Progressive KO, Single Re-entry], $200K Gtd |
| 09-May | 21:30 | SCOOP 18 L: $11 6+ Hold'em [6-Max], $20K Gtd |
| 09-May | 21:30 | SCOOP 18 M: $109 6+ Hold'em [6-Max], $25K Gtd |
| 09-May | 21:30 | SCOOP 18 H: $1,050 6+ Hold'em [6-Max], $30K Gtd |
| 09-May | 22:30 | SCOOP 19 L: $5.50 NLHE [Progressive KO, Mini Daily Cooldown, Single Re-entry], $30K Gtd |
| 09-May | 22:30 | SCOOP 19 M: $55 NLHE [Progressive KO, Daily Cooldown, Single Re-entry], $75K Gtd |
| 09-May | 22:30 | SCOOP 19 H: $530 NLHE [Progressive KO, Daily Cooldown High Roller, Single Re-entry], $150K Gtd |
| 10-May | 16:30 | SCOOP 20 L: $5.50 NLHE [Afternoon Deep Stacks], $60K Gtd |
| 10-May | 16:30 | SCOOP 20 M: $55 NLHE [Afternoon Deep Stacks], $175K Gtd |
| 10-May | 16:30 | SCOOP 20 H: $530 NLHE [Afternoon Deep Stacks], $175K Gtd |
| 10-May | 17:30 | SCOOP 21 L: $33 NLHE [7-Max, Single Re-entry], $125K Gtd |
| 10-May | 17:30 | SCOOP 21 M: $320 NLHE [7-Max, Single Re-Entry], $200K Gtd |
| 10-May | 17:30 | SCOOP 21 H: $3,150 NLHE [7-Max, Single Re-Entry], $300K Gtd |
| 10-May | 19:15 | SCOOP 22 L: $11 NLO8 [6-Max, Progressive KO], $30K Gtd |
| 10-May | 19:15 | SCOOP 22 M: $109 NLO8 [6-Max, Progressive KO], $70K Gtd |
| 10-May | 19:15 | SCOOP 22 H: $1,050 NLO8 [6-Max, Progressive KO], $125K Gtd |
| 10-May | 20:05 | SCOOP 23 L: $55 NLHE [Progressive KO, Single Re-entry], $200K Gtd |
| 10-May | 20:05 | SCOOP 23 M: $215 NLHE [Progressive KO, Single Re-entry], $225K Gtd |
| 10-May | 20:05 | SCOOP 23 H: $1,050 NLHE [Progressive KO, Single Re-entry], $250K Gtd |
| 10-May | 21:30 | SCOOP 24 L: $22 NLHE [Mini Fenomeno SE], $80K Gtd |
| 10-May | 21:30 | SCOOP 24 M: $109 NLHE [Fenomeno SE], $175K Gtd |
| 10-May | 21:30 | SCOOP 24 H: $530 NLHE [Fenomeno HR SE], $125K Gtd |
| 11-May | 11:05 | SCOOP 25 L: $5.50 NLHE, $12.5K Gtd |
| 11-May | 11:05 | SCOOP 25 M: $55 NLHE, $30K Gtd |
| 11-May | 11:05 | SCOOP 25 H: $530 NLHE, $40K Gtd |
| 11-May | 16:30 | SCOOP 26 L: $11 FLO8 [7-Max], $12.5K Gtd |
| 11-May | 16:30 | SCOOP 26 M: $109 FLO8 [7-Max], $30K Gtd |
| 11-May | 16:30 | SCOOP 26 H: $1,050 FLO8 [7-Max], $50K Gtd |
| 11-May | 17:30 | SCOOP 27 L: $33 NLHE [Progressive KO, Thursday Thrill], $250K Gtd |
| 11-May | 17:30 | SCOOP 27 M: $215 NLHE [Progressive KO, Thursday Thrill], $500K Gtd |
| 11-May | 17:30 | SCOOP 27 H: $1,050 NLHE [Progressive KO, Thursday Thrill], $600K Gtd |
| 11-May | 19:15 | SCOOP 28 L: $11 Stud Hi/Lo, $10K Gtd |
| 11-May | 19:15 | SCOOP 28 M: $109 Stud Hi/Lo, $25K Gtd |
| 11-May | 19:15 | SCOOP 28 H: $1,050 Stud Hi/Lo, $35K Gtd |
| 11-May | 20:05 | SCOOP 29 L: $3.30 NLHE [Rebuy], $40K Gtd |
| 11-May | 20:05 | SCOOP 29 M: $33 NLHE [Rebuy], $150K Gtd |
| 11-May | 20:05 | SCOOP 29 H: $320 NLHE [Rebuy], $175K Gtd |
| 11-May | 21:30 | SCOOP 30 L: $11 NLHE [6-Max, Progressive KO, Single Re-entry], $75K Gtd |
| 11-May | 21:30 | SCOOP 30 M: $109 NLHE [6-Max, Progressive KO, Single Re-entry], $225K Gtd |
| 11-May | 21:30 | SCOOP 30 H: $1,050 NLHE [6-Max, Progressive KO, Single Re-entry], $225K Gtd |
| 13-May | 15:05 | SCOOP 31 L: $3.30 NLHE, $25K Gtd |
| 13-May | 15:05 | SCOOP 31 M: $33 NLHE, $135K Gtd |
| 13-May | 15:05 | SCOOP 31 H: $320 NLHE, $200K Gtd |
| 13-May | 16:30 | SCOOP 32 L: $11 8-Game [6-Max], $17.5K Gtd |
| 13-May | 16:30 | SCOOP 32 M: $109 8-Game [6-Max], $35K Gtd |
| 13-May | 16:30 | SCOOP 32 H: $1,050 8-Game [6-Max], $60K Gtd |
| 13-May | 17:30 | SCOOP 33 L: $11 NLHE [Progressive KO, Saturday KO], $150K Gtd |
| 13-May | 17:30 | SCOOP 33 M: $109 NLHE [Progressive KO, Saturday KO], $500K Gtd |
| 13-May | 17:30 | SCOOP 33 H: $1,050 NLHE [Progressive KO, Saturday KO], $500K Gtd |
| 13-May | 19:15 | SCOOP 34 L: $5.50 5-Card PLO [6-Max], $12.5K Gtd |
| 13-May | 19:15 | SCOOP 34 M: $55 5-Card PLO [6-Max], $45K Gtd |
| 13-May | 19:15 | SCOOP 34 H: $530 5-Card PLO [6-Max], $100K Gtd |
| 13-May | 20:05 | SCOOP 35 L: $5.50 NLHE, $40K Gtd |
| 13-May | 20:05 | SCOOP 35 M: $55 NLHE, $135K Gtd |
| 13-May | 20:05 | SCOOP 35 H: $530 NLHE, $300K Gtd |
| 13-May | 21:30 | SCOOP 36 L: $11 NLHE [7-Max, Progressive KO, Single Re-entry], $60K Gtd |
| 13-May | 21:30 | SCOOP 36 M: $109 NLHE [7-Max, Progressive KO, Single Re-entry], $135K Gtd |
| 13-May | 21:30 | SCOOP 36 H: $1,050 NLHE [7-Max, Progressive KO, Single Re-entry], $175K Gtd |
| 14-May | 13:05 | SCOOP 37 L: $22 NLHE [Mini Sunday Kickoff], $100K Gtd |
| 14-May | 13:05 | SCOOP 37 M: $109 NLHE [Sunday Kickoff], $225K Gtd |
| 14-May | 13:05 | SCOOP 37 H: $530 NLHE [Sunday Kickoff], $275K Gtd |
| 14-May | 15:05 | SCOOP 38 L: $11 NLHE [Progressive KO, Sunday Warm-Up, Freezeout], $80K Gtd |
| 14-May | 15:05 | SCOOP 38 M: $109 NLHE [Progressive KO, Sunday Warm-Up, Freezeout], $275K Gtd |
| 14-May | 15:05 | SCOOP 38 H: $1,050 NLHE [Progressive KO, Sunday Warm-Up, Single Re-entry], $400K Gtd |
| 14-May | 17:30 | SCOOP 39 L: $55 NLHE [Mini Sunday Million], $600K Gtd |
| 14-May | 17:30 | SCOOP 39 M: $530 NLHE [Sunday Million], $1M Gtd |
| 14-May | 17:30 | SCOOP 39 H: $5,200 NLHE [Titans], $600K Gtd |
| 14-May | 19:15 | SCOOP 40 L: $11 PLO8 [6-Max], $25K Gtd |
| 14-May | 19:15 | SCOOP 40 M: $109 PLO8 [6-Max], $70K Gtd |
| 14-May | 19:15 | SCOOP 40 H: $1,050 PLO8 [6-Max], $115K Gtd |
| 14-May | 20:05 | SCOOP 41 L: $11 NLHE [6-Max], $100K Gtd |
| 14-May | 20:05 | SCOOP 41 M: $109 NLHE [6-Max], $325K Gtd |
| 14-May | 20:05 | SCOOP 41 H: $1,050 NLHE [6-Max], $450K Gtd |
| 14-May | 21:30 | SCOOP 42 L: $5.50 NLHE [Progressive KO, Mini Sunday Cooldown, Freezeout], $40K Gtd |
| 14-May | 21:30 | SCOOP 42 M: $55 NLHE [Progressive KO, Sunday Cooldown, Freezeout], $225K Gtd |
| 14-May | 21:30 | SCOOP 42 H: $530 NLHE [Progressive KO, Sunday Cooldown High Roller, Freezeout], $300K Gtd |
| 15-May | 17:30 | SCOOP 43 L: $55 NLHE [6-Max, Progressive KO], $200K Gtd |
| 15-May | 17:30 | SCOOP 43 M: $215 NLHE [6-Max, Progressive KO], $450K Gtd |
| 15-May | 17:30 | SCOOP 43 H: $1,050 NLHE [6-Max, Progressive KO], $300K Gtd |
| 15-May | 19:15 | SCOOP 44 L: $11 5-Card PLO [6-Max, Changed from PLO8], $15K Gtd |
| 15-May | 19:15 | SCOOP 44 M: $109 5-Card PLO [6-Max, Changed from PLO8], $40K Gtd |
| 15-May | 19:15 | SCOOP 44 H: $1,050 5-Card PLO [6-Max, Changed from PLO8], $100K Gtd |
| 15-May | 20:05 | SCOOP 45 L: $11 NLHE [Single Re-entry], $60K Gtd |
| 15-May | 20:05 | SCOOP 45 M: $109 NLHE [Single Re-entry], $175K Gtd |
| 15-May | 20:05 | SCOOP 45 H: $1,050 NLHE [Single Re-entry], $200K Gtd |
| 15-May | 21:30 | SCOOP 46 L: $5.50 NLO8 [Progressive KO], $15K Gtd |
| 15-May | 21:30 | SCOOP 46 M: $55 NLO8 [Progressive KO], $50K Gtd |
| 15-May | 21:30 | SCOOP 46 H: $530 NLO8 [Progressive KO], $80K Gtd |
| 15-May | 22:30 | SCOOP 47 L: $22 NLHE [Progressive KO, Mini Daily Cooldown], $50K Gtd |
| 15-May | 22:30 | SCOOP 47 M: $109 NLHE [Progressive KO, Daily Cooldown], $125K Gtd |
| 15-May | 22:30 | SCOOP 47 H: $530 NLHE [Progressive KO, Daily Cooldown High Roller], $150K Gtd |
| 16-May | 11:05 | SCOOP 48 L: $11 NLHE [6-Max], $15K Gtd |
| 16-May | 11:05 | SCOOP 48 M: $55 NLHE [6-Max], $25K Gtd |
| 16-May | 11:05 | SCOOP 48 H: $215 NLHE [6-Max], $50K Gtd |
| 16-May | 15:05 | SCOOP 49 L: $5.50 NLHE [Deep Stacks], $30K Gtd |
| 16-May | 15:05 | SCOOP 49 M: $55 NLHE [Deep Stacks], $125K Gtd |
| 16-May | 15:05 | SCOOP 49 H: $530 NLHE [Deep Stacks], $225K Gtd |
| 16-May | 16:30 | SCOOP 50 L: $22 PLO [6-Max, Progressive KO], $50K Gtd |
| 16-May | 16:30 | SCOOP 50 M: $215 PLO [6-Max, Progressive KO], $100K Gtd |
| 16-May | 16:30 | SCOOP 50 H: $2,100 PLO [6-Max, Progressive KO], $175K Gtd |
| 16-May | 17:30 | SCOOP 51 L: $11 NLHE [Mini Super Tuesday], $115K Gtd |
| 16-May | 17:30 | SCOOP 51 M: $109 NLHE [Super Tuesday], $400K Gtd |
| 16-May | 17:30 | SCOOP 51 H: $1,050 NLHE [Super Tuesday], $400K Gtd |
| 16-May | 19:15 | SCOOP 52 L: $22 FL 2-7 Triple Draw [6-Max], $12.5K Gtd |
| 16-May | 19:15 | SCOOP 52 M: $215 FL 2-7 Triple Draw [6-Max], $25K Gtd |
| 16-May | 19:15 | SCOOP 52 H: $2,100 FL 2-7 Triple Draw [6-Max], $50K Gtd |
| 16-May | 20:05 | SCOOP 53 L: $11 NLHE [6-Max, Progressive KO, Single Re-entry], $60K Gtd |
| 16-May | 20:05 | SCOOP 53 M: $109 NLHE [6-Max, Progressive KO, Single Re-entry], $175K Gtd |
| 16-May | 20:05 | SCOOP 53 H: $1,050 NLHE [6-Max, Progressive KO, Single Re-entry], $175K Gtd |
| 16-May | 21:30 | SCOOP 54 L: $5.50 6+ Hold'em [Progressive KO], $15K Gtd |
| 16-May | 21:30 | SCOOP 54 M: $55 6+ Hold'em [Progressive KO], $25K Gtd |
| 16-May | 21:30 | SCOOP 54 H: $530 6+ Hold'em [Progressive KO], $40K Gtd |
| 17-May | 16:30 | SCOOP 55 L: $3.30 PLO [6-Max], $17.5K Gtd |
| 17-May | 16:30 | SCOOP 55 M: $33 PLO [6-Max], $50K Gtd |
| 17-May | 16:30 | SCOOP 55 H: $320 PLO [6-Max], $125K Gtd |
| 17-May | 17:30 | SCOOP 56 L: $33 NLHE [Single Re-entry], $125K Gtd |
| 17-May | 17:30 | SCOOP 56 M: $320 NLHE [Single Re-entry], $200K Gtd |
| 17-May | 17:30 | SCOOP 56 H: $3,150 NLHE [Single Re-entry], $300K Gtd |
| 17-May | 19:15 | SCOOP 57 L: $11 Razz, $10K Gtd |
| 17-May | 19:15 | SCOOP 57 M: $109 Razz, $25K Gtd |
| 17-May | 19:15 | SCOOP 57 H: $1,050 Razz, $45K Gtd |
| 17-May | 20:05 | SCOOP 58 L: $11 NLHE [6-Max, Progressive KO], $85K Gtd |
| 17-May | 20:05 | SCOOP 58 M: $109 NLHE [6-Max, Progressive KO], $300K Gtd |
| 17-May | 20:05 | SCOOP 58 H: $1,050 NLHE [6-Max, Progressive KO], $300K Gtd |
| 17-May | 21:30 | SCOOP 59 L: $5.50 NLHE [7-Max, Progressive KO], $35K Gtd |
| 17-May | 21:30 | SCOOP 59 M: $55 NLHE [7-Max, Progressive KO], $150K Gtd |
| 17-May | 21:30 | SCOOP 59 H: $530 NLHE [7-Max, Progressive KO], $225K Gtd |
| 18-May | 15:05 | SCOOP 60 L: $5.50 NLHE, $30K Gtd |
| 18-May | 15:05 | SCOOP 60 M: $55 NLHE, $125K Gtd |
| 18-May | 15:05 | SCOOP 60 H: $530 NLHE, $225K Gtd |
| 18-May | 16:30 | SCOOP 61 L: $22 FLHE [6-Max], $12.5K Gtd |
| 18-May | 16:30 | SCOOP 61 M: $109 FLHE [6-Max], $17.5K Gtd |
| 18-May | 16:30 | SCOOP 61 H: $530 FLHE [6-Max], $30K Gtd |
| 18-May | 17:30 | SCOOP 62 L: $109 NLHE [Progressive KO, Thursday Thrill], $450K Gtd |
| 18-May | 17:30 | SCOOP 62 M: $1,050 NLHE [Progressive KO, Thursday Thrill], $600K Gtd |
| 18-May | 17:30 | SCOOP 62 H: $10,300 NLHE [Progressive KO, Thursday Thrill High Roller], $500K Gtd |
| 18-May | 19:15 | SCOOP 63 L: $5.50 PLO8 [6-Max], $12.5K Gtd |
| 18-May | 19:15 | SCOOP 63 M: $55 PLO8 [6-Max], $40K Gtd |
| 18-May | 19:15 | SCOOP 63 H: $530 PLO8 [6-Max], $80K Gtd |
| 18-May | 20:05 | SCOOP 64 L: $11 NLHE [6-Max], $65K Gtd |
| 18-May | 20:05 | SCOOP 64 M: $109 NLHE [6-Max], $150K Gtd |
| 18-May | 20:05 | SCOOP 64 H: $1,050 NLHE [6-Max], $175K Gtd |
| 18-May | 21:30 | SCOOP 65 L: $5.50 NLHE [Progressive KO, Freezeout], $25K Gtd |
| 18-May | 21:30 | SCOOP 65 M: $55 NLHE [Progressive KO, Freezeout], $135K Gtd |
| 18-May | 21:30 | SCOOP 65 H: $530 NLHE [Progressive KO, Freezeout], $175K Gtd |
| 20-May | 11:05 | SCOOP 66 L: $3.30 NLHE [Weekend Starter], $17.5K Gtd |
| 20-May | 11:05 | SCOOP 66 M: $33 NLHE [Weekend Starter], $50K Gtd |
| 20-May | 11:05 | SCOOP 66 H: $320 NLHE [Weekend Starter], $80K Gtd |
| 20-May | 15:05 | SCOOP 67 L: $22 NLHE [Deep Stacks], $115K Gtd |
| 20-May | 15:05 | SCOOP 67 M: $109 NLHE [Deep Stacks], $200K Gtd |
| 20-May | 15:05 | SCOOP 67 H: $530 NLHE [Deep Stacks], $200K Gtd |
| 20-May | 16:30 | SCOOP 68 L: $55 PLO [6-Max], $50K Gtd |
| 20-May | 16:30 | SCOOP 68 M: $530 PLO [6-Max], $115K Gtd |
| 20-May | 16:30 | SCOOP 68 H: $5,200 PLO [6-Max, High Roller], $300K Gtd |
| 20-May | 17:30 | SCOOP 69 L: $5.50 NLHE [Progressive KO], $60K Gtd |
| 20-May | 17:30 | SCOOP 69 M: $55 NLHE [Progressive KO], $325K Gtd |
| 20-May | 17:30 | SCOOP 69 H: $530 NLHE [Progressive KO], $400K Gtd |
| 20-May | 19:15 | SCOOP 70 L: $2.20 8-Game [6-Max, Progressive KO], $5K Gtd |
| 20-May | 19:15 | SCOOP 70 M: $22 8-Game [6-Max, Progressive KO], $25K Gtd |
| 20-May | 19:15 | SCOOP 70 H: $215 8-Game [6-Max, Progressive KO], $45K Gtd |
| 20-May | 20:05 | SCOOP 71 L: $11 NLHE [4-Max, Progressive KO], $70K Gtd |
| 20-May | 20:05 | SCOOP 71 M: $109 NLHE [4-Max, Progressive KO], $150K Gtd |
| 20-May | 20:05 | SCOOP 71 H: $1,050 NLHE [4-Max, Progressive KO], $115K Gtd |
| 20-May | 21:30 | SCOOP 72 L: $55 NLHE, $135K Gtd |
| 20-May | 21:30 | SCOOP 72 M: $320 NLHE, $150K Gtd |
| 20-May | 21:30 | SCOOP 72 H: $1,050 NLHE, $135K Gtd |
| 21-May | 13:05 | SCOOP 73 L: $5.50 NLHE [Progressive KO, Mini Sunday Kickoff], $50K Gtd |
| 21-May | 13:05 | SCOOP 73 M: $55 NLHE [Progressive KO, Sunday Kickoff], $200K Gtd |
| 21-May | 13:05 | SCOOP 73 H: $530 NLHE [Progressive KO, Sunday Kickoff], $250K Gtd |
| 21-May | 15:05 | SCOOP 74 L: $11 NLHE [Sunday Warm-Up, Freezeout], $70K Gtd |
| 21-May | 15:05 | SCOOP 74 M: $109 NLHE [Sunday Warm-Up, Freezeout], $250K Gtd |
| 21-May | 15:05 | SCOOP 74 H: $1,050 NLHE [Sunday Warm-Up], $450K Gtd |
| 21-May | 17:30 | SCOOP 75 L: $55 NLHE [Progressive KO, Mini Sunday Million], $750K Gtd |
| 21-May | 17:30 | SCOOP 75 M: $530 NLHE [Progressive KO, Sunday Million], $1M Gtd |
| 21-May | 17:30 | SCOOP 75 H: $5,200 NLHE [Progressive KO, Titans], $600K Gtd |
| 21-May | 19:15 | SCOOP 76 L: $22 NLO8 [6-Max, Progressive KO], $45K Gtd |
| 21-May | 19:15 | SCOOP 76 M: $215 NLO8 [6-Max, Progressive KO], $80K Gtd |
| 21-May | 19:15 | SCOOP 76 H: $2,100 NLO8 [6-Max, Progressive KO], $125K Gtd |
| 21-May | 20:05 | SCOOP 77 L: $11 NLHE, $100K Gtd |
| 21-May | 20:05 | SCOOP 77 M: $109 NLHE, $350K Gtd |
| 21-May | 20:05 | SCOOP 77 H: $1,050 NLHE, $450K Gtd |
| 21-May | 21:30 | SCOOP 78 L: $5.50 NLHE [7-Max, Progressive KO, Mini Sunday Cooldown, Freezeout], $35K Gtd |
| 21-May | 21:30 | SCOOP 78 M: $55 NLHE [7-Max, Progressive KO, Sunday Cooldown, Freezeout], $200K Gtd |
| 21-May | 21:30 | SCOOP 78 H: $530 NLHE [7-Max, Progressive KO, Sunday Cooldown High Roller, Freezeout], $275K Gtd |
| 22-May | 17:30 | SCOOP 79 L: $55 NLHE, $250K Gtd |
| 22-May | 17:30 | SCOOP 79 M: $530 NLHE, $350K Gtd |
| 22-May | 17:30 | SCOOP 79 H: $5,200 NLHE [High Roller], $400K Gtd |
| 22-May | 19:15 | SCOOP 80 L: $11 Stud, $10K Gtd |
| 22-May | 19:15 | SCOOP 80 M: $109 Stud, $20K Gtd |
| 22-May | 19:15 | SCOOP 80 H: $1,050 Stud, $35K Gtd |
| 22-May | 20:05 | SCOOP 81 L: $5.50 NLHE [5-Max, Progressive KO], $45K Gtd |
| 22-May | 20:05 | SCOOP 81 M: $55 NLHE [5-Max, Progressive KO], $150K Gtd |
| 22-May | 20:05 | SCOOP 81 H: $530 NLHE [5-Max, Progressive KO], $200K Gtd |
| 22-May | 21:30 | SCOOP 82 L: $11 NLHE [Progressive KO, Freezeout], $40K Gtd |
| 22-May | 21:30 | SCOOP 82 M: $109 NLHE [Progressive KO, Freezeout], $150K Gtd |
| 22-May | 21:30 | SCOOP 82 H: $1,050 NLHE [Progressive KO, Freezeout], $200K Gtd |
| 22-May | 22:30 | SCOOP 83 L: $22 PLO [6-Max, Progressive KO, Single Re-entry], $25K Gtd |
| 22-May | 22:30 | SCOOP 83 M: $109 PLO [6-Max, Progressive KO, Single Re-entry], $20K Gtd |
| 22-May | 22:30 | SCOOP 83 H: $530 PLO [6-Max, Progressive KO, Single Re-entry], $75K Gtd |
| 23-May | 11:05 | SCOOP 84 L: $2.20 NLHE, $12.5K Gtd |
| 23-May | 11:05 | SCOOP 84 M: $22 NLHE, $50K Gtd |
| 23-May | 11:05 | SCOOP 84 H: $215 NLHE, $75K Gtd |
| 23-May | 16:30 | SCOOP 85 L: $5.50 NL 2-7 Single Draw [7-Max, Progressive KO], $7.5K Gtd |
| 23-May | 16:30 | SCOOP 85 M: $55 NL 2-7 Single Draw [7-Max, Progressive KO], $17.5K Gtd |
| 23-May | 16:30 | SCOOP 85 H: $530 NL 2-7 Single Draw [7-Max, Progressive KO], $35K Gtd |
| 23-May | 17:30 | SCOOP 86 L: $109 NLHE [Super Tuesday], $400K Gtd |
| 23-May | 17:30 | SCOOP 86 M: $1,050 NLHE [Super Tuesday], $650K Gtd |
| 23-May | 17:30 | SCOOP 86 H: $10,300 NLHE [Super Tuesday High Roller], $600K Gtd |
| 23-May | 19:15 | SCOOP 87 L: $22 PLO8 [6-Max], $25K Gtd |
| 23-May | 19:15 | SCOOP 87 M: $215 PLO8 [6-Max], $65K Gtd |
| 23-May | 19:15 | SCOOP 87 H: $2,100 PLO8 [6-Max], $100K Gtd |
| 23-May | 20:05 | SCOOP 88 L: $22 NLHE [7-Max, Frezeeout], $75K Gtd |
| 23-May | 20:05 | SCOOP 88 M: $215 NLHE [7-Max, Frezeeout], $200K Gtd |
| 23-May | 20:05 | SCOOP 88 H: $2,100 NLHE [7-Max, Frezeeout], $175K Gtd |
| 23-May | 21:30 | SCOOP 89 L: $5.50 NLHE [6-Max, Progressive KO], $40K Gtd |
| 23-May | 21:30 | SCOOP 89 M: $55 NLHE [6-Max, Progressive KO], $175K Gtd |
| 23-May | 21:30 | SCOOP 89 H: $530 NLHE [6-Max, Progressive KO], $250K Gtd |
| 24-May | 16:30 | SCOOP 90 L: $11 HORSE, $12.5K Gtd |
| 24-May | 16:30 | SCOOP 90 M: $109 HORSE, $30K Gtd |
| 24-May | 16:30 | SCOOP 90 H: $1,050 HORSE, $50K Gtd |
| 24-May | 17:30 | SCOOP 91 L: $33 NLHE [Progressive KO], $175K Gtd |
| 24-May | 17:30 | SCOOP 91 M: $320 NLHE [Progressive KO], $300K Gtd |
| 24-May | 17:30 | SCOOP 91 H: $3,150 NLHE [Progressive KO], $350K Gtd |
| 24-May | 19:15 | SCOOP 92 L: $11 FL Badugi [6-Max], $7.5K Gtd |
| 24-May | 19:15 | SCOOP 92 M: $109 FL Badugi [6-Max], $15K Gtd |
| 24-May | 19:15 | SCOOP 92 H: $1,050 FL Badugi [6-Max], $25K Gtd |
| 24-May | 20:05 | SCOOP 93 L: $11 NLHE [Progressive KO, Frezeeout], $60K Gtd |
| 24-May | 20:05 | SCOOP 93 M: $109 NLHE [Progressive KO, Frezeeout], $200K Gtd |
| 24-May | 20:05 | SCOOP 93 H: $1,050 NLHE [Progressive KO, Frezeeout], $200K Gtd |
| 24-May | 21:30 | SCOOP 94 L: $3.30 NLHE [Mini Fenomeno SE], $18K Gtd |
| 24-May | 21:30 | SCOOP 94 M: $33 NLHE [Fenomeno SE], $80K Gtd |
| 24-May | 21:30 | SCOOP 94 H: $320 NLHE [Fenomeno HR SE], $150K Gtd |
| 25-May | 15:05 | SCOOP 95 L: $22 NLHE [9-Max, Early classic], $100K Gtd |
| 25-May | 15:05 | SCOOP 95 M: $109 NLHE [9-Max, Early classic], $200K Gtd |
| 25-May | 15:05 | SCOOP 95 H: $530 NLHE [9-Max, Early classic], $225K Gtd |
| 25-May | 16:30 | SCOOP 96 L: $11 5-Card PLO [6-Max, Progressive KO], $15K Gtd |
| 25-May | 16:30 | SCOOP 96 M: $109 5-Card PLO [6-Max, Progressive KO], $40K Gtd |
| 25-May | 16:30 | SCOOP 96 H: $1,050 5-Card PLO [6-Max, Progressive KO], $85K Gtd |
| 25-May | 17:30 | SCOOP 97 L: $55 NLHE [Progressive KO, Thursday Thrill], $400K Gtd |
| 25-May | 17:30 | SCOOP 97 M: $530 NLHE [Progressive KO, Thursday Thrill], $650K Gtd |
| 25-May | 17:30 | SCOOP 97 H: $5,200 NLHE [Progressive KO, Thursday Thrill High Roller], $600K Gtd |
| 25-May | 19:15 | SCOOP 98 L: $22 8-Game [6-Max], $25K Gtd |
| 25-May | 19:15 | SCOOP 98 M: $215 8-Game [6-Max], $45K Gtd |
| 25-May | 19:15 | SCOOP 98 H: $2,100 8-Game [6-Max], $70K Gtd |
| 25-May | 20:05 | SCOOP 99 L: $33 NLHE [6-Max, Frezeeout], $100K Gtd |
| 25-May | 20:05 | SCOOP 99 M: $215 NLHE [6-Max, Frezeeout], $175K Gtd |
| 25-May | 20:05 | SCOOP 99 H: $1,050 NLHE [6-Max, Frezeeout], $150K Gtd |
| 25-May | 21:30 | SCOOP 100 L: $11 NLHE [7-Max, Progressive KO], $85K Gtd |
| 25-May | 21:30 | SCOOP 100 M: $109 NLHE [7-Max, Progressive KO], $225K Gtd |
| 25-May | 21:30 | SCOOP 100 H: $1,050 NLHE [7-Max, Progressive KO], $250K Gtd |
| 27-May | 15:05 | SCOOP 101 L: $5.50 NLHE [Deep Stacks], $40K Gtd |
| 27-May | 15:05 | SCOOP 101 M: $55 NLHE [Deep Stacks], $200K Gtd |
| 27-May | 15:05 | SCOOP 101 H: $530 NLHE [Deep Stacks], $250K Gtd |
| 27-May | 17:30 | SCOOP 102 L: $55 NLHE [Progressive KO], $325K Gtd |
| 27-May | 17:30 | SCOOP 102 M: $320 NLHE [Progressive KO], $375K Gtd |
| 27-May | 17:30 | SCOOP 102 H: $1,050 NLHE [Progressive KO], $500K Gtd |
| 27-May | 19:15 | SCOOP 103 L: $11 NLO8 [6-Max], $15K Gtd |
| 27-May | 19:15 | SCOOP 103 M: $109 NLO8 [6-Max], $35K Gtd |
| 27-May | 19:15 | SCOOP 103 H: $1,050 NLO8 [6-Max], $80K Gtd |
| 27-May | 20:05 | SCOOP 104 L: $11 NLHE [6-Max], $65K Gtd |
| 27-May | 20:05 | SCOOP 104 M: $109 NLHE [6-Max], $150K Gtd |
| 27-May | 20:05 | SCOOP 104 H: $1,050 NLHE [6-Max], $175K Gtd |
| 27-May | 21:30 | SCOOP 105 L: $2.20 NLHE [7-Max, Progressive KO, Last Player Standing], $12.5K Gtd |
| 27-May | 21:30 | SCOOP 105 M: $22 NLHE [7-Max, Progressive KO, Last Player Standing], $75K Gtd |
| 27-May | 21:30 | SCOOP 105 H: $215 NLHE [7-Max, Progressive KO, Last Player Standing], $115K Gtd |
| 28-May | 13:05 | SCOOP 106 L: $5.50 NLHE [Mini Sunday Kickoff], $45K Gtd |
| 28-May | 13:05 | SCOOP 106 M: $55 NLHE [Sunday Kickoff], $225K Gtd |
| 28-May | 13:05 | SCOOP 106 H: $530 NLHE [Sunday Kickoff], $350K Gtd |
| 28-May | 15:05 | SCOOP 107 L: $5.50 NLHE [Progressive KO, Sunday Warm-Up, Freezeout], $40K Gtd |
| 28-May | 15:05 | SCOOP 107 M: $55 NLHE [Progressive KO, Sunday Warm-Up, Freezeout], $250K Gtd |
| 28-May | 15:05 | SCOOP 107 H: $530 NLHE [Progressive KO, Sunday Warm-Up, Freezeout], $450K Gtd |
| 28-May | 17:30 | SCOOP 108 L: $109 NLHE [Main Event], $2M Gtd |
| 28-May | 17:30 | SCOOP 108 M: $1,050 NLHE [Main Event], $4M Gtd |
| 28-May | 17:30 | SCOOP 108 H: $10,300 NLHE [Main Event], $5M Gtd |
| 28-May | 18:30 | SCOOP 109 L: $5.50 NLHE [Progressive KO, Women's Event], $4K Gtd |
| 28-May | 18:30 | SCOOP 109 M: $22 NLHE [Progressive KO, Women's Event], $10K Gtd |
| 28-May | 18:30 | SCOOP 109 H: $109 NLHE [Progressive KO, Women's Event], $20K Gtd |
| 28-May | 20:05 | SCOOP 110 L: $109 PLO [6-Max, PLO Main Event], $200K Gtd |
| 28-May | 20:05 | SCOOP 110 M: $1,050 PLO [6-Max, PLO Main Event], $500K Gtd |
| 28-May | 20:05 | SCOOP 110 H: $10,300 PLO [6-Max, PLO Main Event], $800K Gtd |
| 28-May | 21:30 | SCOOP 111 L: $11 NLHE [Progressive KO, Mini Sunday Cooldown, Freezeout], $85K Gtd |
| 28-May | 21:30 | SCOOP 111 M: $109 NLHE [Progressive KO, Sunday Cooldown, Freezeout], $300K Gtd |
| 28-May | 21:30 | SCOOP 111 H: $1,050 NLHE [Progressive KO, Sunday Cooldown High Roller, Freezeout], $350K Gtd |
| 29-May | 17:30 | SCOOP 112 L: $11 NLHE [Progressive KO, Series Saver], $150K Gtd |
| 29-May | 17:30 | SCOOP 112 M: $109 NLHE [Progressive KO, Series Saver], $600K Gtd |
| 29-May | 17:30 | SCOOP 112 H: $1,050 NLHE [Progressive KO, Series Saver], $1M Gtd |
| 29-May | 18:30 | SCOOP 113 L: $215 NLHE, $350K Gtd |
| 29-May | 18:30 | SCOOP 113 M: $2,100 NLHE, $350K Gtd |
| 29-May | 19:05 | SCOOP 113 H: $25,000 NLHE [Super High Roller], $1M Gtd |
| 29-May | 19:15 | SCOOP 01 L: $2.20 NLHE [Phase 2], $125K Gtd |
| 29-May | 19:15 | SCOOP 01 M: $11 NLHE [Phase 2], $500K Gtd |
| 29-May | 19:15 | SCOOP 01 H: $55 NLHE [Phase 2], $1M Gtd |
| 29-May | 20:05 | SCOOP 114 L: $55 NLHE [Main Event 2nd Chance], $200K Gtd |
| 29-May | 20:05 | SCOOP 114 M: $530 NLHE [Main Event 2nd Chance], $300K Gtd |
| 29-May | 20:05 | SCOOP 114 H: $5,200 NLHE [Main Event 2nd Chance], $400K Gtd |
| 29-May | 21:05 | SCOOP 115 L: $2.20 NLHE [6-Max], $15K Gtd |
| 29-May | 21:05 | SCOOP 115 M: $22 NLHE [6-Max], $125K Gtd |
| 29-May | 21:05 | SCOOP 115 H: $215 NLHE [6-Max], $225K Gtd |
| 30-May | 17:30 | SCOOP 116 L: $11 NLHE [Super Tuesday], $100K Gtd |
| 30-May | 17:30 | SCOOP 116 M: $109 NLHE [Super Tuesday], $300K Gtd |
| 30-May | 17:30 | SCOOP 116 H: $1,050 NLHE [Super Tuesday], $350K Gtd |
| 30-May | 18:30 | SCOOP 117 L: $33 NLHE [Progressive KO], $100K Gtd |
| 30-May | 18:30 | SCOOP 117 M: $320 NLHE [Progressive KO], $135K Gtd |
| 30-May | 18:30 | SCOOP 117 H: $3,150 NLHE [Progressive KO], $175K Gtd |
| 30-May | 19:15 | SCOOP 118 L: $5.50 NLHE/PLO [6-Max, Progressive KO], $18K Gtd |
| 30-May | 19:15 | SCOOP 118 M: $55 NLHE/PLO [6-Max, Progressive KO], $60K Gtd |
| 30-May | 19:15 | SCOOP 118 H: $530 NLHE/PLO [6-Max, Progressive KO], $75K Gtd |
| 30-May | 20:05 | SCOOP 119 L: $5.50 NLHE [Heads-Up TKO Zoom], $35K Gtd |
| 30-May | 20:05 | SCOOP 119 M: $55 NLHE [Heads-Up TKO Zoom], $125K Gtd |
| 30-May | 20:05 | SCOOP 119 H: $530 NLHE [Heads-Up TKO Zoom], $115K Gtd |
| 31-May | 17:30 | SCOOP 120 L: $5.50 NLHE [Progressive KO, Final Freeze], $35K Gtd |
| 31-May | 17:30 | SCOOP 120 M: $55 NLHE [Progressive KO, Final Freeze], $150K Gtd |
| 31-May | 17:30 | SCOOP 120 H: $530 NLHE [Progressive KO, Final Freeze], $150K Gtd |
| 31-May | 20:05 | SCOOP 121 L: $3.30 NLHE [7-Max, Progressive KO, Series Wrap-Up], $50K Gtd |
| 31-May | 20:05 | SCOOP 121 M: $33 NLHE [7-Max, Progressive KO, Series Wrap-Up], $125K Gtd |
| 31-May | 20:05 | SCOOP 121 H: $320 NLHE [7-Max, Progressive KO, Series Wrap-Up], $135K Gtd |