888poker Mystery Bounty Weekend Events Obliterate Guarantees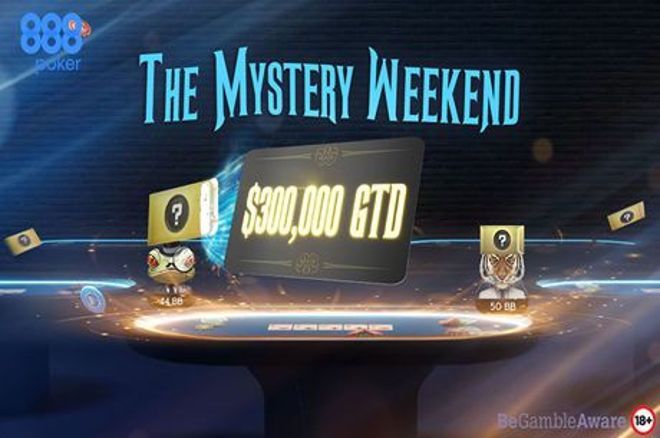 There were some people who thought 888poker had set the guarantees for its Mystery Bounty Weekend Main Events too high, with the $60 edition featuring a $100,000 guarantee, and the $22 Mini Main Event boasting a $50,000 prize pool.
Any worries about hitting those ambitious totals were soon dismissed with 2,418 players turning out for the $60 buy-in event, creating a $132,990 prize pool, and 3,372 entrants in the $22 Mini Main Event building a $67,440 pot!
The $60 buy-in $100,000 guaranteed 888poker Mystery Bounty Weekend Main Event paid out eight mystery bounties worth four figures and a jackpot tipping the scales at a cool $10,000.
Twenty-fourth place finisher "Ungulaitis" and eighth-place finisher "Dimitri1111" helped themselves to $3,000 mystery bounties, with the United Kingdom's "Mouse32" pulling out a $10,000 score from a golden envelope. That huge payment meant Mouse32 won the second-most prize money despite not reaching the eight-handed final table!
$100,000 Main Event MB Weekend Final Table Results
| Place | Player | Country | Bounties | Prize | Total Prize |
| --- | --- | --- | --- | --- | --- |
| 1 | keybr | Brazil | $1,040 | $11,462 | $12,502 |
| 2 | Juliangard | Sweden | $393 | $8,365 | $8,758 |
| 3 | Agdchan | Kazahkstan | $593 | $6,149 | $6,742 |
| 4 | LuckmanDie | Germany | $491 | $4,556 | $5,047 |
| 5 | S3ndL0cation | Estonia | $296 | $3,369 | $3,666 |
| 6 | KDS.em | Ukraine | $344 | $2,514 | $2,858 |
| 7 | AlinnC | Romania | $394 | $1,883 | $2,278 |
| 8 | Dimitri1111 | Romania | $3,196 | $1,427 | $4,624 |
The final table shuffled up and dealt at 7:00 p.m. BST on May 2, with "Agdchan" leading the way in terms of chip stacks. it took 20 minutes for the first player to be stacked, and the aforementioned Dimitri1111 was that player.
"S3ndL0cation" min-raised with pocket sixes before calling the eight big blind shove from Dimitri1111, which the Romanian made with ace-four of hearts. The board ran out king-high, and S3ndL0ction raked in the pot and reduced the player count by one.
"AlinnC," also of Romania, fell in seventh ten minutes after Dimitri1111. "LuckmanDie" raised to 2.2 big blinds from late position, AlinnC three-bet to 5.5 big blinds from the small blind, only for "Juliangard" to four-bet jam for 26.3 big blinds from the big blind. LuckmanDie had seen enough and folded, but AlinnC called off the 10.4 big blinds they had behind.
It was ace-jack for AlinnC but the dominating ace-king for Juliangard. A king on the turn proved more than enough to bust AllinC from the tournament.
Check out this 888poker bounty strategy
Brush up on your bounty strategy.
"KDS.em" was the next to fall after losing all but three big blinds after rivering trip queens and running into the full house of S3ndL0cation. That micro stack went into the middle with ace-jack of clubs from under the gun, and LuckmanDie snap-called from the big blind with pocket nines. LuckmanDie flopped a set and improved to a full house to bust KDS.em.
S3ndL0cation had a 71-big blind stack at the start of five-handed play, but was still the next player heading to the showers. They lost a large percentage of their stack with ace-jack versus Juliangard's pocket aces in a battle of the blinds, and they never recovered.
They got their last 11 big blinds into the middle with queen-nine on a queen-six-king-nine board, only for Juliangard to snap them off with queen-deuce of clubs having hit a flush on the turn. The river missed S3ndL0cation, and they went from hero to zero, although the $3,666 they bank will go some way to numbing the pain.
Can I Make Money Playing Poker? You can at 888poker
Nothing went right for LuckmanDie after the scheduled break, and they ultimately bowed out in fourth for $5,047. "Agdchan" min-raised under the gun with eight-seven of diamonds, LuckmanDie responded by three-betting all-in for 19 big blinds with pocket fives, only for "keybr" to wake up in the big blind with a pair of kings in the hole. keybr called, the initial raiser folded, and a ten-high board proved no help to the all-in player, leaving only three 888poker players in the hunt for the title.
Those three became two when Agdchan ran into a cooler situation. keybr limped with nine-eight in the mall blind, and Agdchan checked with jack-nine in the big blind. keybr check-raised a one big blind bet to 3.6 big blinds on the four-eight-nine board, and Agdchan called.
The turn was a jack, gifting Agdchan a better two pair. keybr fired a 9.1 big blind bet, and Agdchan called. An eight on the river have keybr a full house, and they bet enough to set their opponent all-in. Agdchan couldn't find a fold, and called off their 19.8 big blind stack with an expensive second-best hand.
That massive pot left keybr with a colossal 102.6 blind stack against the 18.3 big blinds of Juliangard. Unsurprisingly, it did not take long for the tournament to crown its champion.
The final hand saw keybr open-shove with pocket threes, and Juliangard call off their 13 big blinds with ace-five. A few seconds later, the draw-heavy board had missed Juliangard, leaving keybr to become the 888poker Mystery Bounty Weekend Main Event champion, an accolade that came with $12,502 in cold, hard cash.
See All The Latest 888poker Bonuses
Brazilians Dominate Mystery Bounty Weekend Mini Main Event
888poker is hugely popular with Brazilian players, and make no wonder when they dominate a tournament as prestigious as the $50,000 Mystery Bounty Weekend Mini Main Event. Some 3,372 entrants created a guarantee-busting $67,440, and a large chunk of that money is now in Brazilian players' 888poker accounts.
Five of the eight finalists had a Brazilian flag next to their names, including the champion. "marcelowo14" defeated their fellow countryman heads-up to capture a $6,310 prize, with second-place weighing in at $4,661, an impressive score considering the tournament only cost $22 to enter.
Of course, the final two players were not the only ones to win big. British grinder "360F1" may have crashed by the wayside in 357th place and missed out on some main prize pool money, but they eliminated an opponent and pulled out a $1,500 mystery bounty payment!
Twentieth-place finisher "larsu89" also reeled in a $1,500 mystery bounty, while Montenegro's "ChuckkNorris'" golden envelope contained the $5,000 jackpot bounty payment.
$50,000 Mini Main Event MB Weekend Final Table Results
| Place | Player | Country | Bounties | Prize | Total Prize |
| --- | --- | --- | --- | --- | --- |
| 1 | marcelowo14 | Brazil | $774 | $5,535 | $6,310 |
| 2 | DuXOBaLa | Brazil | $646 | $4,014 | $4,661 |
| 3 | jpcervecero | Argentina | $54 | $2,907 | $2,962 |
| 4 | bomraPAZ | Brazil | $196 | $2,122 | $2,318 |
| 5 | UECplayer | Brazil | $364 | $1,561 | $1,926 |
| 6 | m0zzes | Ukraine | $91 | $1,145 | $1,237 |
| 7 | zedonato | Brazil | $164 | $848 | $1,013 |
| 8 | Barns1358 | United Kingdom | $54 | $632 | $687 |
Experience the Thrill of 888poker's Mystery Bounty Tournaments
888poker is still the only online poker site running daily mystery bounty tournaments, so it is here you need to head to experience the thrill of not knowing what you will win!
Mystery Bounty tournaments with buy-ins from only $1 to $109 run every day, with a massive $100,000 guaranteed affair taking place on Sunday. Your next chance to become that event's champion is May 7 at 7:00 p.m. BST. Will PokerNews be writing about you in our next 888poker Mystery Bounty recap? Download 888poker via PokerNews to lock-in the best 888poker bonus found anywhere online.