Doug Polk, Charlie Carrel Saga Just Took an Unexpected Turn for the Better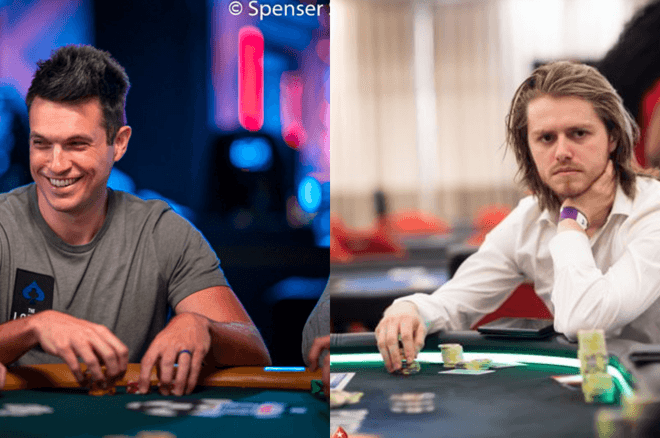 Table Of Contents
The poker Twitter Spaces conversations over the past week have apparently been mostly productive. Doug Polk and Charlie Carrel both aired out their grievances over the phone instead of via 280 characters on the blue bird app, and it appears they've mended fences.
Earlier this week, it seemed as if there was no hope for the poker pros to ever be cordial. A few days later and the anger seems to have subsided following a lengthy Carrel tweet and Polk response.
@Charlie_Carrel Appreciate that Charlie. I am sorry for not acknowledging your pain the other night. I got too tunn… https://t.co/eRh5kJA4l5

— Doug Polk (@DougPolkVids)
What's the Backstory?
In a Twitter Spaces conversation with Will Jaffe and Matt Berkey last weekend, Polk took criticism over his bullying tactics in YouTube videos and on social media.
Carrel then entered the audio conversation to lash out at Polk over some hurtful videos Polk made about him in the past, and that is when the situation escalated.
In a 2018 video, Polk took shots at Carrel for, as he claims, empathizing with pedophiles. But he was bashing an admitted child molestation victim. For that reason, many poker fans listening to the Twitter Spaces conversation trashed Polk for failing to have sympathy for a victim of such an awful act.
Everyone then began to pile on the Upswing Poker founder. Even Phil Galfond, who rarely engages in poker Twitter drama, wrote a lengthy blog post criticizing Polk's bullying tactics.
Poker Twitter Spaces Serves a Purpose
The aforementioned video Polk created had hundreds of thousands of views. As Carrel explained in a heartfelt, fiery exchange, he received thousands of DMs from people who attacked him for empathizing with pedophiles. It caused him great harm.
One day later, Polk issued a brief apology on Twitter and then took the infamous video down from his YouTube channel. But many poker fans didn't buy the apology or feel that he'd done enough to make things right. As such, Twitter Spaces conversations has become a daily thing in poker, with a seemingly never-ending discussion about Polk's behavior lasting for nearly a week.
Polk's former rival Daniel Negreanu entered the audio chat on Thursday. While the two have mended fences and become friends since their highly publicized heads-up match in 2021, "DNegs" explained to Polk how his social media attacks and trolling can cause others harm.
A few years back, a trolling Polk helped spread a meme that included a picture of Negreanu's car parked in a handicap spot at the Rio, the former home of the World Series of Poker (WSOP). Due to the incessant trolling, Negreanu received cruel messages from poker fans for taking up a handicap spot when he's perfectly able to walk just fine.
But the problem with the meme is, as "Kid Poker" explained in a recent Twitter Spaces chat, he only parked in that spot on that day because most of the massive parking lot had been closed off to the public and only those who were involved in a closed TV filming for the WSOP were parked in that area anyway.
Negreanu and Polk buried the hatchet long ago. Polk has since said that he grew respect for the Poker Hall of Famer because he was willing to take on a nearly impossible-to-win heads-up challenge and see it through to the end.
There's no way to know if Polk and Carrel's relationship will end up with the same outcome. But it's certainly headed in that direction. Carrel explained in a tweet why the person he trashed in a recent Twitter Spaces discussion "is not a monster" and defended Polk against those who bash him for "bullying" others.
"He was hurt, and he learned that hurting other people was necessary to survive," Carrel wrote.
Carrel is now empathizing with Polk, who has said in the past he was bullied growing up over his weight.
"He has deeply hurt me, and with no good reason. If I can forgive him, and see the beauty in him, so can anybody and everybody else," Carrel said of the poker pro who spent years trashing him.
While the constant drama within the poker community has been tiring to many, there might be a valuable lesson learned, and that is disputes can be settled more easily by picking up the phone and talking into it rather than by writing out a tweet.