A Look Back at Doyle Brunson's Greatest Twitter Moments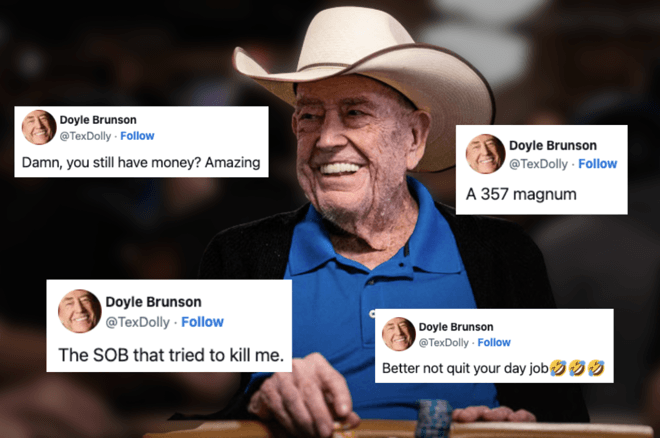 With a legendary career that spanned more than five decades, Doyle Brunson picked up plenty of wisdom and life experience that he often shared with his nearly 400,000 followers on Twitter.
Brunson, who passed away this past Sunday at age 89, also had razor-sharp wit and a keen sense of humor that often came out whenever @TexDolly typed up a tweet.
From his hilarious back-and-forths with longtime friend Lex Veldhuis to his recollection of run-ins with notorious mobster Anthony "Tony the Ant" Spilotro, here is a look back at some of the late poker legend's greatest Twitter moments.
The "Godfather of Poker," Doyle Brunson has Passed Away at 89
A Final Message From The Poker Godfather
Many players were touched in the week following Brunson's death when his Twitter account left the poker world one last message. And, in typical Brunson fashion, that message included a needle to Mike Matusow.
"I'll save you all a seat in Dolly's game in Heaven," the final message from Brunson reads.
Strangest Pot He Ever Played
Brunson played hundreds of thousands of poker hands throughout his poker career, but one stood out to Texas Dolly as the strangest of them all. The hand took place against a casino owner who called a $60,000 river bet "with the worst hand possible."
Here is Brunson's recollection in June 2021 of what he called one of the "strange(st) pots I've played."
Putting Brutal Beat on Crandell Addington
When Jonathan Little asked players to share the worst bad beat they ever put on someone, one hand with Poker Hall of Famer Crandell Addington stood out to Brunson.
A Look at Doyle Brunson Through the Lens – PokerNews' Best Photos of Texas Dolly
Doyle Versus The Mob
Brunson frequently tweeted about his run-ins with Anthony "Tony the Ant" Spilotro in the 1970s and 80s, a feared Las Vegas mobster who served as the inspiration for Joe Pesci's character Nicky Santoro in Casino.
"The SOB that tried to kill me," Brunson tweeted in February 2022 with a photo of Spilotro.
Brunson noted that Spilotro, who was murdered in 1986, "was certainly an 'enemy' of mine because I refused to go his way of cheating poker players."
"I told him I didn't have to cheat to win," Brunson tweeted in May 2020. "That seemed to infuriate him but I believe he respected me. He had numerous opportunities to stiff me but never did."
Getting Robbed at Gunpoint
In his 2009 autobiography Godfather of Poker, Brunson told stories from his early career as a Texas road gambler where games would occasionally end with gunfire. Brunson also shared many of these stories on Twitter.
Poker Players From All Eras Pay Tribute After Doyle Brunson's Passing
Personal Security
Ever wonder how Brunson stayed safe during the road gambling days while carrying around tens of thousands of dollars? He gave the answer in January 2019.
Good Times With Poker Legends
It wasn't all robbery and gunfire in the early days. Here are some light-hearted stories Brunson has tweeted about involving fellow poker legends Stu Ungar, Chip Reese and Brian "Sailor" Roberts.
Golf Prop Bet
Speaking of fun times with poker legends, here's a golf prop bet story involving Jack Strauss and Billy Baxter that Brunson shared in April 2021.
Doyle Doesn't Hold Back
A lifelong Texan, Brunson always liked to tell it how it was. Here was his response when someone asked if Brunson had any fond memories of their uncle.
Doyle Doesn't Like Your Fan Art
Brunson didn't go any easier on those he knew. Here's how Brunson reacted in March 2019 when his friend Mike Gorodinsky shared his drawing of the Poker Godfather.
Thanks For the Escalade
After winning some money off of his opponents in Bobby's Room in the summer of 2018, Brunson took to Twitter to let them know that they helped finance his new Cadillac Escalade.
Brunson later that the tweet was a "tongue in cheek" remark and that he had actually "traded in my 10 year old Escalade."
Doyle and Lex
Perhaps the greatest demonstration of Brunson's sense of humor was his banter with PokerStars streamer Lex Veldhuis, who Brunson tangled with on shows like The Big Game during the Poker Boom.
The Texan and Dutchman would frequently needle one another on Twitter over the years, but both were also sure to make clear that it was all in good fun and that they were friends.
Doyle Brunson's Best Televised High Stakes Poker Hands
$1 For An Autograph
After Brunson's death, James McManus wrote that Brunson was "one of the greatest players ever but without an arrogant cell in his body."
Brunson confirmed his humility years earlier when he shared a story of a Polish fan who sent him three pictures to sign and a $1 bill.
"I found out what my autograph is worth today," he joked.
Doyle the TV Critic
After largely retiring from poker in 2018, Brunson became an amateur TV critic and would frequently tweet his thoughts on shows like Game of Thrones, Better Call Saul and Justified.
The Value of Time
Brunson's cancer diagnosis in his 20s gave him a unique outlook on life and perspective on "how valuable our time is." Brunson shared his wisdom on the subject in January 2020.
Texas Dolly Signs Off
In announcing his retirement from poker in 2018, Brunson tweeted about "probably the last (tournament) I'll ever play," the $10,000 2-7 Lowball Draw Championship that he ended up finishing sixth in for $43,963. Making the deep run sweeter, his son, Todd Brunson, finished tenth for $18,955.
Though Brunson did end up returning to the WSOP in 2021, the tweet serves as a somber signoff from the most important and iconic player in poker history.