Celebrating the Extraordinary Legacy of Doyle Brunson at the World Series of Poker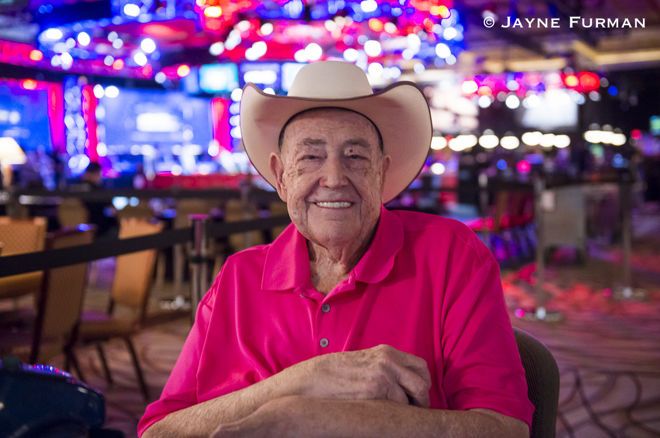 Doyle Brunson and the World Series of Poker (WSOP) go way back. The biography of "Texas Dolly" contains the history of the WSOP within it.
Brunson was at the first WSOP ever and attended almost every WSOP since (outside of boycotting four years in the early 2000s). He won the sixth ever WSOP Main Event (one of two Main Event victories) and collected ten bracelets overall, tying for second most bracelets with Johnny Chan and Phil Ivey.
Days away from the 2023 WSOP, PokerNews looks back with the poker community at how Brunson stood astride the WSOP like a colossus.
The "Godfather of Poker," Doyle Brunson has Passed Away at 89
Doyle At The First World Series Of Poker
Before the first WSOP in 1970, there was the Texas Gamblers Reunion in 1969. The Reunion was held in Reno at the Holiday Hotel and Casino. The initial idea was to create an exhibition table of the best poker players in the world who might pull in punters.
Brunson, being one of the most Texan of Texas Gamblers, was present, though the eventual winner of the event was Crandell Addington. Addington spoke with PokerNews' Executive Editor Chad Holloway back in 2020 to reveal secrets from these early days.
Benny Binion took note of the event and remembered the success of a similar 1949 exhibition game between Johnny Moss and Nick "the Greek" Dandalos.
In 1970, Binion did his own version of the Reunion, hosting a seven-player cash game at his casino the Horseshoe in Vegas.
Addington and Moss were invited to play. As were Thomas "Amarillo Slim" Preston, Sailor Roberts, Walter "Puggy" Pearson, and Carl Cannon. Brunson made up the seven.
After three days of poker, the players voted on who was the best. It was a seven-way draw. Everyone had voted for themselves.
After a new vote, in which players were not allowed to put their own name on their ballot, Johnny Moss took the crown at the inaugural World Series of Poker.
Bob Hooks: The Forgotten Texas Road Gambler
Ten Bracelets And A Standing O.
Doyle attended the 1971 WSOP, when the format first changed to a winner take all freeze-out. He had some excellent finishes in the following years, but it wasn't until 1976 that he won his first bracelet. One for the 1976 WSOP $5,000 Deuce to Seven Draw event—his first ever—and later that series, he famously won the 1976 WSOP $10,000 Main Event with the ten-deuce.
Over the next 30 years, Brunson won another eight bracelets, including the 1977 WSOP $10,000 Main Event (one of only three back-to-back ME wins ever). Although the 80s were a dry spell for Brunson, he managed to win multiple events in the 70s, 90s, and 00s.
Going to the Rio to play in 2-7 lowball tournament. Probably the last one I'll ever play.

— Doyle Brunson (@TexDolly)
Doyle's last bracelet came in the 2005 $5,000 No-Limit Hold'em Short-Handed event.
Although he did not win another event after this, he did make a final table in the 2018 WSOP $10,000 No Limit 2-7 Lowball Draw. Before this event, he tweeted that it might be his last tournament ever. It was a fitting choice, given that 2-7 Lowball was the game in which he won his first bracelet nearly 30 years prior. When he was finally eliminated in sixth place, a standing ovation followed.
Doyle returned to the WSOP a handful of times after 2018, but that was his last final table at the WSOP.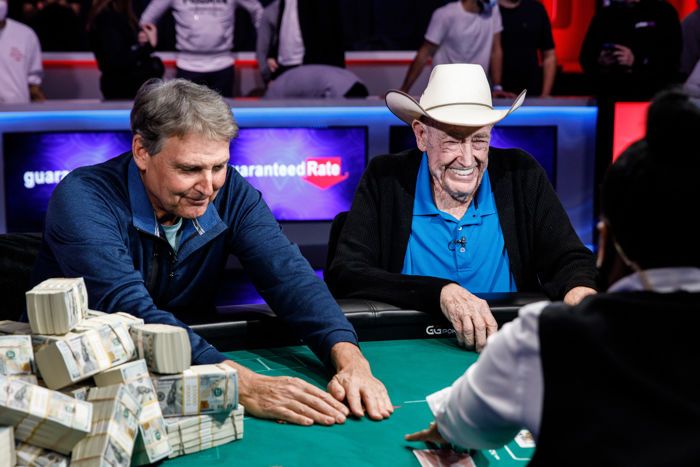 Doyle Brunson's Bracelet Complete List
| Year | Buy-In | Tournament | Prize (US$) |
| --- | --- | --- | --- |
| 1976 | $5,000 | Deuce to Seven Draw | $80,250 |
| 1976 | $10,000 | No Limit Hold'em World Championship | $230,000 |
| 1977 | $1,000 | Seven-Card Stud Split | $62,500 |
| 1977 | $10,000 | No Limit Hold'em World Championship | $340,000 |
| 1978 | $5,000 | Seven-Card Stud | $68,000 |
| 1979 | $600 | Mixed Doubles Seven-Card Stud (with Starla Brodie) | $4,500 |
| 1991 | $2,500 | No Limit Hold'em | $208,000 |
| 1998 | $1,500 | Seven-Card Razz | $93,000 |
| 2003 | $2,000 | H.O.R.S.E. | $84,080 |
| 2005 | $5,000 | No Limit Shorthanded Texas Hold'em (6 players per table) | $367,800 |
Ten-Deuce: "The Texas Dolly"
One part of Doyle Brunson's WSOP legend lives on after him in the random shuffle of the pack. Every time a player is dealt ten-deuce in the hole, they will think, "Texas Dolly."
Texas Dolly is an old nickname of Doyle's, and the ten and the two were his hole cards both times he won his Main Event bracelets.
The first time was heads-up against Addington. The second time was against Milo Jacobson. Both times, Doyle made a full house from an otherwise junky pair of cards.
At the 2023 World Series of Poker, players will no doubt try to honor the legend by adding the ten-deuce as a weapon to their arsenal.
2023 World Series of Poker Hub
Bookmark this page! All you need to know about the 2023 WSOP is here.