Daniel Negreanu and Eric Persson Can't Get Enough of Each Other on High Stakes Poker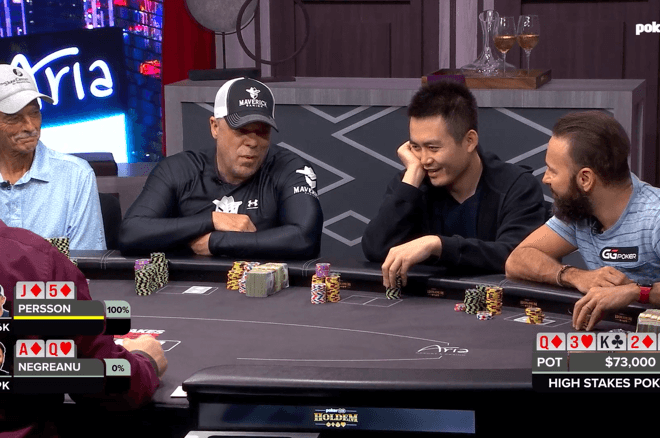 Table Of Contents
Daniel Negreanu and Eric Persson battled for some huge pots on Tuesday's High Stakes Poker show on PokerGO, and the former got the best of it.
The high roller poker players recently faced off heads-up on High Stakes Duel IV Round 1, with "DNegs" taking down the match for $100,000. His opponent declined a rematch but perhaps he owed him one after the cooler we're about to discuss on Episode 15 of the iconic poker cash game show.
There were five others at what was a mostly new table compared to last week — Stanley Choi, Charles Yu, Ben Lamb, Eric Hicks, and Bill Klein.
Ben Lamb Starts Off Hot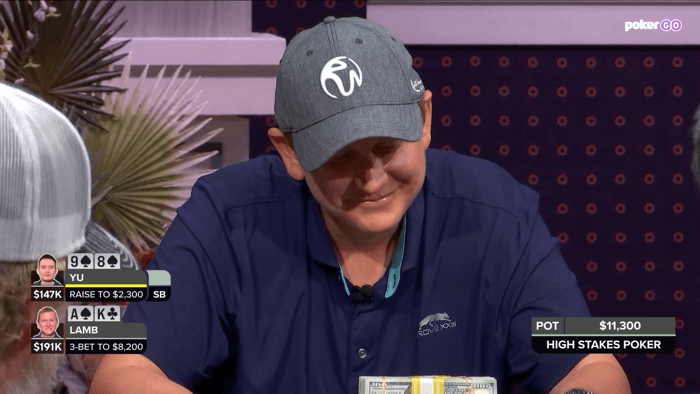 The action in this $200/$400 no-limit hold'em cash game started right off the bat when Lamb three-bet to $8,200 with A♠K♣ before being four-bet to $25,000 from the 9♠8♠ of Yu. Lamb then jammed all in for $191,000 total and his opponent was forced to instantly muck his cards.
Moments later, the two-time World Series of Poker (WSOP) Main Event final table participant would take down another pot when he hit a straight on the turn with A♦5♥ on a board of 3♥2♠9♦4♠. There was already $39,600 in the middle. Lamb sized up a bet of $20,000 hoping to entice some action in the three-way pot, but Klein and Hicks didn't have strong enough hands to continue.
Negreanu Defeats Persson on High Stakes Duel
Negreanu Loves the Persson Raise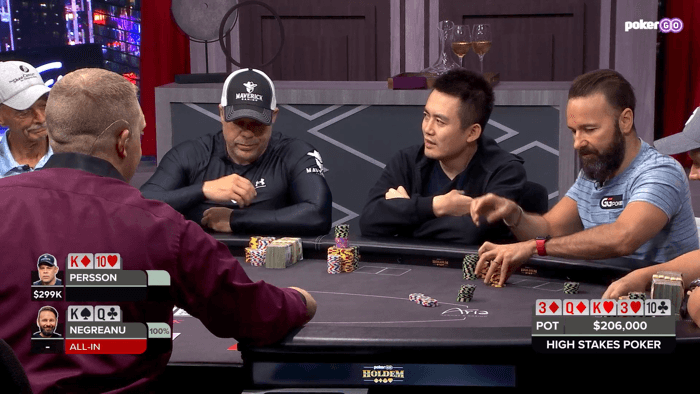 The huge pots continued with Choi raising to $3,000 on the button with A♣7♦. Negreanu, holding K♠Q♣ made the call, as did Persson with his K♦10♥.
When 3♦Q♦K♥ showed up on the flop, action checked to the preflop raiser who bet $4,000 with just ace-high. That, of course, didn't work because Persson had top pair and bumped it up to $19,000. Negreanu had an even stronger hand – top two pair – and then went for a re-raise to $64,000.
After Choi quickly moved out of the way, Persson had a decision to make against the opponent he recently lost a $100,000 heads-up match to on High Stakes Duel IV.
The move he chose, to move all in for $96,000 total, was not a profitable one. "DNegs" snap-called and could only lose to a combination of runner-runners. The 3♥ on the turn brought about two chop outs, but the 10♣ river sent the Poker Hall of Famer the entire $206,000 pot.
Persson would get some revenge in a $48,000 pot against the same opponent when he bet three-high on a flop and forced Negreanu off ace-high. He'd take another pot down against the six-time WSOP bracelet winner when a diamond on the river gave him a flush to crack top pair.
Persson Coolers Negreanu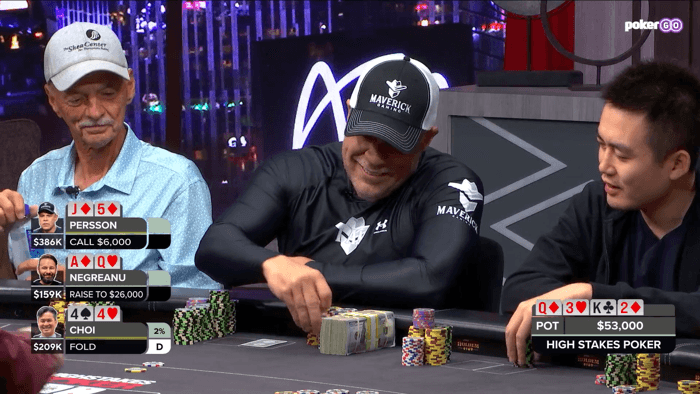 The dynamic duo went at it once again in one of the most epic hands of the day. Persson limped with 4♠4♣ and then Negreanu made it $2,000 on the button with A♥J♥, and they went heads-up to the flop, which was about as juicy as possible – J♦6♥4♥ – making a set versus top pair and the nut flush draw.
Negreanu, after action was checked over to him, bet $1,000 and received a call. Persson dark-checked the turn and Negreanu bet $8,000 before seeing the 9♠. Persson called and then dark-checked the river again. "Kid Poker" bet $21,000 in the dark and then the dealer turned over the A♣, creating quite the cooler.
Persson moved all in for $147,000 effective, and Negreanu simply couldn't fold top two pair on that board.
"Good hand, I was going to go broke no matter what," Negreanu told his opponent. "There's no way out of that one."
Persson's run-good continued shortly after against Yu when he flopped a set against top pair and top kicker. Yu, facing a $25,000 bet and $83,000 in the pot, moved all in for $98,000 and without hesitation was called by an opponent who was way out in front. Klein, who had flopped a small flush draw, had to fold his cards. There would be no sick suck-out and Persson took down his second pot of over $250,000.
Past High Stakes Poker Recaps
Check out our past recaps from Season 10 of High Stakes Poker on PokerGO:
*Images courtesy of PokerGO.