Incredible: Second $10K Mystery Bounty for the Same Player in a Month at 888poker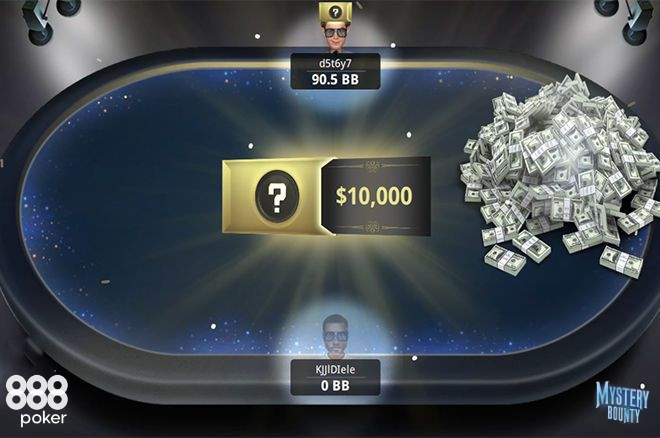 They often say that some poker players have all the luck, and you could make a case for British grinder "d5t6y7" in that statement. Less than a month ago, d5t6y7 finished tenth in the 888poker $100,000 Mystery Bounty Main Event but not before they pulled out the $10,000 top mystery bounty prize.
Fastforward to May 15, and d5t6y7 did it again. Not only that, but they took down the tournament too!
This week's $100,000 Mystery Bounty main Event saw the 965-strong field reduced to a final table of nine on Day 1. Usually, the biggest mystery bounty prizes have been won by this stage, but not this time around because there was a $3,000 and a $10,000 bounty still waiting to be won.
$100,000 Mystery Bounty Main Event Final Table Results
| Place | Player | Country | Bounties | Prize | Total Prize |
| --- | --- | --- | --- | --- | --- |
| 1 | d5t6y7 | United Kingdom | $10,389 | $7,740 | $18,129 |
| 2 | KJJIDIele | Uzbekistan | $5,126 | $5,645 | $10,771 |
| 3 | Iadutska | Belarus | $408 | $4,150 | $4,558 |
| 4 | p1uzera | Brazil | $124 | $3,075 | $3,199 |
| 5 | Adhmor8 | Montenegro | $764 | $2,275 | $3,039 |
| 6 | Freedan | Ukraine | $524 | $1,700 | $2,224 |
| 7 | juncanaru98 | Romania | $703 | $1,280 | $1,983 |
| 8 | SeiryokuZen | Brazil | $1,423 | $970 | $2,393 |
| 9 | DiouL2 | Brazil | $241 | $740 | $981 |
"DiouL2" of Brazil busted in ninth for a $981 score, and another Brazilian in "SeiryokuZen" joined them on the rail with $2,393 in tow.
Then came the exit of "juncanaru98" in seventh. They open-shoved for 9.2 big blinds with ace-deuce of spades from under the gun, and the action folded to "KJJJIDIele" in the cutoff. KJJJIDIele held an overwhelming chip lead and was using their massive stack with deadly aggression. They continued that aggression by moving all-in with ace-ten of clubs, resulting in the other active players folding, including d5t6y7 who mucked ace-jack. d5t6y7 would have won the pot because the board ran five-queen-jack-ace-four. KJJJIDIele saw a golden envelope open in front of them, an envelope containing $3,000!
Ukraine's "Freedan" saw their tournament end in sixth place for $2,224, "Adhmor8" fell in fifth for $3,039, and "p1uzera" bowed out in fourth for $3,199. None of those eliminated players' envelopes contained the $10,000 mystery bounty payment!
Neither did the envelope on the head of third-place finisher "Iadutska" who collected $4,558, meaning the heads-up duo were not only fighting for the first place and the not-so-small matter of more than $2,100 difference in prize money, but one of them had a $10,000 mystery bounty on their head!
888poker LIVE Barcelona Runs May 10-22; Will There be a Spanish Main Event Champion?
KJJJIDIele started the heads-up battle with a 62.6 big blind to 58 big blind advantage over d5t6y7 but the stacks were reversed on the first hand with KJJJIDIele getting frisky with queen-five of clubs and folding to a four-bet.
The chip lead exchanged hands a few times over the next 15 minutes, but neither player could pull away from the other. That was until d5t6y7 flopped twp pair with nine-deuce and got fully paid off by KJJJIDIele, who couldn't lay down their pair of aces.
d5t6y7 now held an eight-to-one chip advantage over KJJJIDIele, and the writing was on the wall for the latter. The final hand occurred soon after and saw KJJJIDIele limp with king-eight, and call when d5t6y7 raised to three big blinds. A ten-king-ten flop saw d5t6y7 fire a 1.5 big blind bet, and KJJJIDIele called. An eight on the turn was greeted with a 3.1 big blind bet, a 10.4 big blind shove from KJJJIDIele, and a call from d5t6y7. It was king-eight for KJJJIDIele and king-jack for d5t6y7. A seven on the river busted KJJJIDIele in second place for $10,771, and they handed an envelope containing $10,000 to the tournament's champion, d5t6y7.
Learn more about the $2M Gtd XL Spring Series
$2 Million Guaranteed XL Spring Series Starts May 21
It is all hands to the pump right now at 888poker with the online poker giant hosting the $2 million guaranteed XL Spring series from May 21, in addition to having its live poker team in Spain for the 888poker LIVE Barcelona festival.
The first of 32 numbered XL Spring series events shuffles up and deals at 6:30 p.m. BST on May 21, while the 888poker LIVE Barcelona Main Event runs from May 17-22, and you can follow all of the Barcelona Main Event action right here at PokerNews.
Grab Yourself the Best 888poker Welcome Bonus
You can head into the $2 million guaranteed XL Spring Series armed with the best 888poker welcome bonus. Download 888poker via PokerNews, and you're guaranteed to receive a welcome offer that will blast your bankroll into orbit. Here's to seeing you at an XL Spring Series final table.