Hellmuth, Negreanu Pay Tribute to Doyle Brunson at 2023 WSOP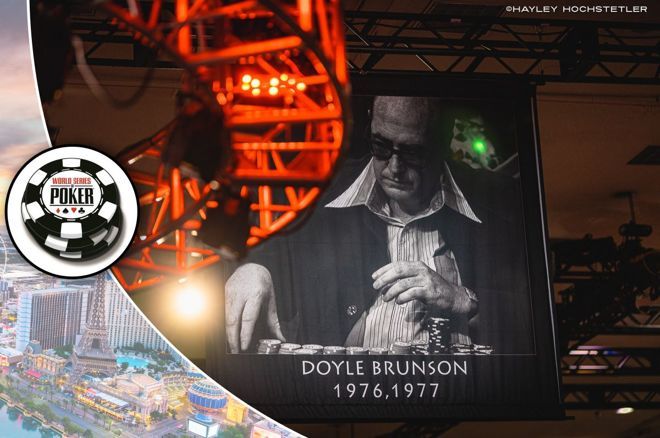 Prominent poker players from several generations paid tribute to the late Doyle Brunson at a tribute for the Poker Godfather at the 2023 World Series of Poker (WSOP) dubbed a "Celebration of Life."
The tribute to Brunson, who passed away in May at the age of 89, took place on July 2 inside the Jubilee Theater at Horseshoe Las Vegas. Those who spoke at the tribute include Poker Hall of Famers Phil Hellmuth, Daniel Negreanu, Lyle Berman and Mori Eskandani, as well as Brunson's son, Todd Brunson.
2023 World Series of Poker Hub
Bookmark this page! All you need to know about the 2023 WSOP is here.
Brunson's Poker Legacy
Brian Balsbaugh, Brunson's longtime agent, started out the tribute by talking about Brunson being "literally a world-class athlete" before a slab of concrete fell on his leg to forever change his life path.
"But Doyle's dream of becoming a professional basketball player would not come true," said Balsbaugh. "He took a summer job and tragedy struck."
After getting a master's degree in education, Brunson spent several months unsuccessfully working as a business machine salesman.
"But he did stumble on some poker games while calling on businesses, and he realized pretty quickly that he could make more money playing poker in a day than selling business machines for a whole month."
One of the players Brunson met in his early years as a poker player was Berman, who noted that they two had a friendship that spanned nearly half a century.
"Our relation lasted 46 years," the three-time bracelet winner said. "I tell people that I've spent more waking hours (with Brunson) than with my two ex-wives combined."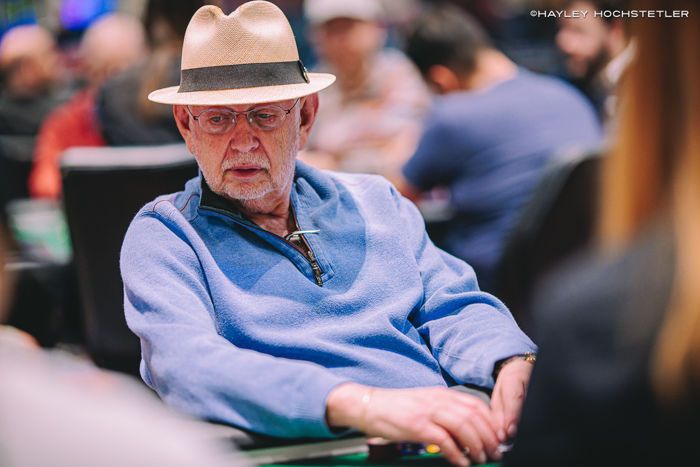 The Barometer of Poker Success
Negreanu spoke about the longevity of a poker player's career as being the greatest measurement for success. "And if he's the barometer, no one ever will (compare)."
"We think about what's available today to learn how to play poker; solvers, data," said Negreanu. "This man was the solver, like he took a pen and paper and dealt out hands and figured out tens is a favorite over ace-king, manually."
Hellmuth, meanwhile, described Brunson as as "oasis" who "sat there and he ruled the high-stakes room at the Bellagio ever since the Bellagio was open."
"You were always comfortable with him," said Hellmuth. "Everybody loved him, he had an amazing, keen sense of humor ... You just wanted to be with him; everybody wanted to be with him."
The Poker Brat also joked about being bluffed by Brunson across four decades. "This man bluffed me in the 80s, this man bluffed me in the 90s, this man bluffed me in the 2000s. Now in the 2000s, it was recorded. So I got to see all these freaking bluffs that he put on me because it was on Poker After Dark!"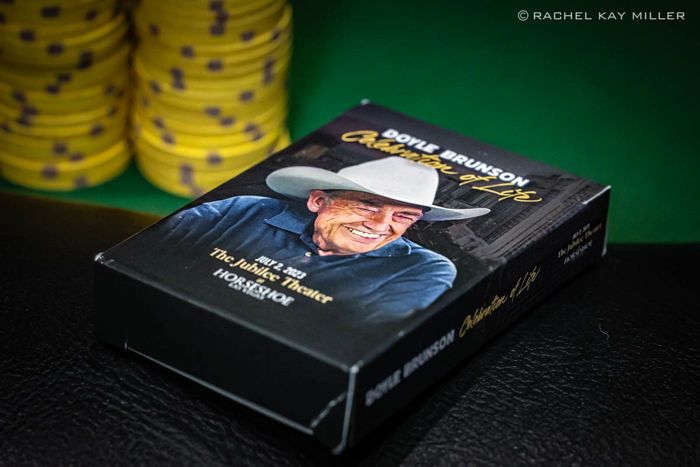 And when the two played again in December 2022, "this man at age 89 bluffed me one more time. Well done, Doyle."
Todd Brunson, who joked that Hellmuth "couldn't stand that my dad was going to have this big event just for him ... he had to go win a bracelet three hours before the event," closed out the celebration by thanking members of the poker community for being there.
"The poker world was his second family," he said. "He probably liked you guys more than his first family."
Read About Jennifer Harman's Memories With Brunson
More Brunson Tributes to Come
During the Celebration of Life in honor of Brunson, the poker community decided to dub October 2 as Doyle Brunson Day as a tribute to the ten-deuce hand that he won consecutive Main Events with.
There will be plenty of other tributes to the late Poker Godfather, including on PokerStars. On July 2, PokerStars US tweeted that the site "will celebrate the legend, Doyle Brunson and his iconic hand on 10/2."
Whether you're playing on PokerStars in Michigan, Pennsylvania or New Jersey, be sure to be on the lookout for a celebration of Brunson come October.
https://twitter.com/PokerStarsUSA/status/1675608289281712128