Hands of the Week: A Look Back at Gut-Punch Pots from 2023 PokerNews Cup at Golden Nugget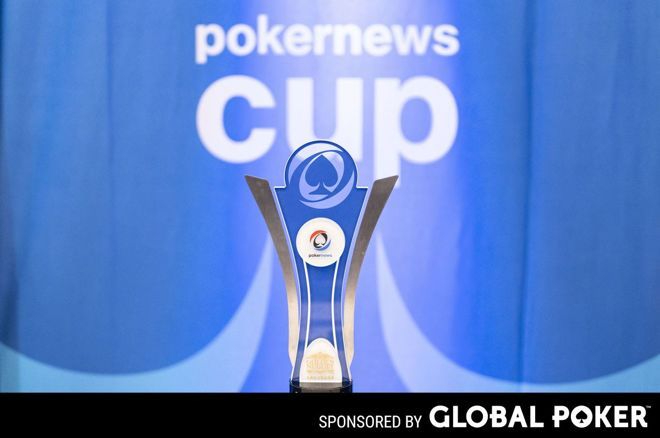 The 2023 World Series of Poker (WSOP) wasn't the only game in town over the summer. From June 29-July 3, the $1,100 buy-in, $1,000,000 GTD PokerNews Cup Mystery Bounty proved to be a tremendous hit as 2,331 entrants completely obliterated the $1 million guaranteed prize pool by more than doubling it at $2,261,070, the largest prize pool in Golden Nugget history.
The PokerNews Live Reporting Team has been busy capturing all the action in our live updates, and they've witnessed some hands go down that proved to be either entertaining, game-changing or just flat out brutal.
This article is brought to you by Global Poker. Global Poker offers fun and exciting social casino games, including traditional poker games, table games, and other slot machine options. It's legal and free to play almost everywhere in the US and Canada.
Play now and discover the world's best social casino!
Hudson Flops a Boat and Loses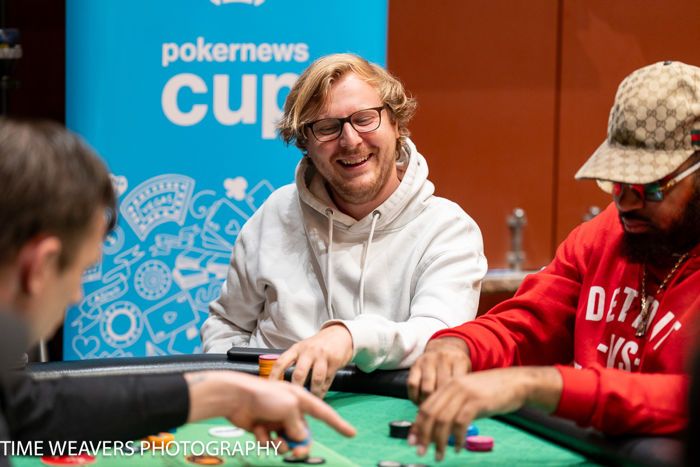 On Day 1a of the tournament, it was Level 8 (500/1,000/1,000) when reporter Calum Grant caught a big hand. The under-the-gun player opened before Spencer Hudson jammed for around 26,500 on his direct left. Oliver Bunting called off his 22,000 stack from middle position, which prompted the original raiser to fold.
Oliver Bunting: A♣A♠
Spencer Hudson: J♠J♣
Bunting was way ahead with his rockets until Hudson made a full house on the K♣K♠J♥ flop to become the huge favorite. The 6♦ turn changed nothing. However, the K♥ river improved Bunting to a superior full house while counterfeiting Hudson. Bunting collected the pot after the wild runout to leave his opponent on crumbs.
It wouldn't be the last time a flopped boat proved no good in the tournament.
Flopped Boats are Cursed in PokerNews Cup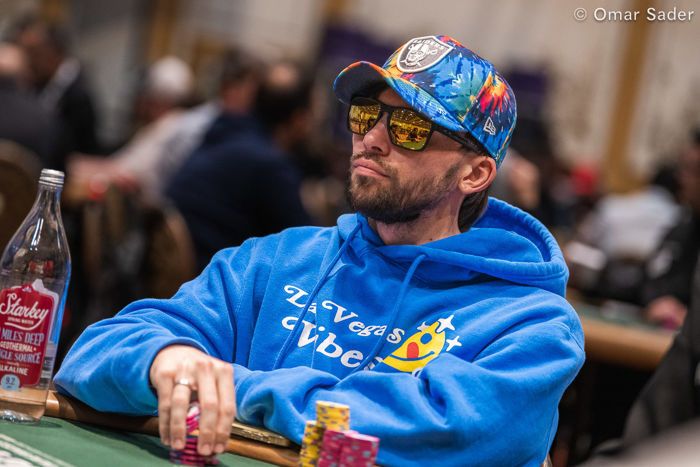 In Level 4 (200/400/400) on Day 1b, Grant saw Gloria Vallejo open to 1,100 from middle position and was called by Harrison Ashdown from the big blind.
The A♥4♣4♥ flop checked through to the 8♣ turn. Ashdown bet 1,400 and was called.
Sparks then began to ignite on the 9♣ river. Ashdown checked and Vallejo fired out 3,500. Ashdown made it 20,000 and then faced a jam for 32,900.
Ashdown went deep into the tank, listing the hands that beat him as well as the hands that he beat.
He began counting out his stack and called.
Vallejo tabled 9♥9♠ for a rivered full house of nines full of fours. Ashdown looked sickened as he had the A♦4♦ for fours full of aces, and sent his hand into the muck.
The hand is similar to a pot played between Spencer Hudson and Oliver Bunting yesterday. Hudson's flopped jacks full of kings against Bunting's aces. However, a third king on the river gave Bunting a superior full house.
Check out the Golden Nugget Poker Room review here on PokerNews!
Zolnai Makes Incredible Hero Call in Biggest Pot of the Day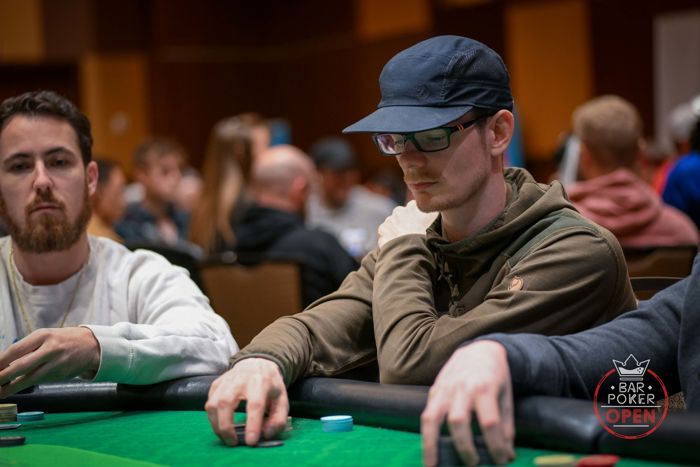 On Day 2, it was Level 23 (15,000/30,000/30,000) when Peter Zolnai opened to 45,000 from early position and called when Lucas Sfez three-bet to 140,000.
Zolnai opted to lead for 40,000 on the 7♣3♣2♥ flop and called again when Sfex made it 150,000.
Zolnai continued to fire for 100,000 and called once more when Sfez raised too 390,000 on the 6♣ turn.
Zolnai then slowed down on the K♠ river and checked. Sfez emptied the clip for 530,000 total. Zolnai covered him but went deep into the tank.
Several minutes passed by before the clock was called, but as soon as the TD approached the table, Zolnai committed his stack.
Sfez sheepishly showed J♥10♣ for complete air. Zolnai had just a pair of fives with his 5♥5♦ and scooped in the biggest pot of the day.
Sorrentino Doubles Through Kennedy with Quads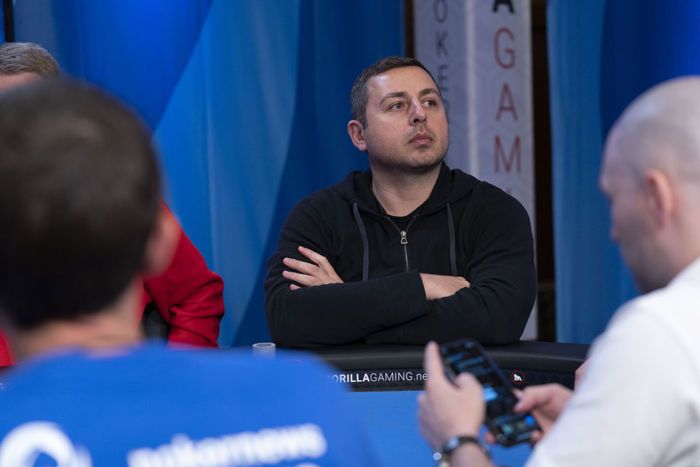 Also on Day 2 in the same level, reporter Liam Gannon saw Anthony Kennedy raise to 60,000 from early position and Raffaele Sorrentino called from the cutoff.
The flop came 7♣5♦2♦ and Kennedy continued for 50,000, which Sorrentino called.
On the turn 2♥, Kennedy continued once more for 145,000 and Sorrentino went into the tank before putting in the call.
On the 4♣ river, Kennedy moved all in for 750,000 effective and Sorrentino called immediately.
Raffaele Sorrentino: 2♣2♠
Anthony Kennedy: 4♦4♥
Kennedy had boated up on the river to make fours full of twos, but he was drawing dead after Sorrentino had turned quad twos, allowing him to take down a massive pot against the Day 1a leader.
See all the winners from the 2023 Grand Poker Series here!
Double Elimination at Final Three Tables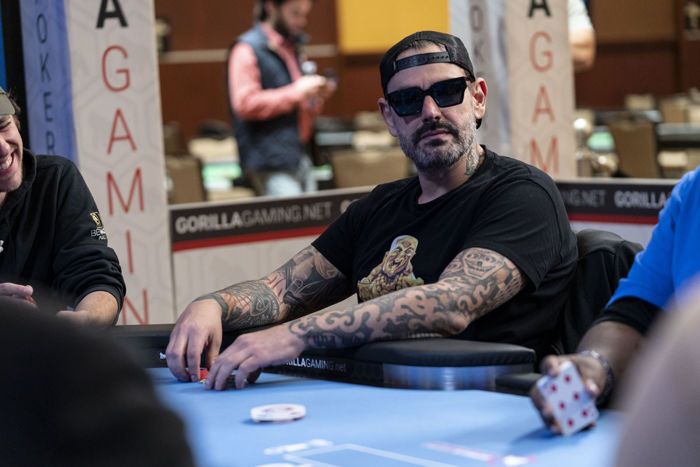 On Day 2 in Level 28 (50,000/100,000/100,000), just 27 players remained when Gannon caught a monster of a hand. It began when Tim Garles raised to 200,000 from early position and Nikolaos Angelou three-bet to 450,000. Andreas Chalkiadakis moved all in for 775,000, Forrest Raleigh moved all in having all players covered, Garles folded and Angelou called to put himself at risk for 1,900,000.
Andreas Chalkiadakis: A♣Q♣
Nikolaos Angelou: Q♠Q♥
Forrest Raleigh: J♦J♥
The flop of 6♣10♣3♣ saw Chalkiadakis excitedly walked over to his rail as he had flopped a flush leaving both of his opponents drawing very thin. The turn peeled off a J♠ leaving Angelou drawing dead to the main pot and only one out to survive while Raleigh found a myriad of outs to scoop both. The river 3♠ was one of those outs and Raleigh knocked out two players in one hand with his rivered full house.
Kelly Spikes a River Ace to Survive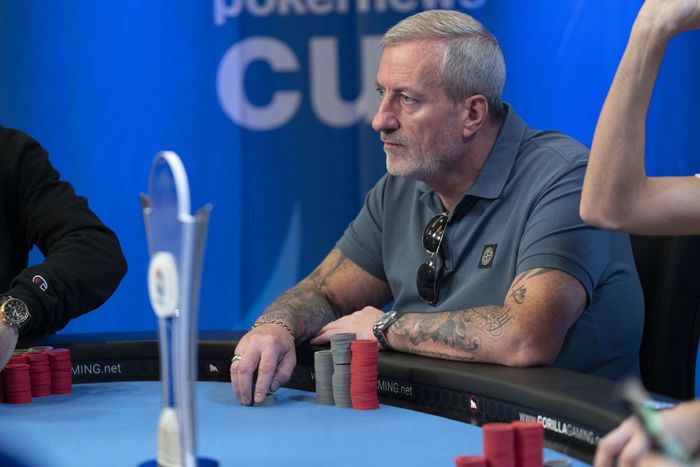 On Day 3 at the final table, it was Level 32 (150,000/300,000/300,000) when Johnny Kelly, the eventual champion, won a game-changing hand that helped propel him to victory. As Gannon reported, Vid Zagar raised to 600,000 in middle position and Kelly moved all in for 3,325,000, which saw action fold back around to Zagar who went into the tank before deciding to call.
Johnny Kelley: A♣A♥
Vid Zagar: 10♦10♣
One ten had already been tossed in the muck as had an ace. The board ran out 10♠Q♣3♥4♥A♠ and the English rail went wild as Kelly spiked his one-outer on the river to survive.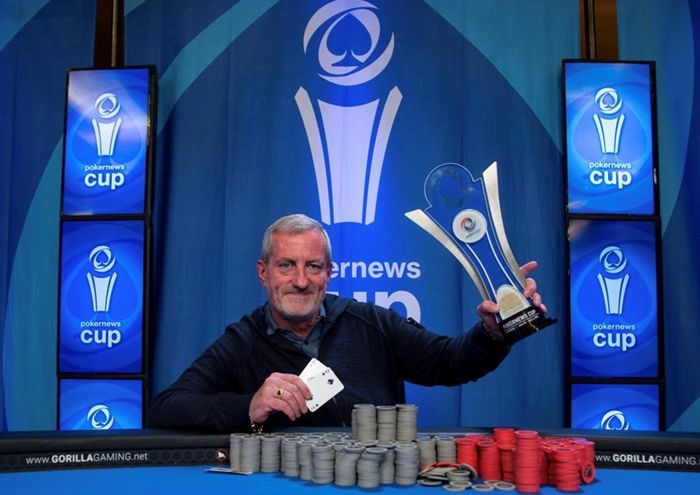 Poker's "Coming Home" as Brit Johnny Kelly Wins 2023 PokerNews Cup ($176,540)
Executive Editor US, PokerNews Podcast co-host & 2013 WSOP Bracelet Winner.