Nik Airball Torches Off Over $500K in Bonkers Hustler Casino Live PLO Game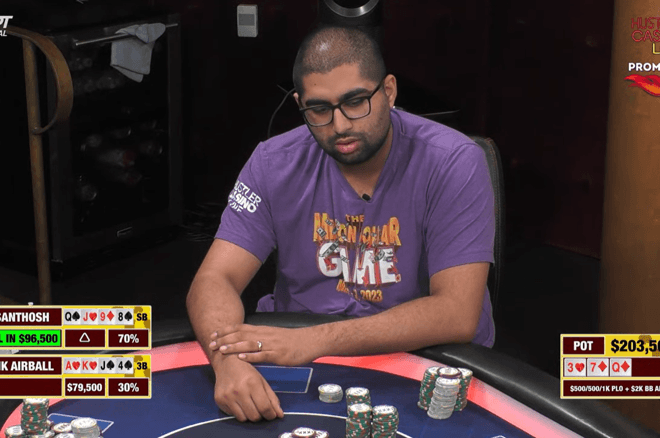 Nikhil "Nik Airball" Arcot took a beating on Tuesday night's Hustler Casino Live stream in one of the biggest and most insane pot-limit Omaha cash games ever publicly witnessed.
It's rare for PLO to take center stage in the live-stream world, and who better to commentate the action than Joey Ingram, perhaps the greatest ambassador for "the great game?"
The lineup was stacked and included poker legend Tom Dwan and Santhosh Suvarna, a long-time high roller who is becoming a regular in the live-stream community.
Hustler Casino Live is promoting PLO this week, a poker variant that is popular but not nearly to the level of no-limit hold'em. Poker fans don't get to see pot-limit Omaha on a live-stream often, but they can again on Wednesday, Thursday, and Friday.
There was clearly plenty of interest Tuesday night when over 11,000 concurrent viewers were tuned in consistently, and at times viewership had surpassed 14,000 eyeballs. Not only that but many poker fans were talking about the game on social media.
Another Rough One for Airball
Nik Airball had been a big winner on Hustler Casino Live for quite some time. But he's been on a huge downswing on the Hustler Casino-based poker show since May, including a $997,000 loss during the historic $1 million buy-in games.
According to TrackingPoker.com, which hasn't been updated over the past week, he was down $44,594 on HCL across 80 sessions. Add in a $90,000 winning session since and then subtract the $519,000 he dusted off Tuesday night and his cumulative losses are now around $474,000, and that doesn't even include the $1 million he lost in a heads-up challenge against Matt Berkey or the $260,000 he lost on Bally's Big Bet Poker earlier this month.
During the first PLO game on Hustler Casino Live, Airball ran into it time after time. It would be virtually impossible to have run any worse. He was repeatedly all in preflop and got scooped multiple times throughout the session when running it twice.
The blinds were at $500/$500/$1,000 with a $2,000 big blind ante, and that created a number of massive pots preflop, with players often three and four-betting the size of the pot — sometimes even five-betting. Everyone at the table bought in initially for $50,000, but the stack sizes drastically fluctuated throughout the seven-hour stream, thanks to hands such as the following.
https://twitter.com/HCLPokerShow/status/1681542576896376833
Airball went through more than 10 bullets on his way to losing over half a million. Dwan would go on to win $160,000 for the stream, but Anthony was the biggest winner at just over $400,000. The action will resume Wednesday night with more high-stakes pot-limit Omaha.