Can Some Fool's Gold Help Adam Walton Capture the 2023 WSOP Main Event Bracelet?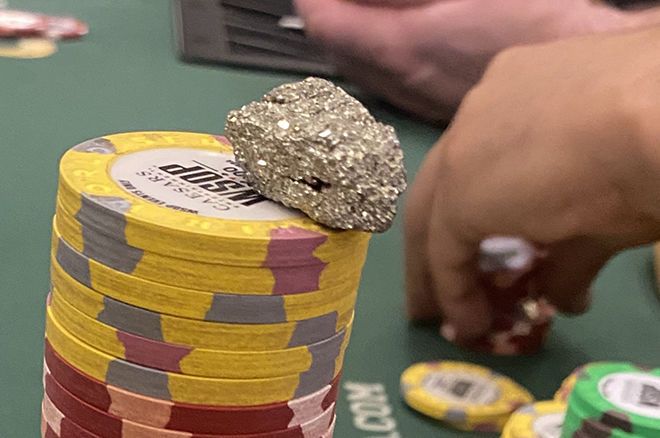 Poker players can be superstitious, and it is not unusual to see them wear a specific item of clothing throughout a tournament or use a trinket as a card protector. The eagle-eyed among you who have followed PokerNews coverage of the 2023 World Series Of Poker Main Event may have noticed something unusual about Adam Walton's chips. No, it is not the way he stacks them, but rather the fact that there is a shiny rock taking pride of place on top of his chips.
PokerNews is unaware if Walton is a superstitious fellow, but we do know that the rock is of great importance and symbolizes something rather special. The rock was once in the possession of Cody Daniels, the young, terminally ill poker player who achieved his dream of cashing in the 2023 WSOP Main Event.
Daniels' impressive run ended in a 635th place finish when he missed a flush and inside straight draw in a hand where Raj Vohra held an overpair to the board. Daniels received a round of applause from his former tablemates as he made his way to the cashier's desk to collect $30,000, but Vohra received something of much greater value. Daniels handed Vohra a small piece of rock, pyrite, to be exact. You may know pyrite by its Fool's Gold nickname.
https://twitter.com/CodyDaniels88/status/1678631633098887168
Pyrite is an abundant mineral with little monetary value, but this particular piece holds great sentimental value to Daniels. A lucky charm of sorts, Daniels planned to give the rock to whoever eliminated him from the Main Event and was hopeful that it would find its way to the final table.
For highly intelligent people, poker players can be forgetful souls. No doubt, Daniels thought a player would put the rock in their pocket and forget about it until they arrived at their hotel room and wondered what on Earth was digging into their leg. As luck would have it, the small piece of pyrite eventually found its way to Walton, who sat down at the WSOP Main Event final table with the chip lead in tow. Walton reached Day 2 of the final table and was responsible for bringing the curtain down on Day 1 when he woke up with pocket aces, which held against Jan-Peter Jachtmann's all-in squeeze. Could the rock have helped those aces appear in Walton's hand?
Although he is third from three going into the grand finale, Walton has 83 big blinds at his disposal, plus possibly the luckiest, most talked about piece of rock in poker.
https://twitter.com/CodyDaniels88/status/1680238287712305152
Daniels learned that Walton had his beloved pyrite and took to Twitter as he attempted to track down Walton. Through the power of social media, Daniels managed to get hold of Walton, who called Daniels and promised that he would return the rock in person if he went all the way and became poker's latest world champion. Furthermore, Walton offered to fly Daniels back to Las Vegas to watch the final table unfold.
Unfortunately, Daniels has decided against traveling back to Las Vegas to see if his beloved rock helps propel Walton to victory, which would result in Walton reeling in a $12.1 million cash prize plus a very real gold bracelet. According to a Tweet, Daniels is not feeling 100% and does not want to risk becoming more ill, mainly because he was invited to the Hustler Casino Live Family Meet Up Game on July 23, where money will be raised for him and his family.
https://twitter.com/CodyDaniels88/status/1680946714612760577
The cards are back in the air from 1:00 p.m. local time on July 17, and you can follow all of the updates from the final day of the 2023 WSOP Main Event from 2:00 p.m. local time due to a delay for the PokerGO stream. Keep an eye out for Daniels' rock.