WPT Prime Taiwan Set to Run August 8-21 at New Asia Poker Arena in Taipei City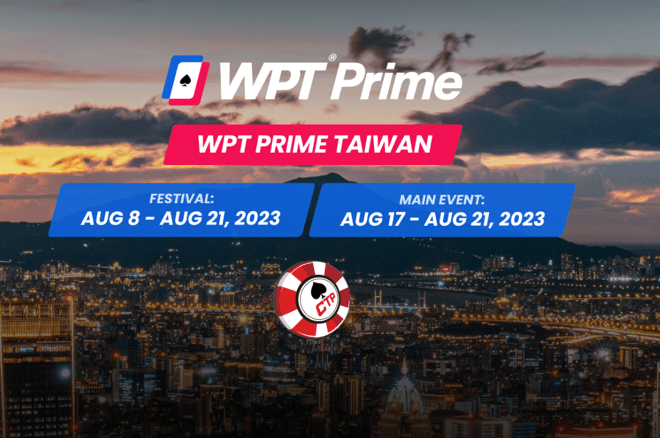 The World Poker Tour (WPT) makes its way to the capital of Taiwan for two weeks of exciting WPT Prime Taiwan action from August 8–21.
The series is poised for a huge turnout and will be held at the newly established Asia Poker Arena in Taipei City, Taiwan. The state-of-the-art venue features 50 poker tables and is primed to be the perfect locale to set new records.
"With the help of the Chinese Texas Hold'em Poker Association, we are presenting our first-ever one-million-dollar guarantee in Asia," said WPT CEO Adam Pliska. "WPT Prime continues to hit milestone numbers this season, so we are eager to witness the turnout in Taiwan."
Variety of Exciting Events
The WPT Prime Taiwan schedule is packed with a variety of events, including a Mystery Bounty event and a Supersonic NLHE/Liar's Dice event, as well as plenty of satellites to move up to bigger tournaments.
The marquee event of the poker festival is the TWD 33,000 buy-in WPT Prime Taiwan Main Event, featuring a USD $1,000,000 guaranteed prize pool.
The Main Event gets underway on August 17 and has three starting flights. The survivors of each flight will combine for Day 2 on August 20, and Day 3 will take place on August 21 when a champion will be crowned.
Big Prize Pools Expected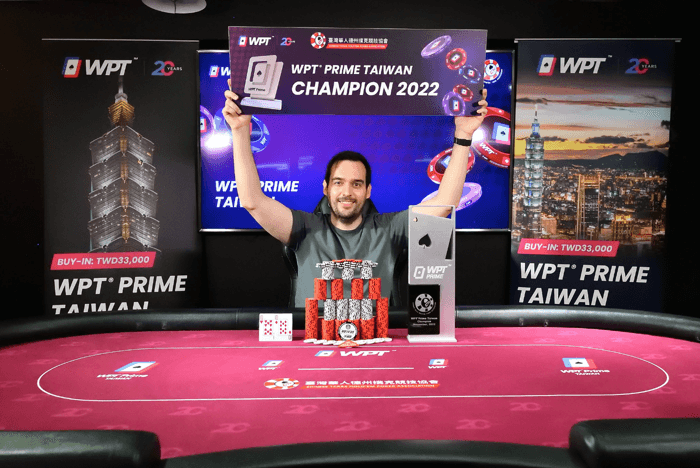 This is the second-annual edition of the WPT Prime Taiwan with the first having occurred in November 2022. The inaugural Main Event title went to France's Marc Inizan, who took home TWD 4,326,600, equivalent to $138,851 USD.
That event attracted 877 entrants to generate a prize pool of $808,623 USD, and that number is sure to be smashed this time around with a seven-figure USD prize pool guaranteed for the marquee event of this year's WPT Prime Taiwan.
Win a WPT Prime Passport on WPT Global
Even if you're not planning on traveling to East Asia for this highly anticipated series, there are still multiple ways to get in on the action at WPT Prime future stops.
Online Poker Room WPT Global gives players the chance to secure their seats to various events around the world with the $1,500 WPT Prime Passport, which allows them to play at a live event of their choice.
The Passport Qualifiers have a $110 buy-in and run every Saturday at 2 p.m. ET and Sunday and 6 p.m. ET., while you can even satellite your way into a qualifier for as low as $5.
The next WPT Prime stops include:
Aix-en-Provence, France - August 3-6
Liechtenstein - September 8-11
Madrid, Spain - September 28-October 1
Las Vegas, USA - December 7-12
And watch for many more WPT live events
Join WPT Global Today
The launch of WPT Global means that poker players around the world now have the chance to win their way to WPT events, win prizes and enjoy exciting games such as Poker Flips. As one of the world's largest cash game poker networks, WPT Global is available in over 50 countries and territories worldwide.
WPT Global also offers new players matched deposit bonus of 100% up to a maximum of $1,200. Any new player who deposits $20 or more will automatically receive this deposit bonus.
The playthrough requirements for this bonus is fairly straightforward, with each $2.50 increment of the bonus being unlocked every time you generate $10 of rake. This rake can come from either tournaments or cash games. The bonus expires after 90 days starting from the date of your first deposit.
To further sweeten the deal, WPT Global will also award you some tournament tickets. The exact reward depends on whether you are a new player and how big your deposit was.
| Players | Deposit No. | Min Deposit | Reward | Total Rewards |
| --- | --- | --- | --- | --- |
| New only | 1st | $20 | $11 Mini Slam ticket | $11 Mini Slam ticket |
| New and Existing | 2nd | $20 | $11 Mini Slam ticket | 2x $11 Mini Slam tickets |
| New and Existing | Deposit of $300+ | $300 | $110 Sunday Slam ticket | $11 Mini Slam and $110 Sunday Slam ticket |
| New and Existing | Deposit of $1,200+ | $1,200 | 2x $110 Sunday Slam tickets | $11 Mini Slam and 3x $110 Sunday Slam tickets |
Check out the WPT Hub on PokerNews here!
WPT Prime Taiwan Schedule
| Start Date | Buy-In (TWD) | Tournament |
| --- | --- | --- |
| 8-Aug | 2,000 | Satellite to Main Event Warmup |
| 8-Aug | 10,000 | No Limit Hold'em - Main Event Warm Up (Event #1) Day 1A |
| 8-Aug | 8,000 | Pot Limit Omaha Warm Up (Event #2) Day 1 |
| 8-Aug | 6,000 | No Limit Hold'em - Turbo (Event #3) |
| 8-Aug | 66,000 | No Limit Hold'em - Mini High Roller Warm Up (Event #4) Day 1 |
| 8-Aug | 2,000 | Satellite to Main Event Warmup |
| 8-Aug | 2,000 | Satellite to Main Event Warmup |
| 9-Aug | 10,000 | No Limit Hold'em - Main Event Warm Up (Event #1) Day 1B |
| 9-Aug | 66,000 | No Limit Hold'em - Mini High Roller Warm Up (Event #4) Day 2 |
| 9-Aug | 6,000 | No Limit Hold'em - Mini Superstack Classic (Event #5) Day 1 |
| 9-Aug | 2,000 | Satellite to Main Event Warmup |
| 10-Aug | 2,000 | Satellite to Main Event Warmup |
| 10-Aug | 10,000 | No Limit Hold'em - Main Event Warm Up (Event #1) Day 1C |
| 10-Aug | 50,000 | No Limit Hold'em - High Roller (Event #6) |
| 10-Aug | 6,000 | No Limit Hold'em - Mega Stack Turbo (Event #7) |
| 10-Aug | 3,500 | Satellite to Mystery Bounty |
| 11-Aug | 3,500 | Satellite to Mystery Bounty |
| 11-Aug | 16,500 | No Limit Hold'em - Mystery Bounty (Event #8) Day 1A |
| 11-Aug | 50,000 | No Limit Hold'em - High Roller Warm Up (Event #9) Day 1 |
| 11-Aug | 8,000 | No Limit Hold'em - Deepstack Turbo (Event #10) |
| 11-Aug | 10,000 | Pot Limit Omaha - PLO 15/15/15 (Event #11) |
| 11-Aug | 22,000 | + 10,000 No Limit Hold'em - Deepstack Turbo Big Bounty (Event #12) |
| 11-Aug | 3,500 | Satellite to Mystery Bounty |
| 12-Aug | 3,500 | Satellite to Mystery Bounty |
| 12-Aug | 16,500 | No Limit Hold'em - Mystery Bounty (Event #8) Day 1B |
| 12-Aug | 16,500 | No Limit Hold'em - Mystery Bounty (Event #8) Day 1C |
| 12-Aug | 50,000 | No Limit Hold'em - Hyper Turbo High Roller (Event #13) |
| 12-Aug | 6,000 | Satellite to Main Event |
| 13-Aug | 2,000 | Satellite to Deepstack NLHE |
| 13-Aug | 10,000 | No Limit Hold'em - Deepstack (Event #14) |
| 13-Aug | 66,000 | No Limit Hold'em - Mini High Roller (Event #15) Day 1 |
| 13-Aug | 11,000 | Pot Limit Omaha (Event #16) Day 1 |
| 13-Aug | 6,000 | No Limit Hold'em - Turbo (Event #17) |
| 13-Aug | 16,500 | + 50,000 No Limit Hold'em - Turbo Survivor Bounty (Event #18) |
| 13-Aug | 6,000 | Satellite to Main Event |
| 14-Aug | 4,000 | Satellite to 8-Max Championship |
| 14-Aug | 22,000 | No Limit Hold'em - 8-Max Championship (Event #19) Day 1A |
| 14-Aug | 8,000 | No Limit Hold'em - Megastack (Event #20) |
| 14-Aug | 22,000 | No Limit Hold'em - 8-Max Championship (Event #19) Day 1B |
| 14-Aug | 6,000 | No Limit Hold'em - Hyper Turbo (Event #21) |
| 14-Aug | 6,000 | Satellite to Main Event |
| 15-Aug | 2,000 | Satellite to Megastack Accumulator |
| 15-Aug | 11,000 | No Limit Hold'em - Megastack Accumulator (Event #22) Day 1A |
| 15-Aug | 100,000 | No Limit Hold'em - Megastack High Roller (Event #23) |
| 15-Aug | 6,000 | No Limit Hold'em - Ladies (Event #24) |
| 15-Aug | 7,000 | No Limit Hold'em - Hyper Turbo (Event #25) |
| 15-Aug | 11,000 | No Limit Hold'em - Megastack Accumulator (Event #22) Day 1B |
| 15-Aug | 6,000 | Satellite to Main Event |
| 16-Aug | 1,400 | Qualifier to Milestone Main Event Satellite |
| 16-Aug | 7,000 | No Limit Short Deck Hold'em (Event #26) |
| 16-Aug | 7,800 | Milestone Satellite to WPT Main Event |
| 16-Aug | 300,000 | No Limit Hold'em - CTP High Stakes Challenge (Event #27) |
| 16-Aug | 11,000 | No Limit Hold'em - Superstack Turbo Freezeout (Event #28) |
| 16-Aug | 6,000 | No Limit Hold'em - Seniors 50+ (Event #29) |
| 16-Aug | 22,000 | No Limit Hold'em - Hyper Turbo (Event #30) |
| 16-Aug | 7,000 | Satellite to Main Event |
| 17-Aug | 7,000 | Satellite to Main Event |
| 17-Aug | 33,000 | No Limit Hold'em - WPT Prime Main Event (Event #31) Day 1A |
| 17-Aug | 200,000 | No Limit Hold'em - WPT Prime Super High Roller (Event #32) Day 1 |
| 17-Aug | 25,000 | Pot Limit Omaha (Event #33) Day 1 |
| 17-Aug | 11,000 | No Limit Hold'em - Deepstack 8-Max (Event #34) Day 1 |
| 17-Aug | 7,000 | Satellite to Main Event |
| 18-Aug | 7,000 | Satellite to Main Event |
| 18-Aug | 33,000 | No Limit Hold'em - WPT Prime Main Event (Event #31) Day 1B |
| 18-Aug | 12,000 | No Limit Hold'em - Freezeout (Event #35) |
| 18-Aug | 66,000 | No Limit Hold'em - Turbo High Roller (Event #36) |
| 18-Aug | 7,800 | Milestone Satellite to WPT Main Event |
| 19-Aug | 7,000 | Satellite to Main Event |
| 19-Aug | 33,000 | No Limit Hold'em - WPT Prime Main Event (Event #31) Day 1C |
| 19-Aug | 3,000 | No Limit Hold'em - Supersonic NLHE/Liar's Dice (Event #37) Round 1 |
| 19-Aug | 11,000 | No Limit Hold'em - Turbo (Event #38) |
| 19-Aug | 75,000 | No Limit Hold'em - Hyper Turbo High Roller (Event #39) |
| 19-Aug | 11,500 | Satellite to High Roller |
| 20-Aug | 10,000 | No Limit Hold'em - Mini Main Event Freezeout (Event #40) Day 1 |
| 20-Aug | 100,000 | No Limit Hold'em - WPT Prime High Roller (Event #41) Day 1 |
| 20-Aug | 16,500 | No Limit Hold'em - Superstack Classic (Event #42) Day 1 |
| 20-Aug | 7,000 | No Limit Hold'em - Hyper Turbo (Event #43) |
| 21-Aug | 16,500 | No Limit Hold'em - WPT Closer Megastack (Event #44) |
| 21-Aug | 100,000 | No Limit Hold'em - WPT Prime High Roller (Event #41) Day 2 |
| 21-Aug | 35,000 | No Limit Hold'em - Turbo Main Event (Event #45) |
| 21-Aug | 10,000 | No Limit Hold'em - 10/10/10/10 Finale (Event #46) |