Two Players Bust on the First Hand of 2023 WSOP Main Event Day 1D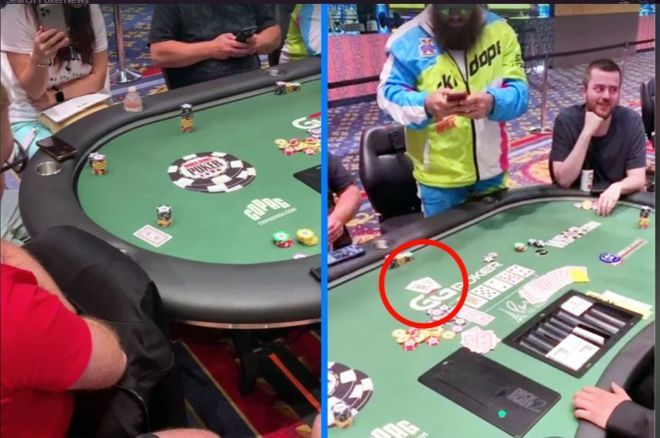 Chris Moneymaker was introduced prior to the start of Day 1d at the 2023 World Series of Poker (WSOP) Main Event. A couple minutes later, two players had already dusted off their stacks.
The all-time WSOP Main Event attendance record was broken on Thursday, a record held since 2006 (8,773 players), the year Jamie Gold won it for $12 million.
As we await to see just how many players will be registered on Day 1d, plenty of excitement is taking place inside Horseshoe and Paris Las Vegas, starting with two epic hands moments following "shuffle up and deal."
Player Loses Kings vs. Aces Twice on Day 1 of Main Event
Two Players Out Instantly
Poker player Scott Fitzhugh (@fitzpoker), who was at the table, shared a video of the first hand on Twitter. One player was all in with pocket kings against pocket aces, which held up. The pocket kings dusted off a full 300 big blind stack, and $10,000, one hand into what will be a 10-day tournament.
https://twitter.com/fitzpoker/status/1677033567673802752
Early double ups in a marathon tournament such as the Main Event don't guarantee anything, but they sure are nice for the player who takes it down.
2023 World Series of Poker Hub
Bookmark this page! All you need to know about the 2023 WSOP is here.
In the second immediate bust-out, the PokerNews team was called over to a table with a massive pot brewing. With close to 18,000 already in the middle on a board showing Q♣8♠2♠9♦, Mikolaj Zawadzki checked from the big blind to Jamie Smith in the hijack who bet 12,000.
Zawadzki tossed in chips for the call and the 5♥ completed the board. Zawadzki checked again and Smith moved all in for 44,000. Zawadzki went deep in the tank, contemplating his decision for more than four minutes, until eventually sliding his stack forward to make the call.
Smith tabled Q♥Q♦ for top set and Zawadzki looked sick as he rolled over 8♥8♦ for middle set as he made his way to the exit on the very first hand. If there's any consolation for Zawakdski, at least he wasn't the only player to bust right off the bat.
Follow Day 1d Live Coverage at PokerNews