Would You Rather Get a WSOP Main Event Seat for Life or $200,000?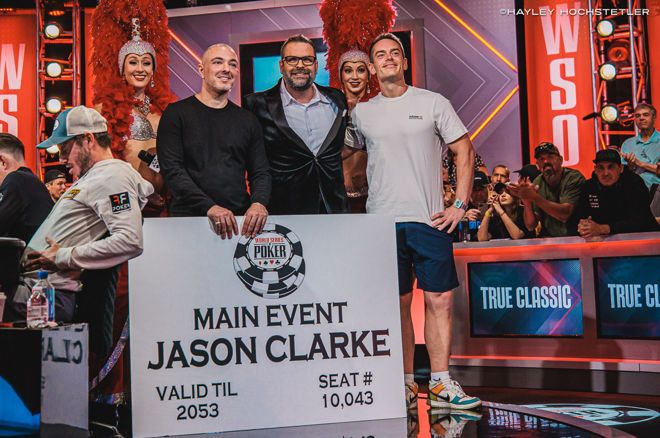 The long anticipated drawing for the World Series of Poker (WSOP) Main Event "Seat for Life" promotion was revealed prior to Sunday's final table, and it went to Canadian poker player Jason Clarke.
Clarke will receive free entry into poker's world championship event until 2053, valued at $300,000 — $10,000 each year — assuming he lives that long. The seat is non-transferrable.
2023 World Series of Poker Hub
Bookmark this page! All you need to know about the 2023 WSOP is here.
The drawing held was for all 10,043 entries in the record-setting 2023 WSOP Main Event. Only one individual would win one of the most epic promotions in poker history. Clarke, who played but didn't cash in his first Main Event, was handed a prop check from Jack Effel prior to "shuffle up and deal."
While there wasn't an option for the winner to trade in his prize to find out what's behind Door #2, so at PokerNews our Phil Hourguettes pondered the question on social media — what if the winner could pick another prize? More specifically, what if that alternate reward was $200,000 in cash instead of the 30 free buy-ins.
What Would You Do?
There's never a guarantee for anyone to cash in the Main Event, even over many years. Take Allen Kessler, for example, who broke a 15-year drought of failing to reach the money in 2019. So, in the "Chainsaw's" case, had he won free entry, the monetary value for those 15 empty years would have been $0. Hence, why there could be some merit to taking the $200,000 guaranteed cash in our hypothetical scenario.
But we don't want to influence your vote, so let's get straight to it. If you won the drawing and were given an option from the WSOP to trade the prize in for the money, would you take it?
For a bit of reference, in this year's Main Event, surpassing $200,000 would have required finishing in 44th place or better. One deep run or a number of small cashes is all it would take to make it more profitable taking the seat for life. Of course, in this hypothetical scenario, the only guarantee that you'd make any money off the prize would be to take the cash. That said, the entertainment value of playing in poker's Super Bowl every year can't be topped.
Clarke, who won a Daily Deep Stack for $19,500 to cover his Main Event entry, will no longer have to pay to play in the biggest poker tournament again. He said he'll donate 5% of future winnings in the Main Event to various charities.
Follow Live Coverage of the WSOP Main Event Final Table