2023 WSOP Main Event Finalist Dean Hutchison Wins Goliath High Roller Title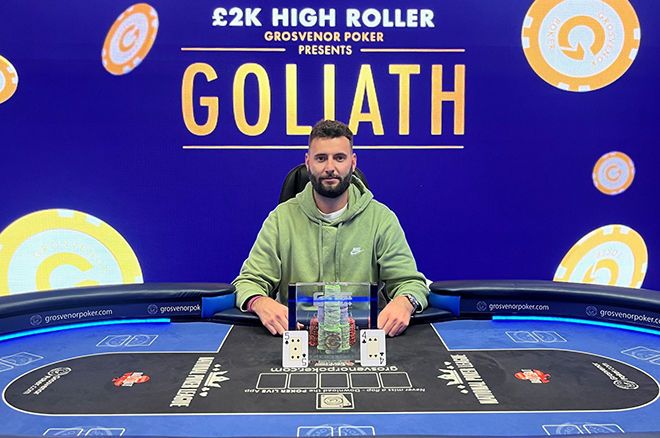 What would you do if you had recently padded your bankroll with $1,850,000? Jet off on holiday for a month or two? Take a break from the poker grind? Or head to Coventry, buy into the £2,000 Goliath High Roller event and take it down for £55,200? Dean Hutchison decided on the latter.
Hutchison was one of 103 entrants in the Goliath High Roller this week; he helped create a £185,400 prize pool. The top 11 finishers shared that princely sum. You may recall Hutchison recently finished sixth in the 2023 World Series of Poker Main Event.
Dan Laidlaw was the first player to fall in the money places, his 11th place finish coming with a £4,100 payout. Colin Gillon joined Laidlaw at the cashier's desk, where he collected £4,400.
Leo Worthington-Leese pushed his live poker lifetime earnings past $1 million with the £5,000 ninth-place prize money in this high roller event/
The Goliath High Roller became an all-male affair with the elimination of Jessica Pilkington in eighth. Pilkington, who counts a victory in the Women's event at the 2022 European Poker Tour London among the many poker accolades, banked £5,500.
Seventh place and £6,600 went to Matthew Davenport, who earlier in the week reeled in a £116,200 score after taking down the Goliath GUKPT Main Event, which happened to be the popular pro's first live six-figure haul. Davenport came unstuck when he ran pocket jacks into Ravi Sheth's aces.
The final four-figure prize, £8,900, went to Sheth, who could not put Davenport's chip to good use. Sheth entered a preflop raising war with Hutchison that resulted in him four-bet shoving for 25 big blinds with ace-ten, only for Hutchison to wake up with a pair of kings in the hole.
Could the 2023 Goliath Award £1.5 Million in Prize Money?
A short-stacked Joe Newby was the next to fall, his ace-try losing to the dominating ace-queen of James Ivall. Newby padded his bankroll with £12,300. Ryan Otto then lost a coinflip with king-jack against Hutchison's sevens to bust in fourth for £16,600.
Mitchell Speck won his £2,000 High Roller seat via a cashout satellite and turned that into £23,500 score. Speck's exit left Hutchison heads-up against Ivall, who like Speck, satellited into this event.
The final hand saw Hutchison limp with five-four, and Ivall check his jack-six. Ivall check-called a 100,000 bet on the five-jack-four flop before check-calling a 350,000 bet on the three of clubs turn. Ivall checked again on the queen of clubs river, Hutchison moved all-in, and Ivall called off his 1,600,000 stack with what turned out to be the second-best hand. Hutchison clinched the title and £55,200, resigning Ivall to a £35,900 consolation prize, albeit it leaving Ivall with a superb ROI on his satellite investment.
GOLIATH High Roller Final Table Results
| Rank | Player | Prize |
| --- | --- | --- |
| 1 | Dean Hutchison | £55,200 |
| 2 | James Ivall | £35,900 |
| 3 | Mitchell Speck | £23,500 |
| 4 | Ryan Otto | £16,600 |
| 5 | Joe Newby | £12,300 |
| 6 | Ravi Sheth | £8,900 |
| 7 | Matthew Davenport | £6,600 |
| 8 | Jess Pilkington | £5,500 |
| 9 | Leo Worthington-Leese | £5,000 |
Matthew Davenport Does It Again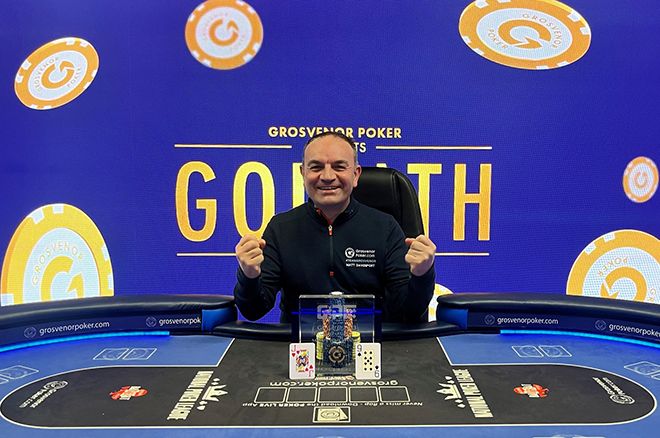 Matthew Davenport is the reigning Grosvenor Player of the Year, and when you look at his exceptional results, it is easy to see why. This week, Davenport outlasted 543 opponents in the £1,000 Goliath GUKPT Main Event to bank a career-best £116,200 live score.
The top 54 finishers won a slice of the £489,600 prize pool. Luminaries such as recent WSOP bracelet winner Tom Halll, the aforementioned Jessica Pilkington, Jamie O'Connor, Robbie Bull, and Euan McNicholas cashed, but the tournament belonged to Davenport.
Only two of the nine finalists failed to turn their £1,000 buy-in into a five-figure haul. Paul Clements and Stewart Kirby secured payouts of £7,200 and £8,700 when the were the first two casualties of the final table.
Constantin Erhan crashed out in seventh for £10,100, Umberan Akhtar fell in sixth for £14,400, with Richard Blacklock helping himself to the £19,700 fifth-place prize, the latter boasting of a new career-high.
How Winning the Goliath Opened Poker Doors for Kyle Jeffrey
Seasoned veteran Fraser Bellamy, who finished third in the £1,100 UKPC High Roller in January for £18,020, reeled in a £31,900 score after busting in fourth, while Curtis Mann registered only his second recorded live score, one worth £48,900, when his deep run ended in a third-place finish.
Davenport fought one-on-one with Scott Meredith for the title and the six-figure top payout. Davenport put his vast experience to good use and defeated Meredith, leaving the runner-up to see £81,000 land in his bank account. Meanwhile, a delighted Davenport became a poker champion again and raked in £116,200 for his efforts.
GOLIATH GUKPT Main Event Final Table Results
| Rank | Player | Prize |
| --- | --- | --- |
| 1 | Matt Davenport | £116,200 |
| 2 | Scott Meredith | £81,000 |
| 3 | Curtis Mann | £48,900 |
| 4 | Fraser Bellamy | £31,000 |
| 5 | Richard Blacklock | £19,700 |
| 6 | Umberan Akhtar | £14,400 |
| 7 | Constantin Erhan | £10,100 |
| 8 | Stewart Kirby | £8,700 |
| 9 | Paul Clements | £7,200 |
GOLIATH Entries Surpass 4,100 Through the First Three Flights
Three of eight scheduled GOLIATH Day 1s are done and dusted, and everything is pointing toward the tournament breaking its attendance record yet again. Through Day 1c, some 4,143 players have bought in, and 386 of those have navigated their way through to Day 2.
Day 1d, which commences at 12:00 p.m. on August 1, had more than 600 players pre-registered, and could push through 2,000 entrants. With the busiest flights yet to come, a £1.5 million prize pool is not outside the realms of possibility!
| Date | Time | Event | Buy-in |
| --- | --- | --- | --- |
| Tue 1 Aug | 12:00 p.m. | Goliath Main Event Flight D | £150 |
| | 6:00 p.m. | Pot Limit Omaha | £200 |
| | 7:00 p.m. | Mystery Bounty Day 1C | £440 |
| Wed 2 Aug | 12:00 p.m. | Goliath Main Event Flight E | £150 |
| | 4:15 p.m. | Mystery Bounty Day 2 | |
| | 7:00 p.m. | Joker's Wild Does Carer's Trust | £100 |
| Thu 3 Aug | 12:00 p.m. | Goliath Main Event Flight F | £150 |
| | 12:00 p.m. | SHR Satellite Cashout Turbo | £370 |
| | 2:00 p.m. | Super High Roller | £3,500 |
| | 4:15 p.m. | Mystery Bounty Day 3 | |
| Fri 4 Aug | 11:00 a.m. | Goliath Main Event Flight G | £150 |
| | 6:00 p.m. | Goliath Main Event Flight H Turbo | £150 |
| Sat 5 Aug | 11:00 a.m. | Goliath Main Event Day 2 | |
| | 2:30 p.m. | Goliath Cup Day 1 | £550 |
| | 4:00 p.m. | Redtooth Poker Tag Team Open | £200 |
| | 6:00 p.m. | APAT Open Championship | £120 |
| Sun 6 Aug | 11:00 a.m. | Goliath Main Event Day 3 | |
| | 12:00 p.m. | Redtooth Poker Tour Leg 2 | Members Only |
| | 12:00 p.m. | Seniors | £150 |
| | 1:00 p.m. | Turbo | £170 |
| | 1:00 p.m. | APAT Open Championship Final Day | |
| | 2:30 p.m. | Goliath Cup Day 2 | |
| Mon 7 Aug | 7:00 p.m. | £50,000 Gtd Online Closer | £110 |
| Tue 8 Aug | 7:00 p.m. | £50,000 Gtd Online Closer Day 2 | £110 |