Get Ready for the Omaha Ultimate Cashback Promotion on 888poker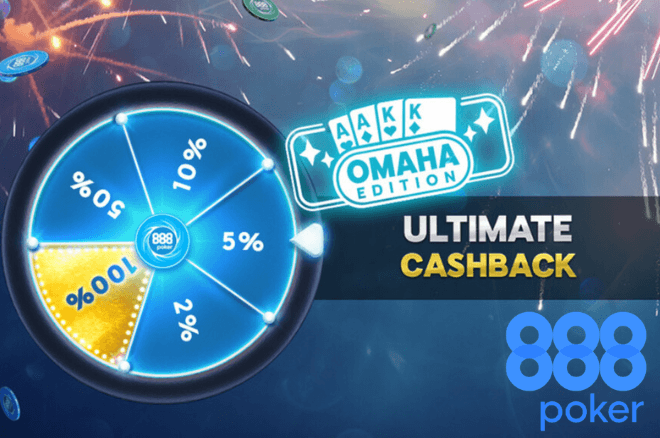 888poker has consistently been at the forefront of delivering innovative and rewarding experiences to its players, and the latest addition to its arsenal of player-centric promotions is the Omaha Ultimate Cashback offer.
Tailored exclusively for enthusiasts of Omaha cash games and designed to infuse an extra dose of thrill and anticipation into your poker journey, this promotion presents an opportunity to walk away with tangible, cold, hard cash.
How to Take Part in the Promo
Here's a breakdown of how the Omaha Ultimate Cashback promotion unfolds:
Play Omaha Cash Games: The journey begins as you immerse yourself in the captivating realm of Omaha cash games.
Spin the Ultimate Cashback Spinner: Head back to 888poker the following day after you've broken ground in the Omaha cash games street to have a twirl of the spinner.
Unveil Your Cashback Reward: The spinner takes center stage, determining the magnitude of your cashback reward. The rewards range from a modest 2% to a jaw-dropping 100% of the rake you generated during the previous day's Omaha cash games.
Spin and Win Everyday: The Omaha Ultimate Cashback promotion is a call to action, urging you to make the spinning of the Ultimate Cashback Spinner a part of your daily routine. By embracing this consistency, you open the doors to continuous cashback rewards.
Vivian Saliba Shares Top Tips for PLO
The promotion is likely to attract novice Omaha players, so try and stay ahead of the curve and check out these top tips for PLO starting hand selection from 888poker ambassador Vivian Saliba.
Saliba says to focus on these five points and she then expands on them in the video below, so be sure to not skip over it.
Focus on Nut Hand Possibilities
Choose Starting Hands that are Connected
It's Important to be Suited
Don't Overvalue High Pairs
Position is Important
Keep Track Of All The Action With The PokerNews Online Tournament Calendar
You should give the PokerNews Online Tournament Calendar a try. This free-to-use tool keeps track of the poker tournaments on major online poker sites like 888poker.
You can filter and search the tournaments to find what you're looking for quickly and easily, including the PokerNews exclusive freerolls held on 888poker.
Sign up for 888poker today, and you can register for poker tournaments without ever leaving the calendar!