Allen Kessler Wins 4th WSOPC Ring; Daniel Lowery Claims 14th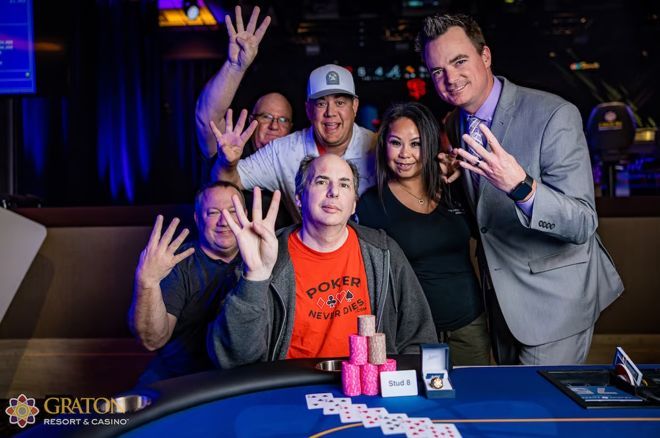 Allen Kessler was so thrilled with winning his fourth World Series of Poker Circuit (WSOPC) ring on Saturday that he forgot to tell the server to leave off the "green stuff" at his victory dinner.
The "Chainsaw" won his first WSOP anything tournament since midway through President Obama's second term when he took down the $400 buy-in Stud-8/Omaha-8 event at Graton Resort & Casino in Northern California. He beat out a field of 57 entrants for a $6,314 payday.
On Friday, Daniel Lowery, by winning the $1,125 buy-in Pot-Limit Omaha in the same series, tied Josh Reichard for third place all-time with 14 Circuit rings. One day earlier, Ari Engel won his 15th ring, which put him in a tie with Maurice Hawkins at the top.
Valentin Vornicu, who once held the record but hasn't won a ring since 2018, is now alone in fifth place with 12 rings. Lowery's win, good for $21,518, was his fourth of the year and he now has nearly $1.6 million in WSOPC cashes. The all-time top 10 standings are as follows:
| Place | Player | Rings |
| --- | --- | --- |
| 1t | Ari Engel | 15 |
| 1t | Maurice Hawkins | 15 |
| 3t | Josh Reichard | 14 |
| 3t | Daniel Lowery | 14 |
| 5 | Valentin Vornicu | 12 |
| 6t | Jeffrey Trudeau Jr. | 10 |
| 6t | Robert Hankins | 10 |
| 6t | Martin Ryan | 10 |
| 6t | David Larson | 10 |
| 10t | Michael Lech | 9 |
| 10t | Roland Israelashvili | 9 |
| 10t | John Holley | 9 |
| 10t | Alexandru Masek | 9 |
Small But Proud Victory
The buy-in was relatively small, and the field even smaller. But it was clearly a proud moment for Kessler as he ended a nearly decade-long drought. Still, that didn't stop Shaun Deeb from raining on his parade.
https://twitter.com/shaundeeb/status/1693076227056124207
The mixed game event champion defeated Wendy Freedman, who was also chasing her fourth ring, heads-up for the title. Graton Poker Room's X page shared a clip of the final hand in Stud-8 (video below). Kessler caught a nine-high straight and his opponent was unable to hit her straight draw on seventh street.
"Unbelievable," an enthusiastic four-time ring winner said after the final card was dealt before holding up eight fingers.
https://twitter.com/GratonPoker/status/1693074254047084683
Kessler's response to Deeb's negative comment was that he can't control the buy-in or field size. "I just came here to play mixed events." The Chainsaw, who is often fixated on The Hendon Mob results, now has 456 cashes across all lifetime live poker tournaments, per the database he frequents, for a total of $4.3 million in cashes.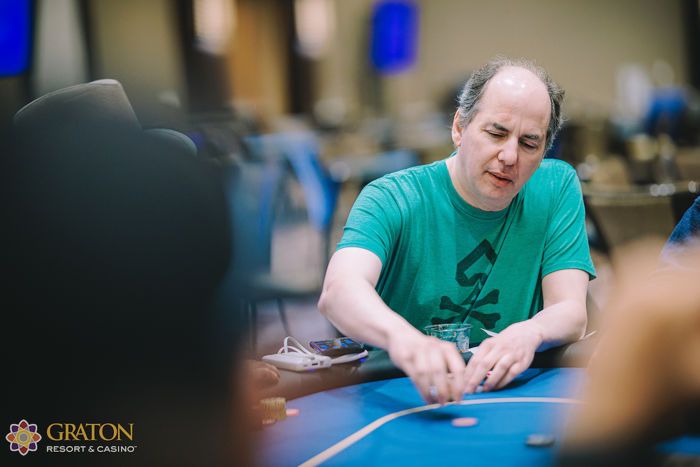 He's still chasing his first World Series of Poker (WSOP) bracelet despite breaking the 100 cashes mark this past summer in bracelet events.
Kessler ranks sixth all-time in combined WSOP brand cashes with 236, trailing only Roland Israelashvili (432), Arkadiy Tsinis (345), Engel (291), Daniel Negreanu (245), and Ian Steinman (239).
Many of those players have racked up cashes in online Circuit and bracelet events, tournaments that Kessler of course considers "fake." The now four-time ring holder was quick to share a picture with his X followers of his celebratory dinner, and he didn't disappoint.
https://twitter.com/AllenKessler/status/1693083862379675941
Presumably, the meal was paid for with casino comps (that's how the "Chainsaw" rolls), and no word on if he asked the waitperson to remake the dish without all that icky green stuff. For those who haven't followed Kessler's Twitter/X account the past few years, you've been missing out on some culinary masterpieces.
The WSOPC Graton Resort stop has completed 15 of its 20 scheduled ring events. On Friday, the $1,700 Main Event, a $500,000 guaranteed no-limit hold'em tournament, began. Day 1b took place on Saturday, and the tournament will conclude with the final table slated for Monday.
*Images courtesy of Hayley Hochstetler and 8131 Media