Qualify for the PokerStars Summer Series on PokerStars MI & NJ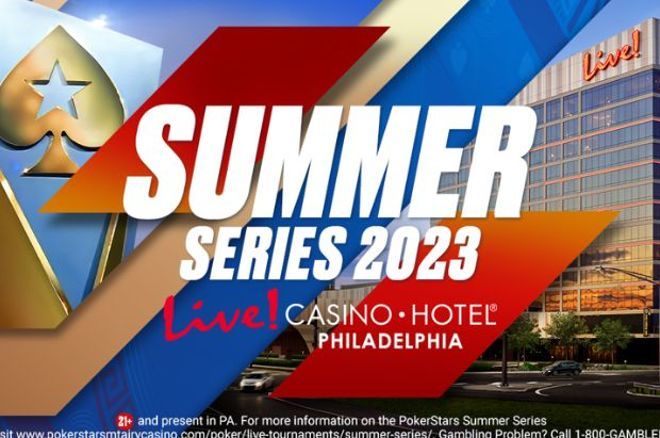 Table Of Contents
The opportunity to enter a major live poker tournament in Philadelphia on the cheap is possible on the merged Michigan and New Jersey PokerStars platform.
PokerStars is bringing back its live poker action later this month at the Live! Hotel & Casino Philadelphia, one of the top spots in the northeast to play poker. On Aug. 17, players in NJ and MI began competing in inexpensive online satellite tournaments that paid out seats into the upcoming live events in Philadelphia. They can continue chasing seats into the PokerStars Summer Series throughout August.
The series in the City of Brotherly Love features $1 million in guarantees and runs Aug. 24- Sept. 10. In the final week of August, there will be plenty of opportunities for players to satellite into the $300,000 guaranteed $1,100 NLH event and the $500,000 guaranteed $2,200 NLH event.
Read More About the PokerStars Live Summer Series!
Win a Seat into the PokerStars Summer Series
Satellite action has already begun but there's still plenty of time to get in on it at PokerStars MI/NJ, the largest US merged online poker network.
The first five players to secure a seat were "loxonbagel," "sixers13," "TightIsRight570," "WinninForALivin," and "ninelinebind," all of whom will compete for free in the $1,100 buy-in tournament at Live! Philadelphia.
There are three live tournaments players can earn admission into. The first is the $550 buy-in Aug. 24-27, which features a $200,000 guaranteed prize pool. Next up will be the $1,100 buy-in event with $300,000 guaranteed from Aug. 31-Sept. 4. Action at Live! Philadelphia wraps with the biggest tournament of them all — $2,200 buy-in ($500,000 guaranteed) Sept. 7-10.
PokerStars MI/NJ Summer Series Qualifiers Schedule
| | DATE | EVENT | GUARANTEE | BUY-IN (IN USD) |
| --- | --- | --- | --- | --- |
| | Aug. 18 | Summer Series $550 at Live! Philadelphia Turbo Sat: $50 NLHE, 2 Seats Gtd | 2 Seats | $50 |
| | Aug. 19 | Summer Series High Roller $2 All-In Shootout | 5 Seats | $2 |
| | Aug. 19 | Summer Series $20 Step Turbo Sat: $20 NLHE, 3 Seats Gtd | 3 Seats | $20 |
| | Aug. 19 | Summer Series High Roller $2 All-In Shootout | 5 Seats | $2 |
| | Aug. 19 | Summer Series $20 Step Turbo Sat: $20 NLHE, 3 Seats Gtd | 3 Seats | $20 |
| | Aug. 20 | Summer Series High Roller $2 All-In Shootout | 5 Seats | $2 |
| | Aug. 20 | Summer Series $20 Step Turbo Sat: $20 NLHE, 3 Seats Gtd | 3 Seats | $20 |
| | Aug. 20 | Summer Series $2,200 at Live! Philadelphia Mega Sat: $200 NLHE | 2 Seats | $200 |
| | Aug. 25 | Summer Series High Roller $2 All-In Shootout | 5 Seats | $2 |
| | Aug. 25 | Summer Series $20 Step Turbo Sat: $20 NLHE, 3 Seats Gtd | 3 Seats | $20 |
| | Aug. 26 | Summer Series High Roller $2 All-In Shootout | 5 Seats | $2 |
| | Aug. 26 | Summer Series $20 Step Turbo Sat: $20 NLHE, 3 Seats Gtd | 3 Seats | $20 |
| | Aug. 26 | Summer Series High Roller $2 All-In Shootout | 5 Seats | $2 |
| | Aug. 26 | Summer Series $20 Step Turbo Sat: $20 NLHE, 3 Seats Gtd | 3 Seats | $20 |
| | Aug. 27 | Summer Series High Roller $2 All-In Shootout | 5 Seats | $2 |
| | Aug. 27 | Summer Series $20 Step Turbo Sat: $20 NLHE, 3 Seats Gtd | 3 Seats | $20 |
| | Aug. 27 | Summer Series $2,200 at Live! Philadelphia Mega Sat: $200 NLHE | 2 Seats | $200 |